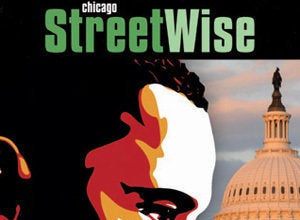 "StreetWise, StreetWise, getcher StreetWise right here!"
If I'd heard it once, I'd heard it a million times. But never before like this.
In the sixteen years that StreetWise has been around, helping people "help themselves to self-sufficiency through gainful employment," its street sellers have historically been mostly African-American men on their way to rebuilding lives strained under the weight of poverty and homelessness.
A lot has changed in the last year. The StreetWise newspaper is now a glossy magazine, the roiling U.S. economy has forced middle class workers to nearly unprecedented levels of unemployment and underemployment, and population demographic shifts are literally hitting the streets.
Which is how I came to hear the familiar "StreetWise" call daintily belted out by an otherwise quiet, diminutive Hispanic woman on my daily morning walk.
Meet Germania Toala, one of the next generation of venerated StreetWise vendors: multi-ethnic men and women with a roof over their heads but barely making ends meet in a rough labor market.
On June 24, 2009 - tired of fruitlessly searching for a job as a seamstress after having been laid off from a t-shirt factory a year earlier - Germania woke before dawn to travel from her Little Village apartment to the StreetWise distribution center at 5:50 am to pick up her first-ever stack of magazines. By 6:15am, she was at the corner of Washington and Wells Streets in Chicago's Loop.
That morning she was, as far as she could tell, the only Latina - and one of a growing handful of non-African-Americans - gearing up for a day of selling the four-color magazine which features original reporting and a helping hand for the vendors who rely on it to make ends meet.
"When I first started, people would look at me sideways like I was strange," Germania told me Wednesday as we drank a cup of coffee to celebrate her one-month mark as a StreetWise vendor. "I even had a police officer come and buy a magazine and give me a weird look. I thought to myself 'Sweet Lord, is this prohibited here?'
"But I asked Arturo, the seller who got me into this job, and he told me 'Don't you worry, as long as you have your permit around your neck, you'll be fine.' And I was," Germania said.
I called Greg Pritchett, Director of Distribution and Vendor Services - himself a retired vendor and longtime employee - to ask about my observation that the StreetWise corps of vendors was changing with the times and he was shocked someone noticed.
"It's been our mission to change the stereotypes of StreetWise vendors all being homeless black men," Pritchett told me. "We are here to provide a hand-up, not a hand-out to anyone who is finding themselves out of a job, or have had their hours reduced, or who just need an opportunity to get themselves on their feet through honest, hard work."
Pritchett said that skyrocketing unemployment levels have brought new faces - Caucasian males, females, Hispanics - to StreetWise, a non-profit organization.
Now sporting 197 vendors, Pritchett says 8 are Hispanic (and StreetWise is looking to expand into more Latino neighborhoods and grow the Hispanic audience), and African-Americans now make up approximately 80% of the force. The number of women is slowly growing - now up to 35% - and the number of vendors who are homeless has dropped to about 25-30%.
The format change to a weekly magazine last November bought with it the opportunity to impress the vendor corps with a different ethic of business acumen and professionalism.
"The vendors have always gotten trained and mentored in our code of conduct before they get their permanent badges," Pritchett said, "they're made to understand that this is a job, not a hustle."
The vendors pay 75 cents, sell the magazine for $2 and keep the profit. "With that I tell them to get on their feet and then not be afraid to spend some of the money they earned on their appearance - we teach them to sell the magazine, not the homelessness," Pritchett said.
Indeed, as early as spring I noticed StreetWise vendors in suits, ties, and dress shoes. "They learn respect for themselves, how to service the customer better, and how to increase profits. They learn to treat it like a business and there's a sense of pride."
Pritchett told me a vendor can make $35 on a slow day, $65 on an average day and up to $120 on a good day.
In her four weeks Germania, who hasn't missed a day, has only gotten up to $40 daily (Pritchett gushed "this lady is doing great!"), but, having been a clothes-seller on the streets of her native Guayaquil, Ecuador, she's confident because she knows it takes time to build up that core base of regular customers.
"I feel really good about it, and my sons are so happy I'm no longer anxious about being without a job," Germania told me, smiling shyly. "It's only been four weeks but the customers are starting to recognize me. Everyday someone says 'good morning,' or 'have a nice day.' Some of them looked on my badge and call me by my name now. I've even gotten some alteration jobs on ladies clothes because some have stopped to ask me what I used to do."
The question is, will Germania build her following and - even more importantly - make it through the oppressively hot, humid days that are sure to come, then subsist in the arctic winter?
"I'm going to stick with it," she said confidently, "I'm putting my all into this - and I'm not sure how it'll be in the cold, but I'll do it."
If you know someone who might benefit from the StreetWise opportunity, email Greg Pritchett at gpritchett14@yahoo.com or call StreetWise at 312.829.2526
Esther J. Cepeda writes about the streets of Chicago, and much, much more on http://www.600words.com

Calling all HuffPost superfans!
Sign up for membership to become a founding member and help shape HuffPost's next chapter