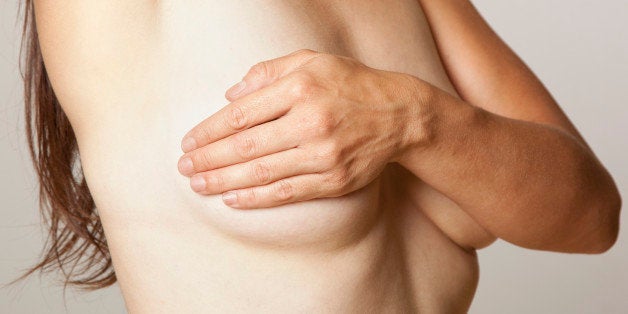 About two months ago, I felt like a lot of people my age do: stressed out and somewhat useless to the world. I had tried to feel like I was changing things, volunteering places, helping out as much as a could, trying to find a charitable release from the extensive creative energy I was spending that felt rather selfish. But, as a young person, I always felt like I really wasn't making a difference. Then I received a message from an dear old friend (can I say that or does it make me sound far older than 23?): a girl I rowed with in high school and who, therefore, was a pretty significant part of my formative years. Her mother had been struggling through breast cancer for several years and in the process had started a foundation to teach young girls about breast self-exams. My friend reached out to me to see if I wanted to get involved. Of course I did. But again, I didn't know how to feel useful, how to do something significant for this foundation that does so much good work.
Then I thought about it and a spoke to a couple of the women involved with the organization. The Get in Touch Foundation was started after Mary Ann Wasil (my friend, Betsy's mother) found a lump on her breast and was diagnosed with breast cancer. Since inaugurating a free educational program for schools to teach about breast self-exams and breast health, the foundation has found its way into schools in all 50 states, 26 countries, and it's app has been downloaded in over 80 countries. So, I said to myself, how on earth can I help this organization with such broad reach when I feel so small and insignificant?
I turned to what I know best (I think...): stories. As a budding writer, I float around telling stories of fictional people -- their struggles, their heartache, their success. Why not implement this interest and somewhat honed skill to put the stories of real people, namely the incredible women involved with the Get in Touch Foundation, out there? From this idea was born this series of posts. Each one looking at a women who has been touched by breast cancer in one way or another and how they've fought, helped, grown in the face of it. I will be posting profiles on each of these women throughout the week leading up to the inaugural Pretty in Pink event in Los Angeles on March 16. I figured, start at the beginning...
At 39-years-old, Mary Ann was a mother of three and found a lump on her breast. After her diagnosis, she required immediate dose-dense chemotherapy -- treatment every other week for 16 weeks followed by a bilateral mastectomy. When I heard this I nearly fell off my chair. And my immediate thought was how does a woman, when delivered with that news, end up where she is today with an organization that not only empowers women, but is changing the way we think about breast health? Well, here's your answer:
From the point of her diagnosis on, "hope was a way of life" for Mary Ann. Luckily, from an early age she knew how important breast self-exams were, hence her ability to detect the lump in the first place. She knew her body, and she knew when something was wrong, which is exactly what she is trying to teach young girls -- to be an expert on themselves. Immediately, Mary Ann thought of her two daughters, and how they were now at a much higher risk for breast cancer than she had ever been. She, their mother, was their family link. She couldn't change that for them, but she could try to make sure they and all other young women like them, had the tools to keep themselves safe. Her goal was and continues to be to have girls "learn about breast health before learning about breast cancer."
So I began to think myself about my knowledge of breast health... minimal. I couldn't recall being taught how to give myself a breast exam. I know for a fact we didn't touch on other risqué subjects in the high school health classes of my conservative New England town. I, a young woman in her early 20s and about to enter the world, didn't know how to check my own boobs. Luckily, I now had a place to go for that. I hopped on the Get in Touch website and immediately learned how to give myself an exam (everything was normal for anyone wondering).
Since starting Get in Touch, Mary Ann has gone back into chemo and radiation therapy for her cancer. But she's not giving up the fight. Her motto: "If you've been told you have five minutes to live, are you going to spend even one second being unhappy?" Not her. She choses every day to live each second to the fullest -- the seed of an idea that Mary Ann had has grown into a multi-national non-profit to educate people of all shapes, sizes, ages and socioeconomic backgrounds about their bodies.
There are some people in the world that I'm convinced are meant to push beyond what is expected of them. I can't say with confidence that if I was given a positive diagnosis I would be able to fight through much less beyond it. But luckily, I am here and able to tell the story of a woman who did, and who continues to do so. We've all got to get comfortable with feeling ourselves up, showing our friends, mothers, neighbors and family members how to grab their own boobs, too. In Mary Ann's eyes, "girls need to know their bodies better than their mothers did, and better than their grandmothers would approve of." The taboo is slowly being removed thanks to organizations like Get in Touch.
However, there are still schools without comprehensive health programs that include breast health awareness. There are still girls who don't have access to any of this information. It is for these students and these young women that we all have to do our part as citizens of this society to make sure each and every person learns what is normal, what feels right, and what to look out for. Mary Ann and the team of supporters she's put together have found a way to spread that knowledge. When I asked Mary Ann what her one message to young girls about breast health and cancer awareness would be, her answer: "My message is that breast self-exam saves lives -- it saved mine."
The Get in Touch Foundation has it's first Los Angeles Pretty in Pink Luncheon on Sunday March 16 in Santa Monica. Tickets and more information are available here.
To learn more about Get in Touch or to bring the free program to your school, visit their website, visit their Facebook page, or follow them on twitter @GetInTouch.
REAL LIFE. REAL NEWS. REAL VOICES.
Help us tell more of the stories that matter from voices that too often remain unheard.