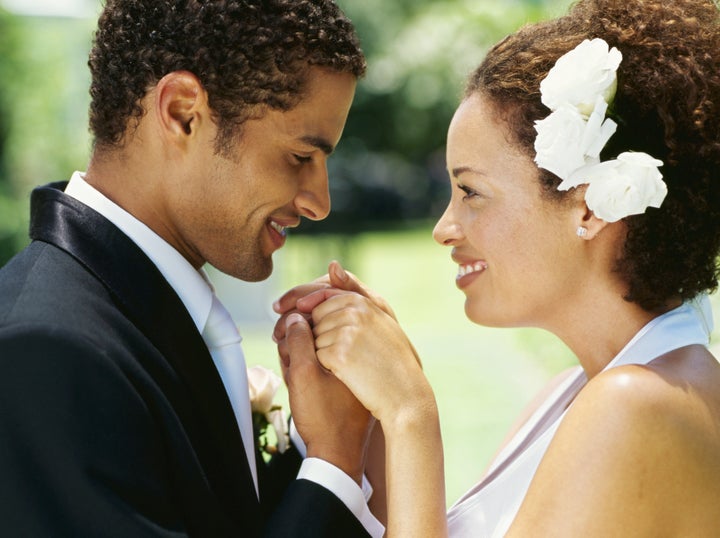 If there's a group of women with a notable last name right now, it would have to be the Kardashians. But the fame attached to that name isn't keeping middle sister Kim from dropping her celebrity moniker when she weds New Jersey Nets forward Kris Humphries this weekend. And the future Mrs. Humphries will hardly be alone in her decision to take her husband's name.
In March, the wedding website TheKnot.com surveyed nearly 19,000 women who got married last year. Of those women, 86 percent took their husband's name. The practice of women keeping their last names, first introduced in the U.S. by suffragette Lucy Stone in the 1850s, adopted by members of the Lucy Stone League in the 1920s and popularized during the Women's Rights Movement of the early 1970s, peaked in the 1990s at 23 percent. By the 2000s, only 18 percent of women were keeping their names, according to a 2009 study published in the journal Social Behavior and Personality. Now, according to TheKnot, it's at just 8 percent.

But the fact that most women are willing to change their names doesn't mean the decision is an easy one. Making that choice can bring up all sorts of emotions -- and we're not just talking about the homicidal urges prompted by back-to-back visits to the DMV and the Social Security office.
"I'm not a Kardashian, but I still had a whole life based on my name," said Baily Bernius, 24, who works for a nonprofit in Washington, D.C., and was known as Baily Tombs until she got married last year and took her husband's name. "It was a bittersweet thing," she said.
"It's kind of a way to show the world that I'm part of a new family now and that I'm proud to take my husband's name," Bernius said. Her desire to do that, she said, outweighed her occasional feelings of envy toward the girls her brothers date.
"I sometimes think about that: Whoever my brothers marry, they're going to inherit what I consider to be an awesome name," she said. "I look at their girlfriends and I'm like, 'You need to earn this name.'"
There are a myriad of options when it comes to the name-change debate: you can keep your name, take his, take his last name and make your maiden name your middle name, take his last name legally but keep yours professionally, or hyphenate the two names (TheKnot's survey found that just 6 percent of women hyphenated their names last year, and the practice seems to get a collective "no thanks" from women in wedding website community forums).
Women who keep their names have tended to marry older, have higher levels of education and are more likely to work in medicine, the arts or entertainment than women who take their husband's names, according to the 2009 study. But when women who've built entire brands on their maiden names are giving them up -- like Kim Kardashian and Katy Perry, who's legally Mrs. Brand now -- the trend can seem even more pervasive.
Women "view it as some crazy glue holding their marriage together," said Claudia Goldin, a Harvard economics professor. In 2004, Goldin studied the New York Times' marriage announcements, Massachusetts birth records and Harvard alumni records, and found that fewer college-educated women were keeping their names than in the 1970s and 1980s.
The reasons women cite for taking their spouse's surname vary: some like the tradition of it, and others find it romantic. In some cases, it's more important to their husbands, and some feel it will be more convenient once they have children. Some women even argue, counterintuitively, that taking their husband's name is a feminist choice.
"I wouldn't say I'm militant, but I do consider myself a hard-core feminist," said Renee Powers, who is 25 and living outside Chicago. Her name was Renee Woodward until she got married two years ago and took her husband's name.
"We operate as a team and now we have a team name," she said. "God that sounds cheesy, but it's true."
Powers, who is getting a master's degree in new media and women's studies, argued that her decision doesn't conflict with her belief in female equality and autonomy.
"We recognize all the hard work that came out of the women's movement, everything that [members of the movement] did to get us to this place," she said. "My decision to change my name was absolutely a feminist choice. It was made with intention. It was educated."
Stephanie Coontz, a professor of history and family studies at Evergreen College and author of several books about American family structure, said that many of the women who changed their names in the 1970s did so in response to inequality that had been built in to marriage for so long.
"Marriage made a wife not seen and not heard. It legally did so," Coontz said, noting that during research for a recent book, she came across the story of a woman who couldn't get an apartment without the permission of her husband, who was in an insane asylum.
According to Diana Boxer, a professor of linguistics at the University of Florida who studies gender and language, today's feminists aren't concerned by many of the issues that riled feminists in the past.
"It's not so much, 'I am woman hear me roar,'" Boxer said. "The women of this generation feel we are roaring enough."
Boxer argued that the number of women changing their names today can in part be explained by an uptick in the cultural emphasis on romance.
"They're into the whole idea of, 'I've always waited for my Mr. Perfect, and now that I'm going to get married, I want to do everything the romantic way,'" she said.
A 2009 survey by researchers at Indiana University showed that 71 percent of respondents believed a woman should change her name, and half of those respondents went so far as to say the practice should be legally required. These numbers may help to explain why those who keep their names are sometimes criticized for their choice.
When writer Julia Porter blogged about deciding to keep her name, commenters accused her of not really loving her husband. It's not an uncommon response -- women who blog or post to online forums that they are keeping their names are often asked whether they are really committed.
Some women and their fiancés sidestep the decision -- and potential judgment -- by taking a different path altogether.
Eric Jankstrom, 28, formerly Eric Jankowsky, works in television in New York and is among the small number of men giving up part of their names. He and his wife Laura Lindstrom got married last August and are calling themselves the Jankstroms.
"My wife is a very progressive woman," Jankstrom said. "She was like, 'I don't like your last name. I'm never going to be an 'owksy.'"
The couple agreed there was something appealing about creating a new family tree, and they've since dreamed of what the Jankstroms might accomplish.
"We were like, imagine if there was President Jankstrom. How cool would that be?"
Emily Zeugner, 32, who works in media in New York, and her husband, Amos Kenigsberg, made a similar decision -- they changed their last name to Zeeberg.
Ms. Zeeberg explained that changing her name would have sent a message she wasn't comfortable with, one that that effectively said, "I'm shedding my identity, I'm joining your family."
"As a feminist, it really bugged me," she said. "I'm glad that we created our new identity."
After the two married, they received a wedding invitation addressed to Mr. and Mrs. Amos Kenigsberg.
"I just saw the envelope, and I felt such annoyance, and on a small scale, kind of outraged," she said. "He gets full billing and his full name, and the only thing I get is Mrs. It just really pissed me off."

The new last name was hard for both of them to get used to at first, she said, and her husband got a lot of comments from surprised Facebook friends. But now?
"It's just, we're the Zeebergs, and it seems totally normal and natural," Ms. Zeeberg said. "I don't know why more people don't do it, I feel like it should be the wave of the future."
There's no sign that nuptial portmanteaus are sweeping the nation -- yet -- but that's not so surprising, considering how attached some men are to their names, and to everyone else in the family taking those names.
Kate Sullivan, 33, a New Jersey wedding planner who was married in January, plans to take her husband's name, Corpuz.
Though Sullivan said her husband wouldn't have kicked and screamed if she kept her maiden name, it certainly mattered to him: Even the couple's dog, Baily, who currently has both of their last names (separated by a hyphen) will soon have his official surname changed.
Sullivan said her husband has asked her several times to take care of the matter. "He's appalled that [the dog] is Sullivan" at the vet, she said. "I'm going to feel like an idiot trying to explain it."
CORRECTION: This story previously stated that the practice of women keeping their last names was first introduced in the U.S. by suffragette Lucy Stone in the 1920s. The practice was introduced by Lucy Stone in the 1850s and adopted by members of the Lucy Stone League in the 1920s.
Popular in the Community