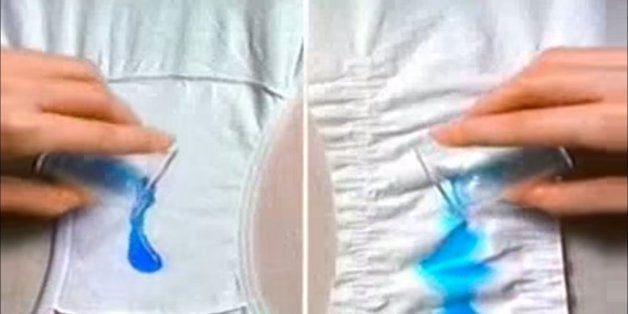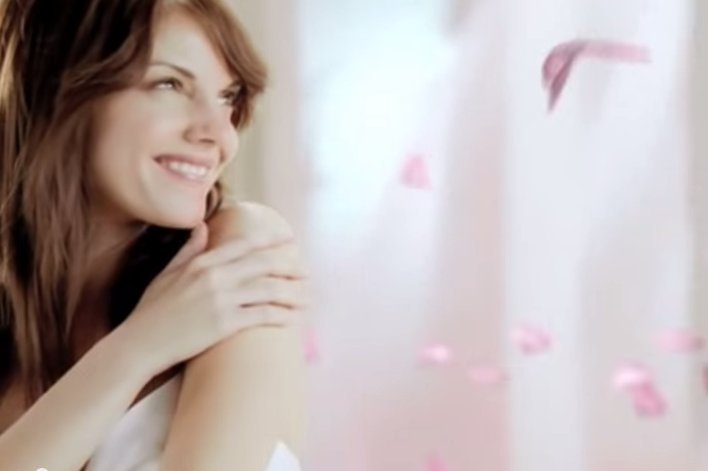 Most women would rather not discuss the intricacies of their period with a man. Most men seem fine with that.
Yet, until just five years ago, it was up to a largely male-led team to figure out how to market tampons, maxi-pads and other feminine products at Kimberly-Clark, the company behind Kotex, Huggies and Kleenex.
That translated into ads featuring blue liquids dumped on sanitary napkins, and portraying ecstatic women clad in all-white dancing and frolicking, apparently while menstruating. That's a scenario approximately no woman has ever related to.
A compilation of awkward images from vintage Kotex commercials. The company recently poked fun at its old advertising tactics in a new "U By Kotex" campaign. Story continues after the photos.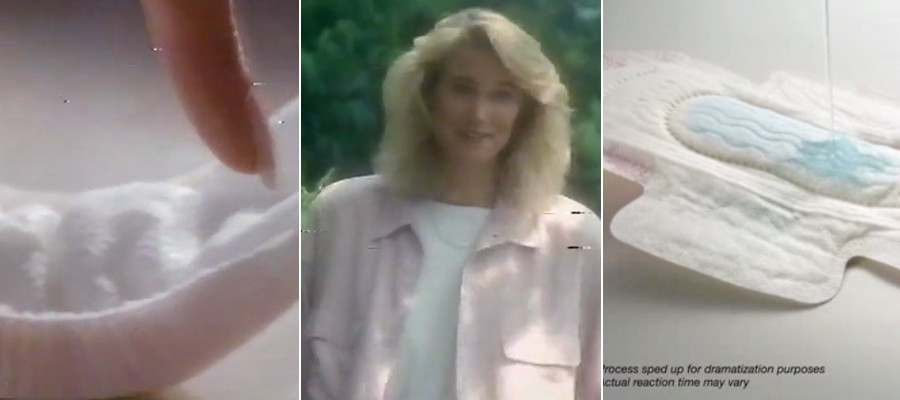 The absurdity of the situation came to light about five years ago at Kimberly-Clark, when CEO Tom Falk brought the male executive in charge of Kotex to present a marketing strategy for the more than 90-year-old brand to the company's board of directors
After the presentation, some board members politely asked Falk: "Don't you think you can get a female to present the strategy to us?"
It was an a-ha moment for the 55-year-old Falk, who started at Kimberly-Clark more than 30 years ago and was appointed CEO in 2002. Since then, he's launched a series of initiatives aimed at boosting the number of women executives.
"If you've got a group of all men, and women are half of the population and are buying all of the products, how can you say we have the very best team?" Falk told The Huffington Post recently.
Falk and his team have had some success adding women to the top ranks of the company over the past few years. By 2013, the share of women holding the role of director or higher at Kimberly-Clark increased to 26 percent, up from 19 percent in 2009. One-quarter of Kimberly-Clark's board is now comprised of women -- up from about 17 percent in 2009.
See the full-size image here
Progress, but hardly parity.
Kimberly-Clark is not an outlier. There is a stunning absence of women at the top of companies that make and market products to women. The gender disparity in these industries has gotten little attention recently, as discussion has centered around the lack of women at the top of finance and tech companies. The scarcity of women executives at those firms is often explained by pointing to women's "lack of interest," or shortfalls in science and technology. That reasoning fades at companies that make products for women and employ a large pipeline of women selling on retail sales floors, sitting in cubicles and working as middle managers.
The Huffington Post and Catalyst, an organization aimed at boosting women in business, looked at 19 of the largest companies that cater in large part to women, a category we've defined to include makeup purveyors, department stores, large-scale consumer goods manufacturers and women-focused clothing companies. Just one company, Avon, has a board of directors that's majority women.
The situation is similarly dismal when it comes to the companies' executive teams or the so-called C-Suite of leaders who make the major business and product decisions at large companies. Out of all the companies, just J.C. Penney has a senior leadership team that's majority women.
(See the graphic to the right, produced by The Huffington Post's Jan Diehm, for a more detailed analysis.) It's "appalling" that companies selling products to women could have so few of their core customers in various leadership positions, said Belle Rose Ragins, a professor at the University of Wisconsin-Milwaukee's Sheldon B. Lubar School of Business, whose research focuses on gender at companies.
"It's their bottom line," Ragins said, quipping that it probably explains to some degree why "you can never find mascara that doesn't flake."
The lack of women executives may help explain why some products and marketing campaigns are so out of touch. Earlier this year, Veet, the chemical cocktail that gets rid of hair without shaving, was forced to take down an ad that warned women not to risk "dudeness" by having hairy legs, after Internet outrage. (Jezebel saved some of the ads after the company pulled them offline. You can click here to see the ads on Jezebel.)
Veet's parent company, Reckitt Benckiser Group, has just one woman on its nine-member executive committee. Compare that to a recent ad from Hello Flo, a woman-owned company that sends women care packages with pads, tampons and other products during their periods, that went viral simply for being so relatable.
Companies that make products like mascara, body lotion or luxury goods often attract young, talented women to fill their lower ranks, according to David Ross, a Columbia Business School professor who studies women in management. Still, that doesn't necessarily translate into women filling top roles.
"These are jobs -- even if they're great jobs -- that are usually a long way from the top management team," Ross said. "Women have made great inroads into lower levels of management, but once you get up there near the top management team or the board, it's largely a male world, even today."
"More entry level-jobs and more middle-management, you do tend to have a lot of females," said a 32-year-old former marketing manager at beauty-products maker Coty, who asked to remain anonymous to protect her career. While the top executives tend to be a culturally diverse group, "in beauty, the senior levels of management are still majority men," said the woman, who left Coty to get her MBA and now works in consulting.
Surreal conversations led by men about women's stuff were commonplace for one former manager, who spent more than a decade working at Procter & Gamble. Many of the men she worked with on feminine care products used data and market research to help make decisions about how the company's tampons should work, said the former employee.
"All the men were talking about was what women want in a feminine applicator," the woman said of a meeting she had at P&G four or five years ago. As a newer member of the team at the time, she said she was surprised at how accurately the men in the room could predict what female shoppers wanted. She added that in some cases the market research helped her male colleagues come up with ideas for things she didn't even know she was looking for. "I couldn't believe that there were all these men telling me what I wanted as a consumer."
The woman said she thought she would spend the rest of her career at P&G, until she got an offer she couldn't refuse to work outside the industry.
For its part, P&G has been designated a top employer for women several years in a row, by Working Mother Magazine and others. In addition, more than 40 percent of the company's managers are women, according to Mandy Ciccarella, a P&G spokeswoman.
"With women influencing 70 percent of global household purchases and controlling $20 trillion of spending worldwide, a female perspective is vital to our ongoing success," Ciccarella wrote in an email to HuffPost. "At P&G, we have business strategies focused on serving diverse consumers around the world that begin with our own employees."
The reasons there are few women at the top of women-centric companies aren't much different from the reasons there are few women in general in Corporate America. Women make up more than half of management, professional and related workers at major companies, but just 14.6 percent of executive officers, according to Catalyst data.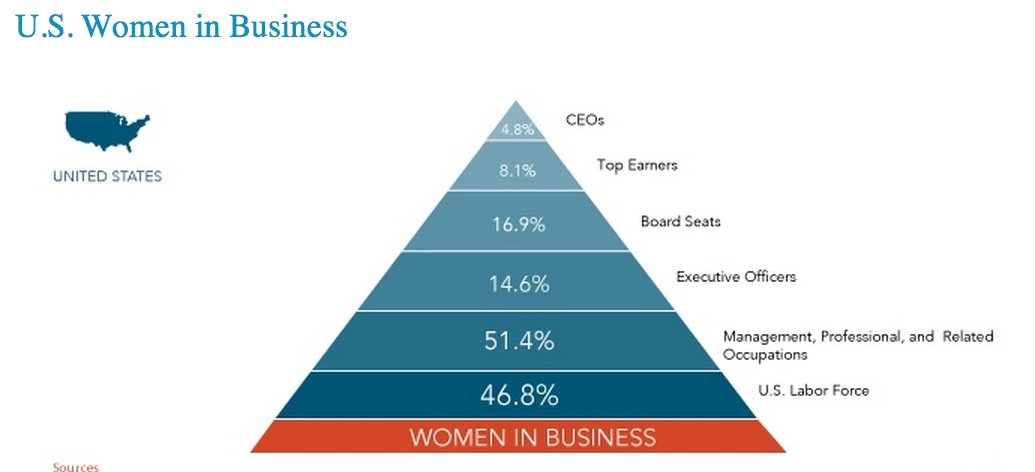 Some drop out of the workforce to start families because they don't see enough flexibility at the office. "It's a really demanding career," said the ex-Coty employee. "I think that it gets a little downplayed sometimes because you tend to have more women in it. People think it's a cushy job, but it's not."
Efforts to move more women into executive roles are often half-hearted. Many companies make efforts to promote women to the top ranks. But once a woman or two reach the masthead, companies may "relax and direct their attention elsewhere," said Ross, the Columbia professor.
And, in many cases, the women leaders fulfill what 20-first, a gender consultancy group, describes as "staff or support" positions, like HR, communications and legal. At the country's top 100 companies just 70 women -- or 6 percent of executives -- have in-line or operational executive positions, according to 20-first's gender scorecard. That means the women at the top aren't making decisions about the products themselves or the advertising strategies behind them.
When Amy Frankel worked at cosmetics giant L'Oreal in the 1980s and early-1990s, she chatted with female colleagues "behind closed doors" about what they thought should be the latest nail polish shade or eye shadow color. Those discussions based on intuitive knowledge may have been more helpful to the company if they'd been held in the open. But in order to bring an idea to the top brass, most of whom were male, Frankel said she and her colleagues had to have more than just a gut feeling.
Once, Frankel and her colleagues tried to do just that. She and fellow female staffers went into a meeting wearing bright red nail polish and lipstick to convince an all-male group of senior managers that the product would be a hit. "The men said the women had the war paint today," she said.
Now, L'Oreal has a suite of programs aimed a boosting women at the company, as well as girls and women outside L'Oreal. The cosmetics giant hosts an annual retreat for senior women leaders and up-and-coming female staffers as well as a grant program focused on women in science.
Still, an executive at a large multinational beauty company who didn't want to be named said the sexist attitude at the top of the cosmetics industry persists, more than a decade after Frankel left her job.
Recently, a group at this executive's company put together a multi-million dollar national ad campaign, and all the people calling the shots were men. "The campaign was supposed to be something aspirational for women, but wound up looking like the cover of the Sports illustrated swimsuit issue," she said. Completely sexualized. "It's mind-boggling."
What's more, there's a large pipeline of women to push into the executive ranks to make those decisions, the executive said.
"The beauty industry is full of women, but once you get to that certain level, the women start falling off," she said. "You will see many women in the cubicles. You just won't see them in the C-Suite"
Some insiders chalk up the lack of women to "tradition" -- men have always been in charge and they're not keen to change things. In addition, many beauty companies are legacy family businesses, meaning that gender may be less of a consideration than the relationship to a founder.
"These CEOs are working in their comfort zone," said Malli Gero, the co-founder of 2020 Women On Boards. "You see this emphasis on all-male boards, even when it's a company that markets heavily to women."
Some will say that women often don't fit the typical image of a leader, putting them at a disadvantage when it comes to decisions about promotions and pay.
"Typically the prototype of the leader is a white male," said Ragins, the University of Wisconsin professor. "So when we think about who is going to be the next CEO of the company, the image that comes to mind is often that of a white heterosexual male." Besides making meetings about tampons less awkward, there are proven benefits for companies to increase gender diversity. For one, companies with more women on the board tend to perform better in the stock market. In addition, there are intangible benefits to boosting the number of women leaders, like adding management styles to the company's mix, Ross, the Columbia professor said.
"What's key is that the leaders of organizations understand two things: To serve the market, you need to look like the market and secondly that advancing any business in any industry requires the full talent that's available in the marketplace," said Deborah Gillis, the president of Catalyst. "It actually comes back to a question, why would you not have leaders who reflect that market that you're serving?"
Books like Lean In, and articles musing about whether women can "have it all," encourage women to ask for promotions and raises as part of a personal journey. But if companies are serious about reaping the benefits of a more diverse workforce, they have to make an effort to push top female talent ahead.
There are lots of steps businesses can take to get more women into high-visibility rolls, like giving women equal access to role models, mentors and sponsors throughout their careers, Gillis said. But one of the best ways to achieve gender equity is to make sure top leaders prioritize it.
Ragins argued that the onus to get more women in top positions falls on company leadership, not on the workers themselves.
"Are we leaning in or are we bending over backwards?" Ragins asked of the tightrope women workers have to walk to get ahead. "I absolutely understand and appreciate the need for women to be proactive in their careers and really strategically think about how to manage gender in the workplace, but we also need to be careful to not blame the victim."
Falk, of Kimberly-Clark, said companies need to start thinking about diversity as more than "a nice to have."
"You have to look, think behave like the people who buy your products," he said.
Kotex's "Apology" video, poking fun at old ads:
-- Alexander C. Kaufman and Emily Peck contributed reporting.
Related
Popular in the Community