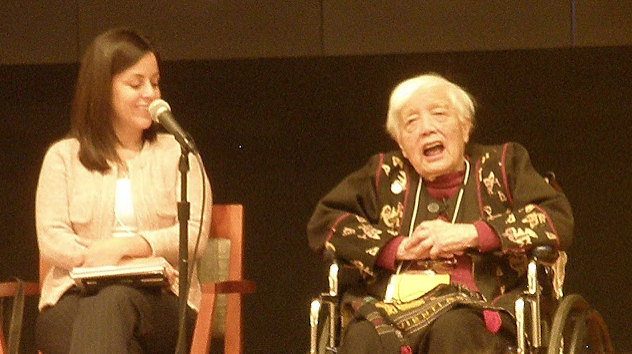 Cindy Estrada and her mentor, Grace Lee Boggs, reflect on creating caring communities.
"These are the times to grow our souls. Each of us is called upon to embrace the conviction that despite the powers and principalities bent on commodifying all our human relationships, we have the power within us to create the world anew."
-- Grace Lee Boggs
The Next American Revolution

The world needs changing and if anyone is going to do it, it will be women.
That was the clarion call to 125 women who gathered at the UAW Human Resources Center in Detroit last weekend for the second annual "Women Creating Caring Communities All Over the World!"
The day-long event was sponsored by the UAW and community leaders of the Detroit metropolitan area to honor and celebrate women from all walks of life. They also discussed how to create unified communities working toward a common vision.
Philosopher, author and lifelong activist Grace Lee Boggs encouraged the women to re-imagine education, work and the things they do to care for each other and their families.
"All over the planet more and more people are thinking beyond making a living to making a life, a life that respects Earth and one another," she said. "This is the next American revolution."
All too often, however, women defer to men for leadership. Boggs admitted that she, too, fell into this trap during her 40-year marriage to fellow activist James Boggs. She then decided to "struggle with him publicly," not in an antagonistic way but to make progress for a cause, which included the labor, civil rights and urban gardens movements in Detroit.
"We need to learn to struggle among ourselves and not just to an external enemy," said Boggs. "We need to understand that what women do matters, but that we must start with ourselves [to make a difference in the world]."
Cindy Estrada, vice president of the International Union of the UAW, talked about today's two emerging visions of the world.
One vision is an all-consuming fear and anger where we believe that in order to have more, others have to have less, she said. The other vision is one of hope and transformation -- and change starts with individuals who don't sit back and wait for change to happen. She pointed out how Detroiters have been doing this.
Last spring they saved the Catherine Ferguson Academy, a school that educates pregnant girls and teenage mothers. It was on the emergency financial manager's chopping block for a system-wide deficit reduction plan until protests and national media attention kept it open.
Detroit's vacant lands have been transformed into beautiful and bountiful urban gardens, some of which have become commercial enterprises as well as a source for fresh produce to residents who have no immediate access to grocery stores.
City libraries were closing and grassroots leaders responded by creating "outside libraries" where people can rent books 24/7.
"We have to give each other kind of hope that trumps fear and anger when we don't feel we have that much to give," said Estrada. "We have to depend on each other."
Building communities of compassion is difficult in a society that values individualism, said Boggs, because it sees others as adversaries and competitors.
"We have to turn from confrontation to conversation -- and women are the ones that have to do it," she said, which takes courage and the ability not to become discouraged.
"You have to make a way out of no way," said Boggs.
Rana Elmir, communications director for the ACLU, told how she changed from being a meek and mild daughter of Lebanese immigrant parents and found her way into journalism and becoming an advocate for social justice. She had covered the 2005 World Summit on the Information Society, which took place in Tunisia, and met women who courageously stood up to government intimidation and censorship.
"The key is trial and error and the resolve not to be afraid to fail," she said. "We must learn from [our mistakes], and be stronger and smarter to do better the next time. No one is without hope or power."
Participants and speakers expressed concern about women taking on political roles.
"We have to keep trying to take the fear out of policymaking and the legislative process," said Elmir, who noted that there are only four women out of 28 senators in the Michigan Senate and 27 women out of 110 in the State House.
"Women are quite capable of taking on these jobs," she said.
Rep. Rashida H. Tlaib of the 12th District (Detroit), the only legislator in attendance at the conference, admitted that she struggled with the decision to seek political office and sought out seven different people to encourage her.
"It's like we are looking for permission," she said. "We have to promote each other and push each other into leadership positions -- and then support them when they're there."
Tlaib, who has been called "the Conscience" of the State House, argues that "women have a different perspective and know how it looks on the ground."
One audience member referred participants to the White House Project, which aims to "ignite the leadership of women in business and politics." It focuses on women age 21-35 to "activate the ambition, creativity, and skills necessary for innovative and effective leadership."
"Our voice will not be heard unless we step up and speak up," said Monique Baker, who announced she is running for Wayne County Commission.
The Rev. Sandra Simmons closed the general assembly by explaining how women can create communities of compassion: (1) look at who we are and what we have to offer; (2) assess the community's needs; (3) take on a manifesto of love; and (4) move ourselves to action.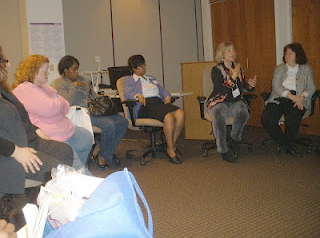 "Sacrifice is involved to make radical change," she said. "It takes sacrifice to do the work of healing, which involves gaining understanding, coming to agreement, doing things together. Sacrifice is the cornerstone of compassion. You have to meet your sister where she is, but you don't have to agree on everything to love each other."
A community of compassion occurs when we enter a new space, claim it, drop the boundaries and know that having walked into that space, we change it by opening the possibilities of doing anything, she said. This also means that we have the courage to admit mistakes, apologize to others and ourselves.
"A community of compassion is a place of refuge where we are purposed to create together and make resources available to help others have a life of dignity."
After lunch and a few creative expression presentations, participants attended one of five workshops for action including:
How to Build a Community of Compassion
Time Banking
Education to Stop Foreclosures
Embrace a School
Creating Peace & Safe Communities
Conference leaders proudly said more women would have attended the event but many were involved in organizing efforts for "Detroit 99 Percent Spring," a continuation of the Occupy Detroit movement. The issues they are addressing are home foreclosures, poverty, unemployment and unfair tax policies that favor the wealthy.

Popular in the Community