PAJU, South Korea, May 24 (Reuters) - A group of international women activists crossed the heavily-fortified Demilitarized Zone (DMZ) between North and South Korea on Sunday in what they said was a symbolic act for peace.
North and South Korea are still technically at war after the 1950-53 Korean War ended in a truce, not a peace treaty. Despite its name the DMZ is one of the most heavily militarized and fortified borders in the world.
"We feel very celebratory and positive that we have created a voyage across the DMZ in peace and reconciliation," said U.S. activist and feminist Gloria Steinem, honorary co-chair of the WomanCrossDMZ group, which is calling for a permanent peace treaty to replace the armistice which ended the conflict.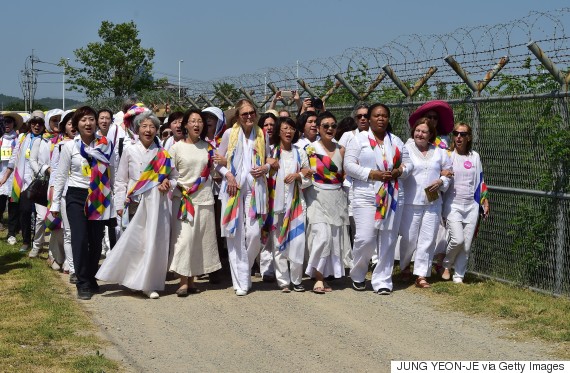 The group, which had initially set out to embark on a symbolic walk across the DMZ at the Panmunjom "Truce Village," instead crossed from North Korea in a bus flanked by South Korean military and police cars at a customs area which connects to the jointly-operated Kaesong Industrial Zone.
"This is about human relationships, this is about us seeing our common humanity in each other," Mairead Maguire, Northern Ireland peace activist and Nobel Laureate, said at a press conference on the southern side of the inter-Korean border.
On the South Korean side, the group united with a larger group of South Korean activists, and held a rally at a pavilion just south of the Demilitarized Zone.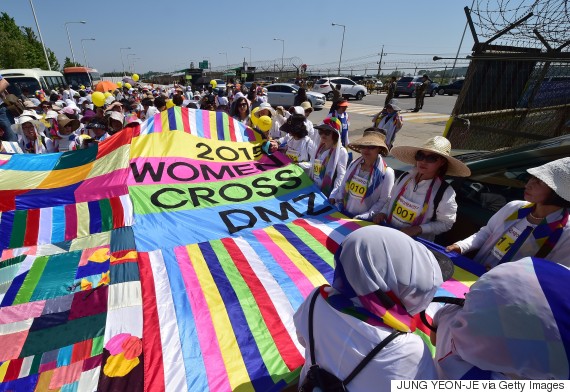 But a few hundred meters away, between lines of South Korean police, the reception was more frosty as around 500 conservative protesters greeted the WomenCrossDMZ group with placards telling them to "go to hell," "get out" or go back to North Korea.
The group is not without its critics further afield too. Washington D.C.-based blogger and attorney Joshua Stanton has for weeks on his blog One Free Korea said the march detracts from human rights issues in North Korea, and ultimately works in the isolated and repressive state's favor.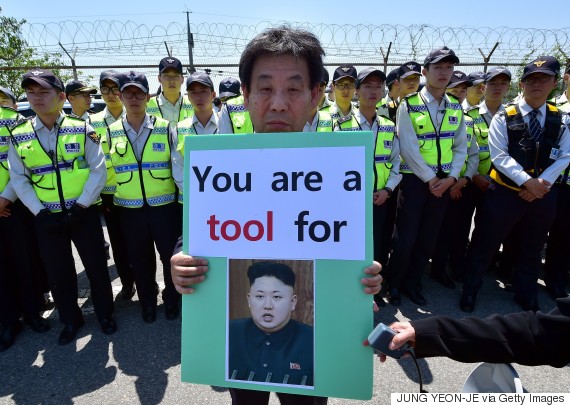 "What Pyongyang really wants is to use peace talks to lift U.N. sanctions, gain recognition as a nuclear state, and extract 'security guarantees' to silence criticism of its crimes against humanity," Stanton said in an email.
North Korea is under heavy U.N. and U.S. sanctions designed to stop the procurement of luxury goods, and technology related to its nuclear and ballistic missile programs.
An introductory video on WomenCrossDMZ.org, the group's official website, said millions of North Koreans lack "basics of survival" because of what it describes as "crippling embargos" against the North Korean government.
Stanton said such statements from the group's organizers play down the role of the North Korean leadership in the isolated country's lack of development and brutal oppression. (Editing by Michael Perry)
Related
Popular in the Community