A survey of the demographic breakdown of men versus women on 19 social networking sites found that for the majority of social media sites studied, female users outnumber their male counterparts.
The Pingdom study, which looked social networking sites (like Twitter, Facebook, and MySpace) as well as social news sites (like Digg, Reddit, and Slashdot), found that 84% of the sites (16 out of 19) had more female than male users.
Here are a few of Pingdom's findings:
The social news sites Digg, Reddit and Slashdot have significantly more male users than female. The standout here is Slashdot which takes male geekdom to new heights with 82% male users. :)
Twitter and Facebook have almost the same male-female ratio; Twitter with 59% female users and Facebook with 57%.
The most female-dominated site? Bebo (66% female users), closely followed by MySpace and Classmates.com (64%).
The average ratio of all 19 sites was 47% male, 53% female.
Here's a graph illustrating the gender breakdown of men and women across all 19 sites: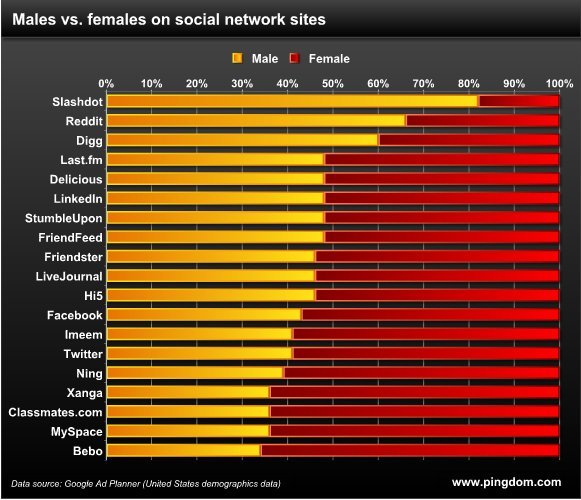 The 19 sites examined included: Facebook, LinkedIn, MySpace, Twitter, Slashdot, Reddit, Digg, Delicious, StumbleUpon, FriendFeed, Last.fm, Friendster, LiveJournal, Hi5, Imeem, Ning, Xanga, Classmates.com, Bebo, according to Pingdom.
Popular in the Community