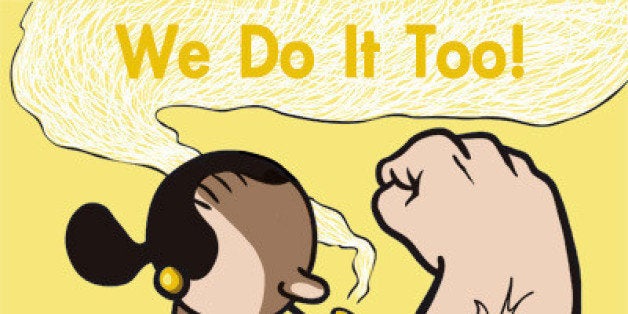 Female -- and male -- cartoonists didn't see it as a laughing matter when the Angouleme International Comics Festival in France presented its annual list of nominees for the 2016 Grand Prix award. The all-male list of 30 candidates for the prestigious lifetime achievement award engendered protests heard round the world. The Festival is the biggest and oldest comics event in Europe, founded in 1973.
BD Egalite (Women in Comics Collective Against Sexism), an organization of 200 female professional cartoonists, drew a hard line and called for a boycott (girlcott?) with an image of Olive Oyl, exclaiming "We Do It Too!" and flexing her muscles. In support of the movement, many of the male candidates withdrew from the Festival's nomination list.
Organizers originally responded that they could not remake history. Au contraire. Women cartoonists may not have been included in recorded history but they have been producing worthy work for years. They just weren't recognized, as in most professions. Initially, in response to the boycott, Festival executives offered to add six women to the list. Ultimately, as the protest momentum grew louder, the organizers capitulated and announced there would be no shortlist for the prize this year. Members of the academy would have a free vote for their own nominee.
Claire Wending was the one woman among the three finalists for the 2016 Grand Prix. In the award's 43-year history, only one woman has been recipient of the award, Florence Cestac, a French artist, in 2000.
This sexist experience is reminiscent of the "Masters of American Comics" exhibit at the Hammer Museum and the Museum of Contemporary Art in Los Angeles, 2005 to 2006. The exhibit featured 14 men and no women American comic artists. In response to protests, both museums added programs with female cartoonists.
The National Cartoonists Society (NCS) was founded in 1946. It is "the worlds largest and most prestigious organization of professional cartoonists." (www.reuben.org) Pioneer women cartoonists lobbied hard for membership and three women were admitted in 1950. Today NCS membership is 63 females versus 419 males.
Lynn Johnston was the first female to receive the coveted "Reuben Award for Cartoonist of the Year" in 1985. Cathy Guisewite, known for chronicling single career women confronting life's challenges in "Cathy," won in 1992. Roz Chast, staff cartoonist at The New Yorker with over 800 published cartoons, won in 2014. Johnston was the first and only female NCS president, 1988-1989. She drew "For Better Or For Worse" from her family experiences. This year's Reuben Awards will be held May 28 in Memphis, TN. The award nominees will be announced in March.
The cartoonist career path for women is no joke. Stay 'tooned!
Calling all HuffPost superfans!
Sign up for membership to become a founding member and help shape HuffPost's next chapter