You can hear the drums from a mile away. The pulse of the Surdo, heavy beats, the heart of the samba band; the Dobra, carrying the melody; the Repique adding snappy sounds alongside the Snare. The beats draw people in and keep crowds entranced.
I am with the Batalettes of Batala Washington, an Afro-Brazilian, samba reggae band of DC. Founded in 2007, 80 women now make up the group, but there are around 30 drummers at the 9:30 club on a Saturday morning practicing for upcoming performances, such as the Cherry Blossom's Festival Parade on Saturday, April 5. Batala Washington seeks to spread Brazilian culture and empower women through the power of music and drumming. Last year, they taught kids drumming in Marvin Gaye Riverside Community Center in NE DC.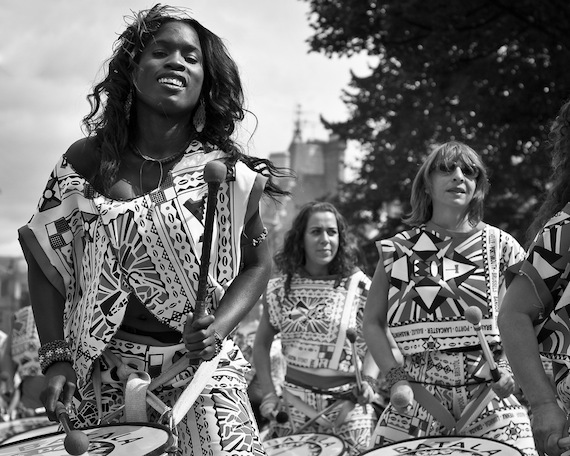 Batala, Knotting Hill, UK Carnival 2011 (Flickr, Simon Ingram)
The event these Batalettes are most excited for is El Encontro -- Portuguese for "the meeting" -- between the 29 Batala bands worldwide. "We are honored to be hosting El Encontro this year," said the music director, Alison Rodden. It is the first time it has been hosted in the United States. Each year, an Encontro is hosted in a different location. Over 300 percussionists from all over come together, share local culture, convene workshops, and learn new material from Batala's founder, Giba Gonçalves. Rodden said, "although there are many language barriers, the music is taught through playback and hand signs, so musicians can teach each other new beats -- and ultimately, the drum and rhythm are a common language between all of us."
Brandi Stevenson, the Vice President of the Board of Directors for Batala Washington said, "This year, El Encontro will be a four day cultural event, full of workshops, activities and performances." Batalettes will play guerilla performances accompanied by Capoeira dancing throughout the city, participate in the DC Capital Pride Parade, and Discover Strathmore -- Sounds of Brazil, and enjoy DC culture, while sharing their own culture with the city through Batala.
With hundreds of percussionists in the District from June 4 through 8, there's no telling where they will turn up, whether at the Drum Circle in Meridian Hill Park, or on a street corner near you. Be sure to catch them at the Strathmore and in the Pride Parade -- in the meantime listen for the beat and follow the music!