 I have been sitting down with several executive and entrepreneurial women to ask what they see as the driving force behind the movement behind the rise of women entrepreneurs. The common response from most has been, 'What movement? We've been doing this for years.' This is usually then followed with: '...but you are right, it does seem like there is an increasing number of success stories and media interest in women.'
In the next three posts, we are going to examine some of the driving forces and have female leaders share, in their own words, their own momentum stories.
THE DATA BEHIND THE MOVEMENT AND MOMENTUM
Looking at Google searches over the last eight years, there is a clear uptick in interest around female entrepreneurs.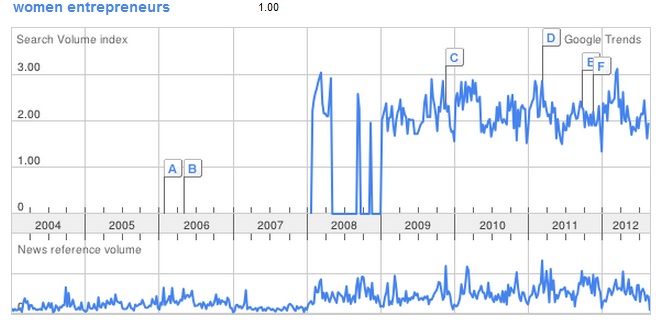 In 2010, the "State of Women-Owned Businesses Report" and CNN Money showed signs of a promising future for women. There are over 8.3 million female-owned businesses in the United States -- a 54 percent increase from 15 years ago.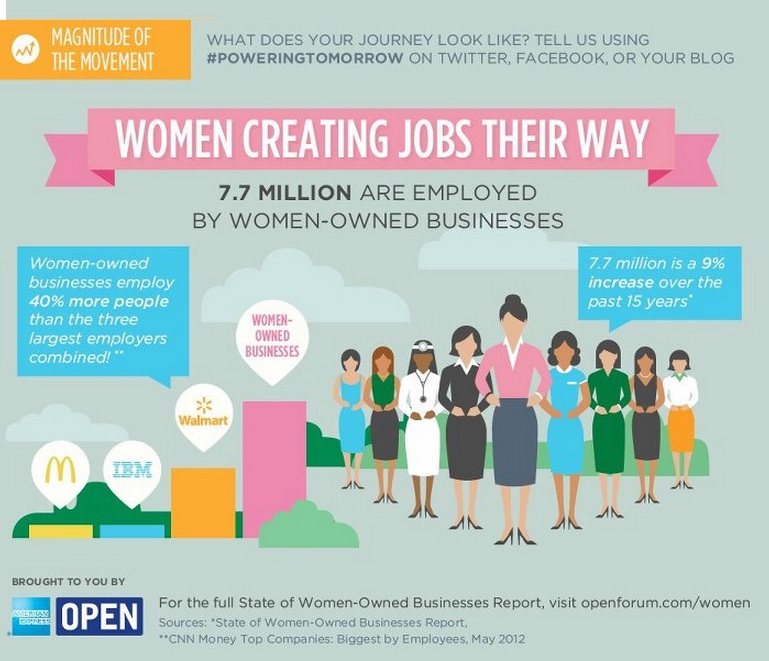 High-profile case studies like Marissa Mayer's will hopefully prove that you can be a Fortune 500 CEO while pregnant. In fact, one could argue powerful women are not only being accepted, but becoming desirable enough to be "poached," like Marissa Campise was by Venrock Capital from her post at Greycroft.
While some may ask, "where is our female Mark Zuckerberg?" Successful female CEO Rashmi Sinha of SlideShare ($119M sale to LinkedIn) and Victoria Ransom of Wildfire ($350M sale to Google) suggest there is an army of women working startup hours and saying, "don't underestimate us."
ONE WOMAN BEHIND THE MOVEMENT AND MOMENTUM
Leslie Bradshaw, 30, is a leading female entrepreneur and co-founder of the creative agency JESS3. Having run a successful business and a section of Forbes, Leslie also regularly interviews women business owners and leaders on her More Power Seats column. Bradshaw's theory? "Entrepreneurship is the next natural step for women. We've reached parity in higher education. We are no longer facing an overt, sexist glass ceiling in the management ranks. Now, it is time for us to launch and grow businesses."
Not surprisingly, Bradshaw and her agency recently partnered with American Express to help visualize the various stories and data points behind the 8.3 million women who have taken this next natural step to become business owners.
Soon, Leslie will celebrate six years running JESS3. After being named to Inc. Magazine's 30 under 30 in July, her firm was named a Small Agency of the Year in its region by AdAge in August. Right after, Mashable included her in the aforementioned list of 44 Female Founders to Know and at the same time JESS3 joined the ranks of Inc. Magazine's 500 Fastest Growing Companies at #430. Not bad for never being backed by a venture money and just running a company.
Turns out success is mostly hard work. Bradshaw gives the following advice to other female entrepreneurs: "Train hard every day to be and continue to be the best at what you do. This will give you the edge and credibility you need to lead in your industry -- two things that men tend to have in spades on us, ladies." She goes on to add, "Be prepared for long days, weeks, months and years of hard work and sacrifice. And as soon as you possibly can afford it, hire strong talent and normalize your hours for you and your team."
Bradshaw, who moved JESS3's headquarters from Washington, D.C. to Los Angeles in June, certainly has a game plan to continue the success. She's calling this next chapter, "Elevate."
ELEVATION AND THE NEXT CHAPTER
When she says "elevate," she doesn't mean it in a strictly professional sense; she is training hard, hitting the gym to optimizing her team's systems, practices and dynamics. "The move to LA was not only to elevate my company's health, but my health, too. There is better access to top talent, our west coast clients and fresh food all in one region." Talk about intent on winning.
Coming from a long generation of farmers and west coast roots, Bradshaw's return to the west marks three years in the Midwest and seven in DC. Bradshaw comments, "I come from a long line of farmers and hard workers. We just get things done."
But perhaps, there is a similar passage for the next generation -- our foremothers worked hard in the home so our mothers could work hard in paraprofessional roles so we could work hard at being executives and running our own companies. We women just get things done.