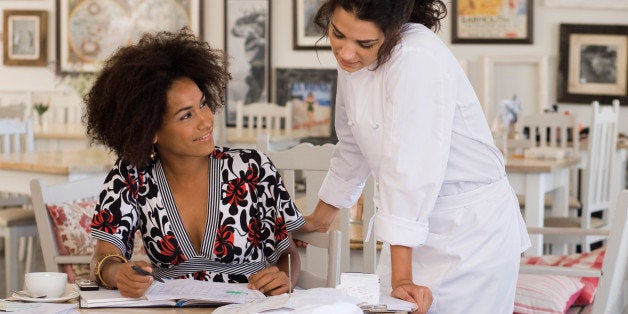 The pendulum of opportunity is swinging toward women willing to take business risk, work in an unsettled environment and fight for success on their own terms.
Rosie the Riveter is giving way to Rose the CEO. The Michigan economy changed fundamentally after a national recession and an automotive industry depression. It forced many women to reconsider what defines career success.
Until that time, business or career success was often measured by a successful climb up the corporate ladder working for one of the major manufacturing firms located in the state. But today, the road to entrepreneurship may provide the most direct route to personal career and financial success.
Women are now driving that road with a foot firmly on the accelerator. They are running their own businesses, thinking strategically and carving their own way in the global marketplace. The climate for women to create, nurture and grow businesses has never been more inviting.
Opportunity is there for the taking. Sure, it's never easy. Capital funding, marketing costs and intense competition are just a few of the hurdles to consider. A great product or service, business savvy and steely determination, however, can boost you over them.
As president of a college focused on business education, I stay tuned to the needs of Michigan-based students and the demands of employers in our region. We have made it a priority to engage the realities of entrepreneurship, especially for women.
Along with educational achievement, women seek mentoring, peer support and knowledge that only experience and networking will bring. In 2012, Walsh College, Inforum Michigan and the Michigan Women's Foundation joined together to create Entrepreneur-YOU to supply this critical foundation for success.
Entrepreneur-YOU provides a developmental conference as well as a "plan and pitch" competition for grant funds to women passionate about owning and operating a business. A collaboration of local businesswomen empower and energize these events. They were motivated to guide women in reaching their professional goals, positively impacting the region's economy.
Walsh also offers the services of Blackstone LaunchPad, originally funded by the Blackstone Charitable Foundation and currently by the New Economy of Michigan/Community Foundation. LaunchPad provides one-on-one consulting to help Walsh College students and alumni develop and grow their ideas into a business.
It is very gratifying to see women start businesses ranging from mastectomy aids to blood-typing devices to art studios and everything in between as a result of these efforts.
Still, it is exciting to see women in substantial positions of leadership who chose a career path within large organizations.
They took responsibility for line and staff functions, understood the dynamics of politics and consensus, led by example and sheer will and hurdled roadblocks with confidence and grit.
GM's Mary Barra and IBM's Ginni Rometty, both with Michigan roots, are just two examples of the growing society of C-suite women who get it as "internal entrepreneurs."
Women can't be shy about beating anyone to the punch in a 24/7 world.
At all levels for all women, opportunity is there. Go for it.
REAL LIFE. REAL NEWS. REAL VOICES.
Help us tell more of the stories that matter from voices that too often remain unheard.