Women will have to wait more than two centuries ― 217 years ― to have the same job and wage opportunities as men around the world, new data suggests.
The survey of 144 countries finds that as a whole, gender equality has worsened globally for the first time since WEF first produced its index in 2006. While income levels are rising, women are not sharing equally in the benefits, even in the most affluent countries.
"There seems to be a slowdown in momentum when it comes to proactive measures being taken to address gender gaps, particularly in the workplace," said Vesselina Stefanova Ratcheva, an economist at WEF.
The index measures how opportunities and participation differ for men and women across four key areas: health, education, economy and politics. The most challenging gaps are in economy and politics, according to the report.
The U.S. saw its ranking drop from 45th last year to 49th this year, mostly due to a lack of women in U.S. politics. Men hold nearly 81 percent of the seats in Congress and make up the majority of mayors and governors.
The top 10 countries for gender equality are predominantly European, with four northern European nations in the top five. Iceland is in the top position for the ninth year in a row, followed by Norway and Finland.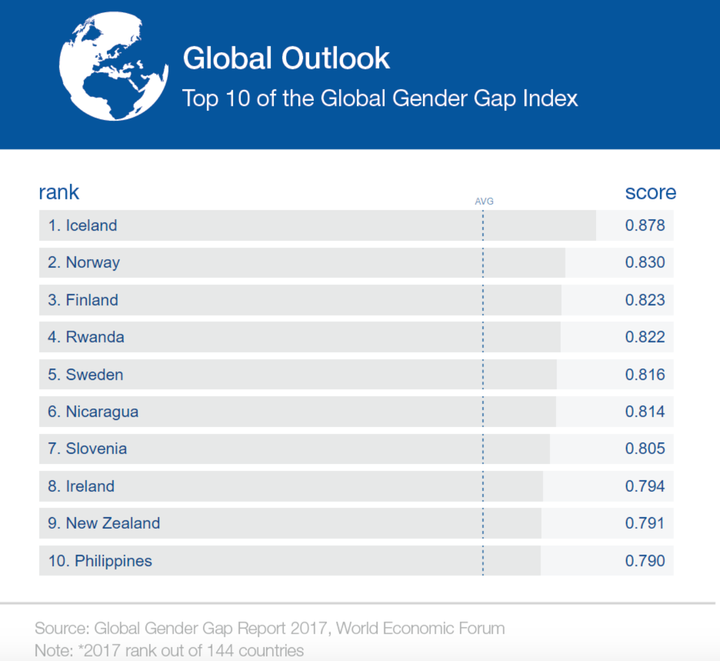 But it's not just European countries that scored highly; the top 10 also included Rwanda and Nicaragua. These economies are "putting in place more gender-equal opportunities regardless of their level of economic development," said Stefanova Ratcheva.
None of the big powerhouse economies of the G-20 made it into the top 10, "showing that economic power is not necessarily a recipe for better equality between the sexes," according to WEF.
However, gender equality does appear to promote better economic performance, according to numerous studies. A McKinsey Global Institute analysis estimated that more equality between the sexes would boost the global economy by $28 trillion. For the U.S. in particular, the WEF index cites a study that economic parity could add $1.7 trillion to the country's GDP.
Despair shouldn't be the main takeaway from the index, WEF insisted. "It is important to note that while the global picture is bleak in 2017, there have been some clear signs of progress in the past decade," said Stefanova Ratcheva.
The gender gap in education could be closed within the next 13 years, says WEF. And there are some standout countries that have made rapid improvements ― including Canada, which climbed 19 places for women's progress in politics and wages.
"What is needed is new energy and commitment at the leader level ― in business as well as political leadership ― to put these into effect," said Stefanova Ratcheva.
As Paul Polman, CEO of consumer goods giant Unilever, wrote for HuffPost, "It is our moral responsibility as today's leaders ... to further advance the lives of women and girls everywhere, and reverse the widening gap."
For more content and to be part of the community, join our Facebook Group.
HuffPost's This New World series is funded by Partners for a New Economy and the Kendeda Fund. All content is editorially independent, with no influence or input from the foundation. If you'd like to contribute a post to the editorial series, send an email to thisnewworld@huffpost.com