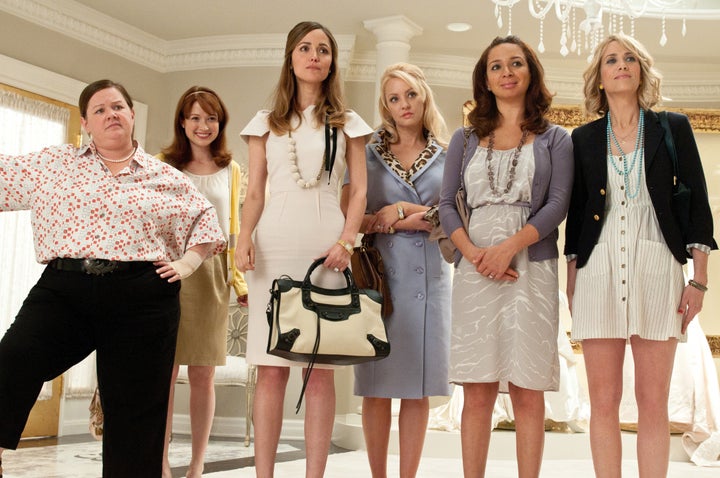 Like a broken record that continues to stick and sputter, a new study shows that women are still underrepresented when it comes to the top movies in the country.
A study released by USC's Annenberg School for Communication & Journalism took a survey of the 4,342 speaking characters in the top 100 grossing films of 2009 and compared it to results from the top 100 films of 2007 and 2008. For women, nothing much has changed -- in these top films, 32.8 percent of actors are female and 67.2 are male -- 2.05 males to every one female. This means that less than 17 percent of films are gender balanced, even though females make up half of the ticket-buying population.
Perhaps more disturbing is the finding that women are much more frequently sexualized when they appear on screen. They're more likely to be seen in sexy clothing (25.8 percent to men at 4.7 percent) and more likely to be partially naked (23.6 percent to 7.4 percent).
Women are also more likely to feel the effect of their age on their career. Though teen girls (12-20 year olds) are more likely than adult women, 21-39, to be shown as sexy, or partially naked -- 21.5 percent to 13.8. But older women, aged 40-64, are not only less likely to be shown as attractive (3.8 percent), but less likely to be shown at all. Only 24 percent of all characters aged 40 to 64 are female.
Though New York Magazine recently suggested that we're living in the "golden age" of male objectification, for women, the golden age never ended. The ratings controversy over films like "Blue Valentine" and "Shame" have also indicated the possibility that people are more likely to find issue with full frontal male nudity, and depictions of female sexual pleasure -- though full frontal female nudity rarely guarantees an NC-17 rating.
Part of the problem may be the serious gender gap that exists in the movie business as a whole. "Gender equality does not exist behind the camera," the study wrote, looking at 1,240 positions to reach the conclusion. Only 3.6 percent of directors are female, only 13.5 percent of writers are female and only 21.6 percent of producers are female. No change has occurred in these figures over the past three years. The study also found that films with one more female screenwriters shows a 10.2 percent increase in female presence in films -- a suggestion that if things were to change behind the camera, they could also change in front.
"It's hard to know why women have fared so badly in Hollywood in the last few decades, though any business that refers to its creations as product cannot, by definition, have much imagination," New York Times critic Manohla Dargis wrote, last year.
Calling all HuffPost superfans!
Sign up for membership to become a founding member and help shape HuffPost's next chapter