The friendly skies are getting friendlier ― and safer ― for some women traveling by themselves.
Delhi-based airline Vistara introduced a new program in March aimed at ensuring the comfort and safety of women flying solo. #VistaraWomanFlyer allows women traveling alone the option to request specific seats, and also provides baggage and transportation assistance and even escorts to walk women to taxis. If a flier doesn't request a certain seat, the airline will still ensure she receives either a window or an aisle position, rather than a middle seat.
Sanjiv Kapoor, Vistara's chief strategy and commercial officer, told HuffPost in a statement that the airline's initiative is based on "intuitive thoughtfulness," noting many of its solo female travelers request assistance.
"One of our core values is 'intuitive thoughtfulness.' We observed the preferences of solo women travellers on our flights, and noticed that they often sought assistance on ground upon arrival at their destinations, mostly either regarding their baggage or to reconfirm the safest and most reliable options for airport transfers. Some even shared their feedback with us that they would like proactive assistance on arrivals, both with luggage and with ground transport/ booking of taxi, especially at night. As part of this optional service, solo women travelers are not assigned middle seats, again based on feedback and intuitive thoughtfulness."
Vistara currently flies domestic routes in India, but has plans to expand and "intends to provide this service on international flights," according to CNN.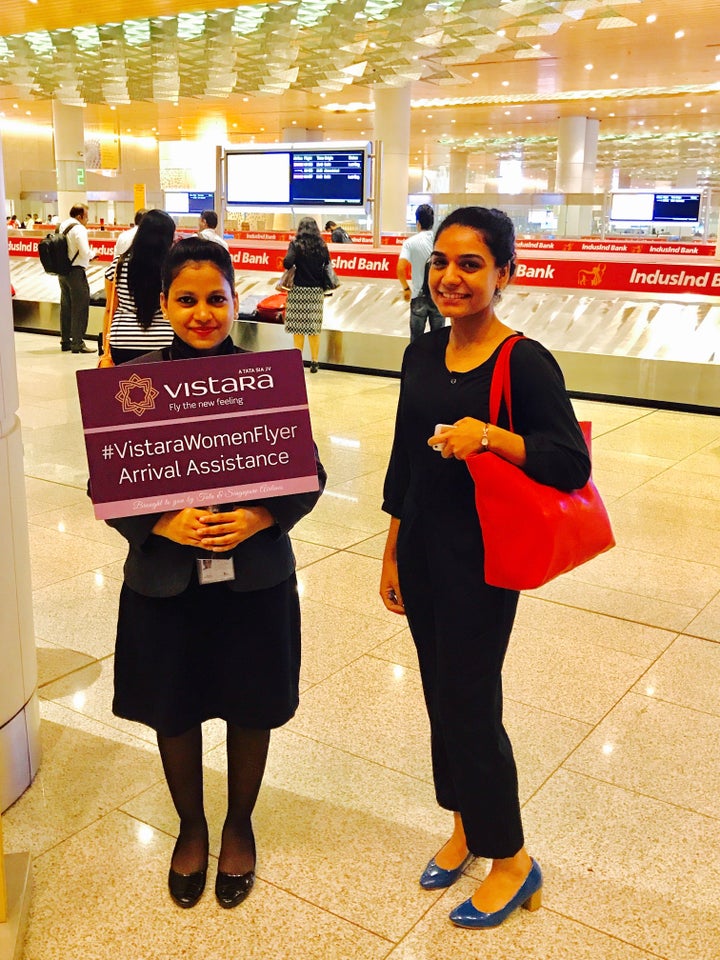 Air India has recently taken steps to make its flying experience safer for female travelers, too.
After two separate incidents of groping aboard Air India flights were reported, the airline rolled out a reserved section of six seats for women. Launched in January 2017, the seating is available only to solo fliers, not women traveling with family.
Sexual assault and harassment on planes happens everywhere, unfortunately, and India has been grappling with such crimes in general. The U.S. State Department advises women not to travel alone in the country: "Travelers should be aware that there have been reported cases of sexual assault, including rape, of U.S. citizens traveling throughout India," the agency's website says. "U.S. citizens, particularly women, are cautioned not to travel alone in India."
The State Dept. also notes harassment "can occur anytime or anywhere [in India], but most frequently has happened in crowded areas such as in market places, train stations, buses, and public streets. The harassment can range from sexually suggestive or lewd comments to catcalls to outright groping."
In the U.S., the FBI saw reports of sexual assaults on flights increase 45 percent by the fall of 2016, according to the New York Times. But are initiatives to separate women the answer? Not everyone thinks so, and Air India faced some blowback for its women-only section. Critics pointed out that the groping incidents speak to a larger cultural problem, and argued that rather than trying to address issues by isolating women, the problem required education and accountability.
Vistara's initiative has also been met with praise and participation. According to the Times of India, some 70-100 women use the service every day, and people have thanked the airline for accommodating the specific concerns of solo female travelers.
One thing's for sure, no matter the position: Creating an open dialogue about the realities of sexual assault and harassment on flights is a step toward ending it.