People tend to think of gaming as something men do. The stereotypical gamer is a man who still lives in his mom's basement -- with no life, no friends, and certainly no girlfriend.
That's not exactly an accurate picture of the average gamer.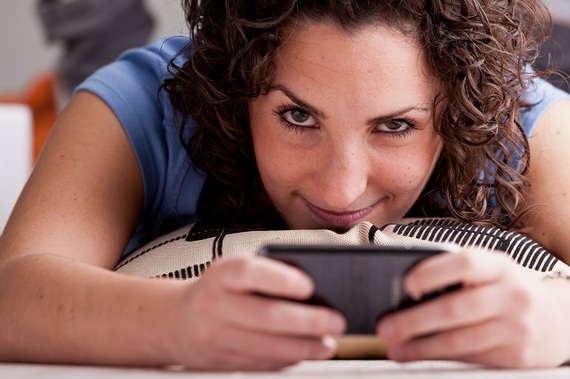 Image Source
The latest research shows about the same number of men and women say they've played digital games. And yet, the stereotypical image persists even among more than half the women who say they play games.
More than half the adults who own game consoles are college educated with incomes over $75K. Approximately 42 percent are women; 37 percent are men. (perhaps the rest are jointly owned?)
There's an odd stigma associated with enjoying games that needs to be addressed, understood, and overcome. Gaming is fun! It's ok to admit you're a gamer.
To demystify the term and shed light on the issue, let's talk about the types of games women play.
Consider this your gateway game. Brain teasers are one of the most popular types of games women play, and many don't even consider it gaming. Crosswords, Sudoku, puzzle games, and solo trivia games are all becoming increasingly popular on the app format. Mental stimulation on the go is something many people enjoy. Games help kill the time we spend waiting, commuting, or just taking a break.
Brain teasers are a great way to quickly decompress and boost creativity. They usually don't have the same sort of addictive qualities other types of gaming do, and are ideal for a quick break.
Memory games, like Mahjong, soduko, and bingo, are popular online and off, and far more likely to be played by women.
Peer pressure is another way women frequently fall into gaming. Games with significant social components found on social media sites like Facebook are very popular. Candy Crush, Criminal Case, Pet Rescue Saga, and Words with Friends attract a huge player base. Then there are inexplicably popular games like Farmville, but don't knock it, till you've tried it. There's something viscerally satisfying about watching virtual plants thrive.
The draw of these games is that they allow players to play against themselves, and share their achievements or help others if they want to. You can be a social introvert and have fun at the same time. Remember ladies, friends don't let friends game alone.
One of the reasons women enjoy gaming is because of the way it makes them feel. Games of chance are an easy way to bring excitement into life without having to leave home to do so.
Interestingly, there is a duality in this genre not seen in others. The other big draw for women is that it removes the need to actively make choices. Women seem to like the passive gaming experience, where whether they win or lose is due to simple luck.
MMORPG (Online and Console)
Massively Multiplayer Online Role-Playing Games, or MMORPG if you don't want to have to try to say that repeatedly, are not new. They've been around almost as long as the Internet, but only recently have people begun to realize that women are playing. And they play a lot. They play console games, online games, and games on their phones.
They play so much that huge companies like Marvel Entertainment took notice and launched new characters, games and merchandise with women in mind. In addition to the amazing worlds created by Marvel, the ever popular World of Warcraft, Ragnarok Online, RuneScape, and dozens of others have developed features designed to appeal to female players.
Mobile apps have been the gateway to MMORPG for many women. Some of the most popular mobile games are Clash of Clans, Order & Chaos, Celtic Heroes, and Dark Legends.
MMORPGs foster a sense of community with direct social interaction that isn't as prevalent in some of the other games women play. They also have a storytelling component similar to television or movies, with the player becoming part of the story.
The moral of the story: the games women play are the same as the games men play. Women don't need "girly" games. They love gaming as much as the next nerd.
Women gamers are big business. It's about time game manufacturers began to take notice.
Now it's time for me to get back to my Night Elf Shaman.