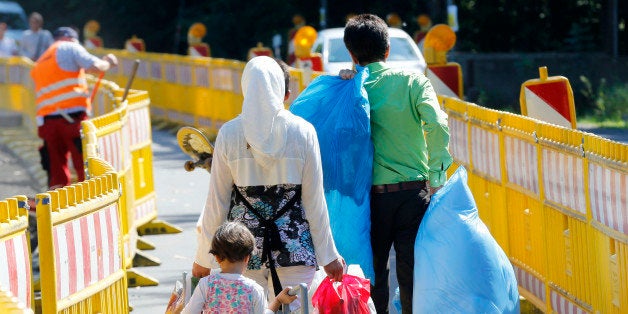 Marija lives in a 10 square-meter room she shares with five other women. The room has six beds, a small table and a closet. No one has enough space. I sit next to her on her bed, where all her belongings are scattered. It's not much. She only brought one small suitcase with her, she said.
She arrived in Germany from Serbia two months ago, with her husband, Predrag, and their two sons. Their first stop was an air dome in Kruppstraße, Berlin -- a confined space that houses about 300 refugees.
It is an emergency shelter for refugees, and Marija's family was only supposed to spend three nights there. Refugees are supposed to be sent to the State Office for Health and Social Affairs, known as LaGeSo, after a brief stay. But so far, this has been the family's only stop in Germany.
"There are between 50 to 60 refugees who have been stuck in this hall for around two months," the facility director, Mathais Hamann, told HuffPost Germany.
Marija is terrified every day, particularly at night. No, she is not afraid of being named an "economic refugee" and deported; she is afraid of the "strange men" roaming around in the building.
"I barely sleep at night," she said. "Strange men constantly come in and stare at me." She never changes into her pajamas, instead sleeping in her regular clothes. This makes her feel safer.
The experience of this 24-year-old is not an exception. Female refugees have reported instances of physical violence, racism, verbal abuse and sexual assault in their shelters.
There are similar conditions in Giessen, a town in the German federal state of Hesse. There have been reports of rape and forced prostitution there, according to a letter several aid organizations have sent to female politicians in the Hessian parliament.
"Women report that they, as well as children, have been raped or sexually assaulted," the letter reads. "So many women sleep in their regular clothes. Many women report that they won't go to the restroom at night because of the many reports of assault and rape in, on the way to, the facilities. Even during the day, walking through the camp is a terrifying situation for many women."
"We have many credible accounts of sexual violence and abuse, both by victims as well as counseling services and aid agencies," said Barbara Helfrich, press officer at JOINT Hessen, a German welfare organization. Accurate statistics on the number of sexual assault cases in refugee camps do not yet exist.
Marja said she had heard about a few cases at her facility, but that she didn't know any details about them.
"And I don't want to know more," she said, "because that would scare me even more."
Hamann is aware that women in the facility do not feel safe. "We have security personnel and social workers nearby for that reason," she said. "They watch to make sure nothing happens."
But Marija doesn't feel any safer. That's why she places two chairs in front of the curtains. If someone were to enter the room, at least she would get a warning.
"A couple of nights ago I woke up, and I heard the scratching of the chairs on the floor," she said. "A strange man moved them and stood there in my room. I was terrified."
The rules of the facility dictate that men and women sleep separately, so Predrag can't always be around to watch over his wife.
"He's not allowed to stay with us," Marija explained. "But he sneaks in at night to guard us."
Before I get up to leave, Marija grabs my hand and asks me: "How can you live here as a woman, and feel safe?"
This article first appeared on HuffPost Germany and was translated into English.
Related
Popular in the Community