When the world celebrates the summer Olympics in Rio next month, 4,700 female athletes -- or 45 percent of competitors -- are expected to participate. The trajectory of female participation is impressive: from 13 percent in 1964 to 23 percent in 1984 to a whopping 44 percent in the last Olympic games.
In the United States, the increase of female athletes often is attributed to Title IX of the 1972 Education Amendment. According to the Women's Sports Foundation, since the passage of this amendment, female participation in U.S. high school sports has increased by more than 900 percent. In recent years, almost 43 percent of Division I, II, and III athletes -- more than 212,000 -- were female.

And, our youngest daughters are avidly joining in on the trend. By age six, roughly half of all girls are on a sports team, and 40 percent of girls in grades six to eight claim that sports are a big part of their social identity.
Unfortunately, we are still underserving our female athletes, at least relative to their male counterparts. Despite participation progress, a stubborn gender gap persists in scholarship dollars, team operating budgets, coaching salaries, and even player salaries. When the U.S. Women's Soccer Team won the World Cup last year, they were paid a fraction of their male counterparts, despite advancing further in the tournament (eventually winning) and driving larger viewership.

Yet, even more pernicious, because for many people it is a lot less obvious, is the gender gap in our cultural images of boys and girls in sports. If our sport-enthused daughters (sisters, nieces, friends--or our sons, brothers, and nephews) do a quick Google image search of "Girls in Sports" this is what they see: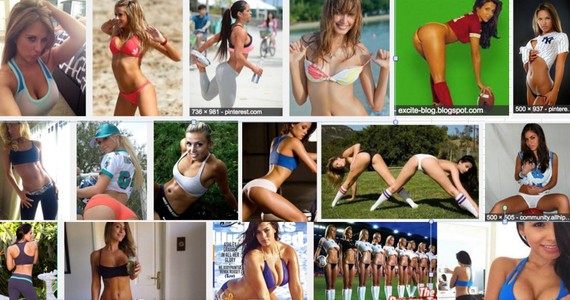 In contrast, for boys we see: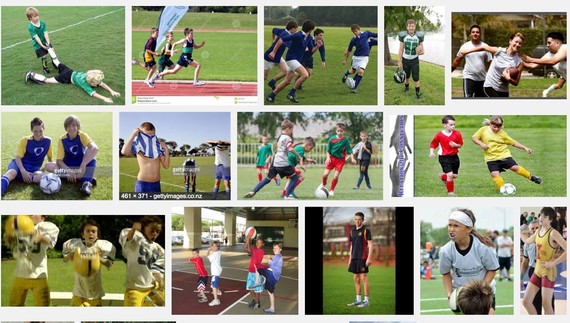 Why do our cultural images lag? And what effect might this have on our girls? They return from their games sweaty, proud, and fueled with strength only to be bombarded with images contradicting what they have experienced on the field, on the court, or at the pool. Rather than reinforcing the hard-won lessons of sports (how to work as a team, the value of hard work, the fun of competition, the beauty of strength), they see provocative images, with the implicit lesson that somehow girls in sports are supposed to be more sexy than strong.
These images, almost 45 years after the passage of Title IX, remind us yet again that women and girls are too often viewed in narrow, specific, unhealthy ways. These images do not relate the story of how far female athletics has advanced. It is not their story of strength, drive, well-being, and dedication. We must not let this persist. What works to empower, respect, honor, and celebrate female athletes is to capture, recognize, and acknowledge them for what they are: hardworking, strong, resilient, disciplined, fit, role models in their own right.
Lisa Thompson, a graduate of the McDonough School of Business and founder of IvyCitizens, an athleisure apparel brand dedicated to honoring women and girls in the commercial market, contributed to this column.