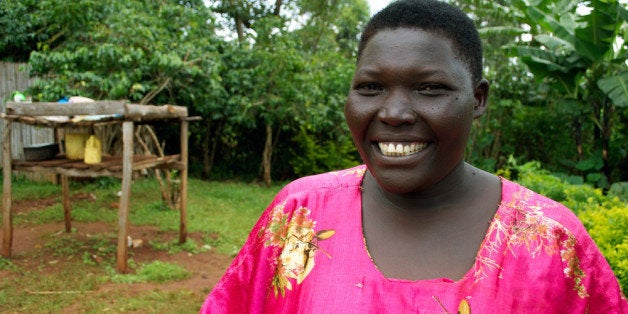 Co-Authored by Elizebeth Tucker
Former Secretary of State Madeleine Albright once famously said, "There's a place in hell for women who don't help other women."
It's a bold statement, to be sure, but Ms. Albright's point hits home: as women, we have a responsibility -- and an incredible opportunity -- to lift up our colleagues, friends and global neighbors.
Beyond Good Household Economics
It's no secret that giving women opportunities to learn more, do more, and lead more is key to unlocking a brighter future for this world.
But as we work toward a better future, what women have to offer goes far beyond good household economics. As trusted members of their communities, women play a crucial role in transforming whole neighborhoods and villages, and their influence is spreading even further thanks to mobile phones.
The Teacher is as Important as the Lesson
A perfect example of this transformative woman is Esther Chebet. She has multiple roles in her community in rural eastern Uganda: farmer, seamstress, volunteer domestic violence counselor, teacher and Grameen Foundation Community Knowledge Worker.
Though Esther doesn't formally hold a position of power, she's clearly a leader in her community. She teaches young women how to sew so they can earn an income, she raises awareness about domestic violence and counsels victims of abuse, and as a Community Knowledge Worker, she helps her neighbors earn more money from their farms.
In her role as a Community Knowledge Worker (CKW), Esther visits her neighbors -- a large number of whom are women -- and helps them solve problems with their crops and livestock. She uses her mobile phone to access an agricultural database with information on relevant, local best farming practices, weather forecasts and market price information. This enables her neighbors to treat diseases like banana wilt and to get better market prices for their produce. As a result of this support, farmers are able to earn on average 38 percent more money from their crops.
Women like Esther are vital to healthy communities, and they all have a special characteristic in common -- their neighbors trust them. Because of that trust, they are willing to hear what she has to say, and they're more likely to adopt the practices she encourages.
Without this trusted intermediary, the technology -- and the opportunity for these farmers to improve their livelihoods -- would go to waste. Technology is powerful, but it must be contextualized, and women like Esther play a vital role in that contextualization.
The Trusted Auntie to the Rescue
Direct intervention like Esther's can lead to lasting change in poor communities. But even when women can't be physically present to help their neighbors, the perception of a "woman's touch" can drive positive change.
Programs like Grameen Foundation's Mobile Midwife -- which empowers new and expecting mothers with health information -- exemplify the importance of a woman's influence. The program delivers messages to women's mobile phones via voice recordings, and each message is tailored to its recipient's stage of pregnancy or her infant's age.
For women who are illiterate, the voice messages deliver especially valuable information, including appointment and vaccination reminders. Surprisingly, the voice used to record the messages was very important.
The team tested several types of voices to see which one would be most appealing and most likely to encourage the women to listen to, trust, and act on the messages they received. They tested a man's voice against a woman's voice, and an "educated-sounding" voice against that of a regular villager. After several tests, the choice was clear: women preferred to hear the voice of an older, trusted "auntie" in the community.
This experience underscored the power that women have -- whether it's formal or indirect -- to help their fellow women make good choices and overcome unfortunate circumstances.
It's easy to get frustrated by the world's sluggish move toward gender equality. But as we prepare to celebrate International Women's Day on March 8th, we should remember the power of women like Esther and the "trusted auntie."
Whether we're leading from a position of authority or from a position of understated influence, we have the ability, and the responsibility, to help women achieve great things for themselves, their families, their communities and their world.
REAL LIFE. REAL NEWS. REAL VOICES.
Help us tell more of the stories that matter from voices that too often remain unheard.