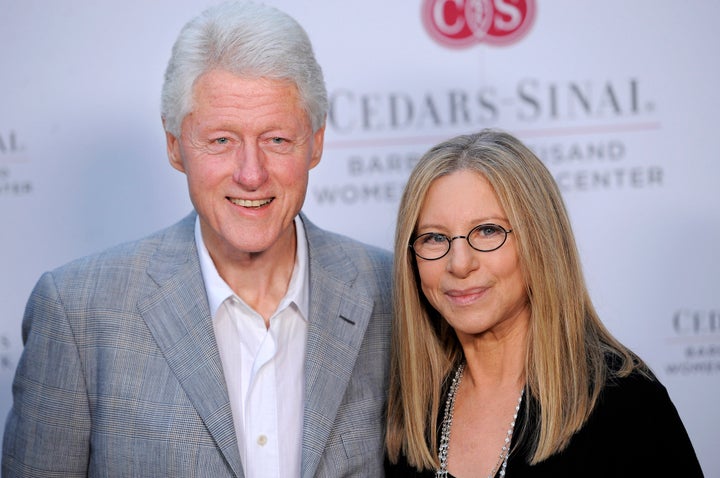 It's a human reaction by patients, families, physicians and scientists to be dispirited at times by a lack of public focus on certain diseases and the needed research to advance their care and treatment. But when it comes to a major killer of women, there's heartening news out of Southern California concerning an increased philanthropic leadership by Barbra Streisand in support of research and therapies for women's heart disease.
As was announced on Thursday night in Malibu, Cedars-Sinai will be the home of the new Barbra Streisand Women's Heart Center, which will be directed in Cedars-Sinai's Heart Institute by my colleague C. Noel Bairey Merz, MD.
The famed actress, singer, director and activist met Bairey Merz a few years ago and was shocked to learn, as she has said publicly, that "Women around the world are dying in alarming numbers from an epidemic of heart disease. We can no longer afford the misconception that heart disease is mostly a man's disease."
After supporting a regenerative medicine research fund in 2007, then underwriting The Barbra Streisand Women's Cardiovascular Research and Education Program in 2008, Streisand in 2011 received the Cedars-Sinai Board of Governors Humanitarian Award for her efforts on behalf of women's heart health and her many other philanthropic activities.
The support and attention that Streisand can bring to gender differences in cardiac research and care -- as she did, for example, by hosting other notables such as former President Clinton at her home on Thursday -- is laudable and timely.
Important research has been under way for roughly a decade into gender differences in heart disease. But there's a significant gap to be made up in our understanding and therapies in this area because so many studies were conducted only on men and many therapies were aimed solely at them; many clinical trials of various heart drugs lacked adequate representation of women to see how gender differences might affect the response to medications.

No. 1 Killer of Men, Women
Heart disease is the nation's No. 1 killer of both and women. It can present warning signs so different in the sexes that heart disease in women may be misdiagnosed or missed entirely. The number of deaths from ischemic heart disease actually is higher in women than in men.
Adjusting for age, size and other factors, one study put the death risk for women at 1.7 times greater than that for men. Even when patients and physicians recognize heart disease in women, their mortality from heart attack still is higher than men's, as is their rate of adverse events after treatment.
The American Heart Association reports that two of every three women in the U.S. have at least one risk factor for heart disease and that one of two American women will develop heart and vascular disease. Twelve times as many women die of heart disease annually as succumb to breast cancer.
If heart disease poses such challenges and risks for women, why haven't physicians and scientists attacked this issue with greater vigor?

Yentl Syndrome
Well, speaking of Streisand, Bairey Merz and others have targeted challenges with what medicine has come to dub the "Yentl Syndrome." As first described in 1991 in the New England Journal of Medicine by the late Dr. Bernadine Healy, a noted cardiologist and director of the National Institutes of Health, gender bias plays a role in coronary disease management; in particular, it's such that women receive life-saving treatments as men normally do only if and when their heart ills look like a man's.
"Once a woman showed that she was just like a man, by having severe coronary artery disease, then she was treated as man would be," Healy wrote, noting this was analogous to what happened to an Isaac Bashevis Singer character, Yentl, portrayed on the screen by Streisand. Yentl was a young heroine in the Lublin Jewish community who disguised herself as man so she could secure the education that she so desperately wanted.
Bairey Merz and others have published articles documenting that "the Yentl Syndrome is alive and well," and have shown how different men and women experience heart disease. Men generally experience it as chest pain on exertion. This is because often an artery is narrowed by atherosclerotic plaque buildup in a major coronary artery. When the artery is blocked acutely by a ruptured plaque or a plaque, the pain intensifies as the man experiences a heart attack.
Women's symptoms differ: They feel extremely fatigued, short of breath and may have chest pain; they suffer from coronary microvascular dysfunction -- narrowing of small arteries and blood vessels in the heart. This represents a failure of arteries to open and close properly, meaning the heart gets insufficient blood; it's not the blockage typically seen in men. In fact, in women, 80 percent of patients with coronary artery disease do not show the male-type of plaque buildup in major arteries.
While men and women may express equal concern about their heart symptoms, research shows women are more likely to delay seeking attention for them or simply to ignore them until they worsen; many of the women with cardiac disease on average are older, and, thus, less likely to get aggressive care.
As a National Heart, Lung, and Blood Institute study -- led by Bairey Merz -- on women's heart disease showed, those with a history of irregular menstrual cycles, estrogen deficiency and those with polycystic ovary syndrome may have higher risk of developing heart disease as they age, suggesting that changes in female hormones, such as estrogens, may be an important factor in the genesis of ischemic heart disease in women.

Diagnostic Differences
When women undergo angiograms, their tests may not show they have ischemic heart disease, affecting small arteries around the heart; the angiogram appears to be better at detecting developing clots in larger arteries, a condition mostly affecting men, the study showed.
Research also shows that physicians often tell women that their stress tests are normal or they're experiencing "false positives," though Bairey Merz cautions that MDs should not rely only on a score from stress tests and they must pay heed if female patients describe symptoms such as chest pain and shortness of breath.
There are other means to get a more accurate diagnosis for women with cardiac woes. These include computed tomographic coronary angiography, wherein high-contrast, injected dyes and high-tech imaging can provide very detailed views of blood vessels; women may also undergo a coronary reactivity test, a procedure to scrutinize blood vessels in the heart and their response to different medications.
Women with ischemic heart disease symptoms, of course, can benefit from proper medication to reduce their risk of heart attacks and ease their discomforts. Also beneficial to them would be weight loss, a low-fat diet and regular exercise.
Even before cardiac issues advance to this state, however, clearly there are excellent opportunities to better women's heart health, sooner and with greater information. If younger women stopped thinking that heart disease is a man's problem and took many of the preventive steps that we have seen work with men, that alone could be a boon; if women and their physicians were more aggressive, when appropriate and indicated, with diagnostics and therapies -- including medications like low-dose aspirin, statins or other cholesterol-reducing drugs and the common prescriptions to lower and control blood pressure -- that could be medically significant for many.
We'll see advances in this area only when careful, scientific and fact-based research occurs and we learn even more about what our best practices should be in preventing, diagnosing and treating heart disease in women.
All of this hard work, of course, requires not only support but a sound, appropriate way to share proven information and practices with patients, families and physicians, scientists and others. We know that when prominent men like President Clinton and TV personality Larry King struggle with their cardiac health, diet, drop weight and talk openly about their procedures, medications, treatment and lifestyle changes, those experiences sway others. Across the country, postponed checkups get scheduled; new exercise programs get launched; key and generous donors are more persuaded to support important initiatives; and, yes, clinicians and scientists look at articles describing diagnostic procedures and therapies with which they might have been unfamiliar.
That's why Streisand's latest announcement, atop her past demonstrated commitment, provides a welcome prescription for boosting research and care of women's heart health. Women never should receive second-class or inequitable care due to their gender. It's clear that we have disparities and we have lots of work to do -- it's also great to know that we have leaders like Streisand and Bairey Merz to help us tackle our challenges.
Popular in the Community