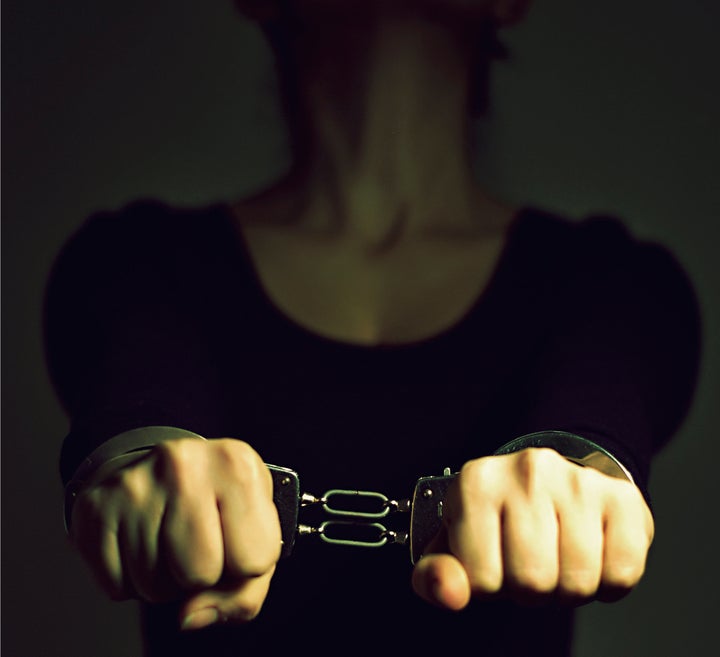 The United States puts women behind bars at a higher rate than every other country in the world, save for Thailand.
"[Women] make up a small portion of our prison population, but they are a growing one," said Aleks Kajstura, legal director at Prison Policy Initiative and co-author of the report.
Currently, the U.S. incarcerates women at a rate of 127 per 100,000. Approximately 206,000 women are in the country's prisons and jails, according to U.S. Census data.
Over the past four decades, the rate of women imprisoned in the U.S. has risen sharply. The Sentencing Project calculated that the number of women in prison is increasing at nearly double the rate of men.
"What was surprising is the degree to which the U.S. treatment of women was out of sync with the rest of the world," Kajstura said. "Compared to the incarceration of men in the U.S., the women's rate is a lot lower. But if you look at how other countries incarcerate women, it's still completely out of whack what the U.S. does."
She pointed to Rhode Island, which is praised as having the lowest incarceration rate of women in the U.S. But if it were a country, Rhode Island would boast the 15th highest incarceration rate in the world.
"Within the U.S., talking about state to state policy, we might look to some place like Rhode Island or Massachusetts or Vermont as a model, but we really need to look well beyond that," Kajstura said. "You can't treat something that is 15th worst in the world as a model if you want to really reduce incarceration to a level that's appropriate."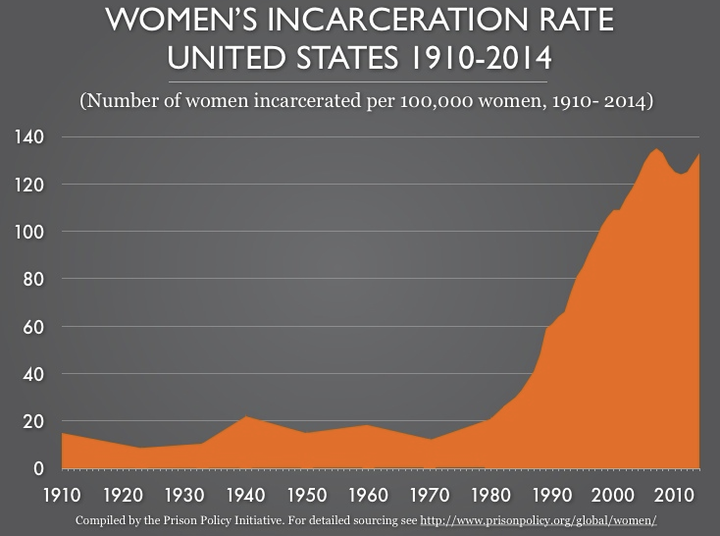 Tamar Kraft-Stolar, co-director of the Women and Justice Project, said it is critical to understand not just how many women the U.S. puts in prison, but who is incarcerated and why.
"It's not just any woman we lock up in the country," she said, adding that a disproportionate number of women in prison are women of color and women from low-income communities -- the majority of whom are mothers.
"Most women are in prison for crimes directly related to social inequity -- poverty, addiction, mental illness, domestic violence and trauma," she said.
According to the Bureau of Justice Statistics, in 2014, 59 percent of women in federal prison were serving time for drug offenses and 4 percent were in prison for violent offenses. In state prisons, 24 percent of women in 2013 were incarcerated for drug offenses, and 37 percent were imprisoned for violent offenses.
"It's a direct reflection of our society's destructive over-reliance on incarceration as a response to problems that are social and economic at their core."
"Those realities are not a coincidence: It's a direct reflection of our criminal justice system's racism and exclusive targeting of marginalized communities, and it's a direct reflection of our society's destructive over-reliance on incarceration as a response to problems that are social and economic at their core," Kraft-Stolar said.
"Truly tackling the mass incarceration of women requires us not only to understand the staggering numbers, but also the underlying reasons why the numbers have exploded."
Melissa Jeltsen covers domestic violence and other issues related to women's health, safety and security. Tips? Feedback? Send an email or follow her on Twitter.
Popular in the Community