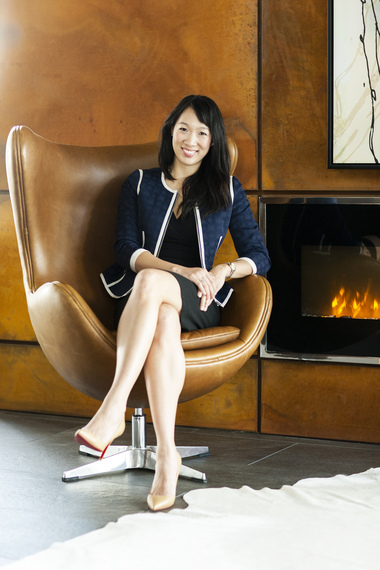 Abigail Tan
Abigail officially started her career with the St Giles Hotels in October 2009.

Armed with the skillset harnessed from previous work experience and university training, she went straight into being involved with every aspect of the purchase to the operations - from negotiations with the seller, negotiations with banking institutions, renewing of supplier contracts, hiring and interviewing of new and current personnel, and helping the team transition from W hotels to St Giles hotels.

In London around the same time, she was part of the team that kick-started a refurbishment project to re-modernize and upgrade the rooms in the 649-bedroom hotel. This included identifying the key areas that needed to be improved, design of the rooms, layout, and how to make everything fit within the budget.

Apart from other projects within the daily operations of the 4 properties, she was also part of the core team that saw The Tuscany - St Giles Boutique Hotel through a complete gut renovation, and was involved from design to purchasing, sourcing, and re-opening.

Other key moments have been the spearheading of the development and activation of the St Giles brand, culture, and training program, which will be rolled out throughout all the current and future St Giles properties globally, which will play a major role in the expansion plans of the Group.
How has your life experience made you the leader you are today?
I grew up in Penang, a small island in Malaysia, where I gained exposure to the hotel and real estate industry at a very young age. As a child, I was always interested in observing the inner workings of organizations and seeing how people function, both as individuals and as members of a group. I had the chance to learn first-hand by watching my Father run his businesses and spending time at his offices. I also played many team sports growing up, including basketball and netball, which had a real impact on my ability to understand the importance of teamwork and communication, as well as how to work in tandem with people to achieve common goals.
Throughout my life, I have been fortunate enough to make amazing friends who have taught me how important relationships are, how to be more selfless at times, and how to cherish the moments and people that shape who we become. From my experiences, I have learned to listen, to be empathetic, to strive to actively understand the needs of my teams as individuals and as groups, and to trust my instincts. I believe it is the ongoing effort of trying to master these values that continues to mold me into the leader I aim to be.
Every experience is like a new page in my book, which continues to shape both my personal story and my approach to leadership. I view leadership as a continuous process. There's always more to learn and new challenges to overcome, which I find makes work and life all the more exciting.
How has your previous employment experience aided your position as head of St Giles; UK, Europe & USA?
I began my career with St Giles as an apprentice. It all started while I was at university in the UK, when I would spend countless hours talking with my "Uncle Steve" about the hotel business. "Uncle Steve", as my family affectionately calls him, is the Chief Executive Officer of our UK properties and has been in the hospitality business for more than 40 years. As he would shuttle me to and from college every couple of weeks, we would spend the four hour drive discussing a variety of topics related to the hotels themselves, and the industry at large. Throughout my apprenticeship, Steve invited me to attend board meetings, and encouraged me to absorb as much as possible by observing from the bottom-up.
I officially joined St Giles as part of the core team involved in the purchase of our two New York properties. With this acquisition, I went from being an apprentice to being the Director of Corporate Affairs and Investments. This opportunity allowed me to get involved with high-level discussions and negotiations related to preparing the hotels for the ownership transition to St Giles and gave me a part in every decision from choosing paper stock to hiring management.
My apprenticeship and my time as the Director of Corporate Affairs and Investments enabled me to gain the core skills required to advance in the Group. It provided me with a very well-rounded perspective of the industry.
What have the highlights and challenges been as head of St Giles; UK, Europe & USA?
My role is very dynamic and gives me the chance to work with and learn from talented people from a variety of backgrounds and industries. I enjoy meeting these people with their own unique skill-sets, experiences and perspectives and bringing them together to build my teams.
I believe that culture is a crucial ingredient in the recipe for a successful company, so I always seek to foster work environments in which my teams feel both motivated and empowered to succeed. This is one of the most rewarding aspects of my role, but also one of the most challenging, as change is rarely a welcome guest, and it's usually the case that core changes need to be made before any cultural difference can be realized.
In earlier stages of the position, I faced the challenge of overcoming people's initial doubts of my abilities due to my age. This forced me to prove that age is just a number and not indicative of capability. It made me push myself to tackle a steeper learning curve and gain as much knowledge as possible from these situations; to prove myself as a capable leader by going above and beyond the job description and actually being a leader.
What advice can you offer women who are looking to get into business?
I'd say one of the most important lessons for women and men, alike, is to learn to learn from failure. Without failure and hardship, there is no organic learning and therefore no personal growth. The process of failing, then having to pick up the pieces and steer yourself and try again, is what creates internal strength and resilience, which enables us to persevere and to grow.
Additionally, I believe it's important to understand that respect cannot be demanded; it has to be given to be received. The key to respecting people is to treat them as you would like to be treated, which is why I take the time to really listen to and get to know my staff.
Lastly, never compromise your fundamental beliefs and values -- these are the core components that will guide you through the ups and downs and keep you on the right path -- in business and in life. (Though be warned: that path will definitely get narrow at times!)
How do you maintain a work/life balance?
Work/life balance is a skill I learnt from my parents. Work financially supports the family, and family support enables a healthy work ethic. My father taught me that no matter how busy work gets, family should always remain a priority. Despite building a career and running a global organization, he always found time for his family. In fact, he rarely missed a family dinner, regardless of how busy work became. My mother, who had the absolute, 24/7 job of raising five children, always managed to make time for our individual needs, kept the family together, showed us the power of unconditional love and gave us the security of a family.
As an adult, it's clear that my parent's attitudes have had an influence on my approach to finding work/life balance. I try to leave work at work and am all for enjoying my time before and after office hours. Unless there is a time-sensitive project at hand, I set an approximate time to leave the office, and I leave at that time. If it's late in the day and something can wait until tomorrow, then it will wait until tomorrow.
In my free time, I spend as much time as possible with my family and friends. I also like to make time to explore my passions, which includes getting my helicopter license, playing the electric guitar and traveling. Additionally, I am a big advocate of getting sufficient rest and time out of the office, to ensure arriving refreshed and ready for the next day.
What do you think is the biggest issue for women in the workplace?
Some women seem to feel that, even in the year 2015, they still have more to prove than their male counterparts. In my experience, I have seen this belief trigger unhealthy rivalries, pressures, and stress, all of which hinder productivity. It's a self-fulfilling prophecy; if you operate under the assumption that people think less of you, this is the image you're likely to project and therefore, the way people are likely to treat you. I'm a firm believer that if you simply work hard and focus on producing positive results, you will earn respect, regardless of your gender.
How has mentorship made a difference in your professional and personal life?
I believe wholeheartedly that I would not be the leader that I am today were it not for my mentors. I am always learning, and as a result could not possibly mention every mentor who has taught me something valuable. However, I can share that as I've mentioned before, my parents have been a major source of inspiration and learning in every aspect of life. Additionally, I must give credit to Stephen Noar, our Chief Executive Officer, who has taught me the ins and outs of the business, while always being a pillar of support and wisdom I could rely on.
Mentors have contributed so much to my development, both professionally and personally. In my professional life, especially earlier on in my career, it gave me great comfort knowing that I was not alone in my decisions and that I could rely on a steady flow of advice and wisdom. These moments gave me a much wider perspective on topics, taught me how to think outside the box, and also how to regulate my judgments and opinions to find conclusions that are fair and sound.
In my personal life, my mentors have taught me patience, how to have an open heart, how to listen and understand, how to weigh the consequences of your actions, and how to judge the impact that words can have, all of which also affect life in the workplace.
Which other female leaders do you admire and why?
Any woman who manages to balance work and life with integrity while giving back has my respect. If I had to pick, I'd say that Sheryl Sandberg is one of the first names that comes to mind when I think of a strong female leader. I appreciate that she has used her success as an individual to become an outspoken force for women around the world. Her book, Lean In, sparked global dialogue and invited women to openly discuss their gender challenges - a topic that had previously been hushed and disregarded - without being judged. She also sits on the board of directors for Women for Women International, which helps women survivors of wars become self-sufficient by providing micro-loans and job skills training. Like Sheryl, giving back is a big part of my approach to work and life, which is why I founded St Giles' charity, Hotels with a Heart.
What do you want St Giles to accomplish in the next year?
I would like to officially launch St Giles as a hotel brand capable of playing on a global stage.
I aim to make St Giles a great brand by doing my part in creating a team, family culture and friendly spirit that employees can embody and guests can feel. I believe that our employees are the keepers of the brand, so I try to empower them to give their best with every interaction, every day.
I also believe that every guest experience either builds the brand or tarnishes it. I'm currently in the process of creating consistent standards, which can be challenging given that we are a collection of unique, independent hotels. And while we embrace our hotels' individual personalities and differences, we also strive to make sure that every property has a level of quality and service that meets customers' expectation.
With that said, I believe that brands are constantly evolving and developing their own personas. It's been a great deal of fun getting to know St Giles' personality and seeing it transform with the times. I look forward to introducing St Giles to the world with our upcoming campaign.
Calling all HuffPost superfans!
Sign up for membership to become a founding member and help shape HuffPost's next chapter