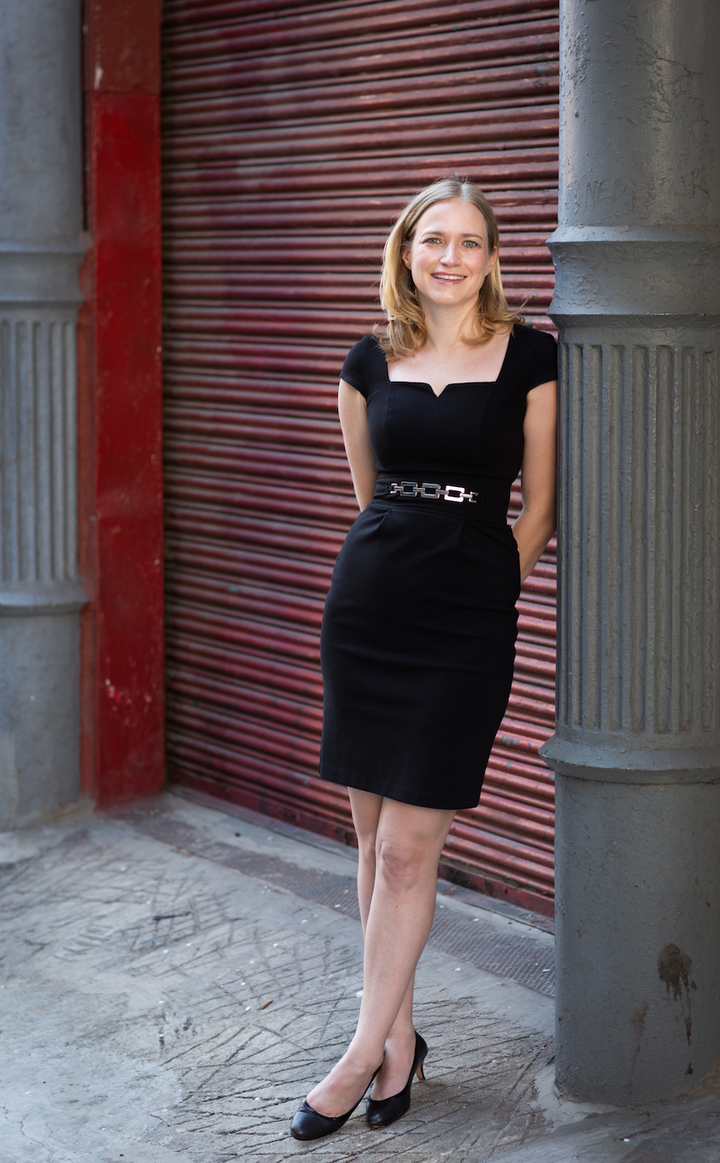 Alma Asay is the Founder and CEO of Allegory (allegorylaw.com), a cloud-based collaborative litigation management tool used by many of the most prestigious law firms, corporations, and government agencies in the United States. Alma and her company regularly work with law firm clients to help lawyers win new business by leveraging their use of Allegory. Before founding Allegory, Alma was a litigator at top law firm Gibson, Dunn & Crutcher LLP. Alma is one of the first and only female BigLaw lawyers to found a legal technology startup, and was recently named a Fastcase 50 Award Winner and named by the ABA's Legal Technology Resource Center as one of 50 "Women of Legal Tech." She earned her J.D. from New York University School of Law.
How has your life experience made you the leader you are today?
Growing up with a single mom in a household with very little money made me the leader I am today. From the time I was little, I knew there would be no shortcuts to success and I never thought twice about hustling to get a job done. As a result, I always expected the same of others and am very selective about the people whom I trust to work on my team. I also learned to do a lot with a little – watching my mom pull off the impossible time and time again with next to no time or money gave me hope and an advantage when it became clear how tough it would be to raise money for a startup in legal tech. It forced me to get creative with how we could get the resources we needed to get Allegory off the ground, for example, hiring our initial developers out of development school and forging partnerships with legal service providers.
How has your previous employment experience aided your tenure at Allegory?
My tenure as Founder and CEO at Allegory is entirely due to my previous employment as a litigator at Gibson, Dunn & Crutcher LLP. Almost all of the features that I built into the first version of Allegory came from what I learned as a lawyer at Gibson Dunn about how to effectively manage litigation and master the facts to win complex cases. My tenure at Gibson Dunn influenced me in other ways as well. The senior litigators with whom I worked weren't afraid to give opportunities to young lawyers, and would reward those who took initiative. That experience helped me immensely by giving me the confidence to think outside of the box and take big leaps, which was exactly what was needed when I started Allegory.
What have the highlights and challenges been during your tenure at Allegory?
The biggest challenge has been hanging on by a thread when it seemed like my startup wasn't going to make it. I remember when my cash was gone and I had maxed out all my credit cards and it was down to just me and a single developer. My first thought was, "this is the moment you always hear about, when someone is down and out and suddenly the tides change and then they succeed…" But then I thought, "but what about all the stories you don't hear - the ones where nothing changes and they just fail." It's extremely challenging to project the necessary confidence to the outside world to give your business a shot in the moments it matters most, because those are often the same moments that, inside, you feel like it's all falling apart.
The highlights have been the moments when it sinks in that Allegory is real and that it's making a difference for people sitting where I sat as a litigator. Sometimes, it's as small as a thank you from a client or completing a User Guide and realizing that you're looking at a formal guide to something you built. Other times, it's big, like landing a new client or getting formal recognition from your peers, like recently being named as one of 50 "Women of Legal Tech." Every time a new team member joins Allegory is a highlight as well – it's the ultimate inspiration, to know there are people who believe in Allegory enough to quit better paying jobs to come work with us to make our dream successful.
What advice can you offer to women who want a career in your industry?
Be prepared to be reminded every day that you're a woman. In legal tech, you are hitting a trifecta of male-dominated fields: legal, tech, startups. Not only are you entering male dominated fields, but as a Founder/CEO, you are adopting a traditionally male dominated role. Luckily, there are some outstanding female legal tech founders who have successfully - with many unsuccessful moments to share - navigated all of this before you. I strongly encourage women interested in founding or leading their own legal tech startup to reach out to those of us already in the field.
What is the most important lesson you've learned in your career to date?
Expect the unexpected. Sometimes, it's good, like the out-of-the-blue e-mail from someone you met two years before who absolutely must have Allegory by tomorrow. Sometimes, it's bad, like the developer who gives notice without warning, just when everything seemed to be taking off. There is no such thing as predictable when building a business, so the best attitude is to expect the unexpected and realize that no one thing is going to make or break your success.
How do you maintain a work/life balance?
I take advantage of the ability to work from anywhere (as long as I can get to an airport when I need to) to be places where I want to be and spend a lot of time outdoors. I also make sure I get enough sleep to handle whatever the day throws out – it's an incredible advantage to sleep according to your own rhythm, I rarely use an alarm clock anymore.
What do you think is the biggest issue for women in the workplace?
I can't speak for women with families – I am in such awe of women who successfully balance having children with a career, I have no idea how they do it. From my perspective, the biggest issue is the perception that you've gotten where you are by anything other than your own smarts and hard work. People seem all too ready to identify the male decision makers and write off your accomplishments to "oh, he must like to help out girls." Without enough women in positions of authority, it can be hard to reference similar successes with female decision makers.
How has mentorship made a difference in your professional and personal life?
Mentorship played a huge role for me at Gibson Dunn. I was fortunate to work with Orin Snyder, one of the top trial lawyers in the United States. He taught me a lot about how to be a great lawyer, as well as how to inspire a team and stay true to yourself while working hard at a job that can be all consuming. I came away from my time at Gibson Dunn loving the practice of law and a lot of that had to do with working with Orin and others who inspired me and taught me to be the best that I could be.
Which other female leaders do you admire and why?
I've admired many female leaders from afar. Most recently, I've been very impressed by Sheryl Sandberg's willingness to speak frankly not only about work, but also about the personal impact of losing her husband, showing that being a true leader is about more than who you are in the workplace.
I most admire the female leaders I know personally and to whom I've looked up over the years. To name just a few, Liz Dressel (Founder of Legacy Silicon Valley), Cynthia Arato (Founding Partner at Shapiro Arato LLP), Ashlie Beringer (Deputy General Counsel at Facebook), and Jennifer Rearden, Barbara Becker, Rashida LaLande, and Anne Champion (all Partners at Gibson, Dunn & Crutcher LLP). Although they're all lawyers, I've seen each of these extraordinary women pave their own path in very different ways, both personally and professionally.
What do you want Allegory to accomplish in the next year?
I want to broaden our reach. Sales and marketing have never come naturally to me, so while I am proud of our product and happy customers, I know we can do a better job of spreading the word. We are in the process of partnering with a number of people and organizations to ramp up our sales and marketing efforts to get Allegory in front of more litigation teams, and I'm very excited about reaching more people that we can help.
Support HuffPost
The Stakes Have Never Been Higher
Related
Popular in the Community