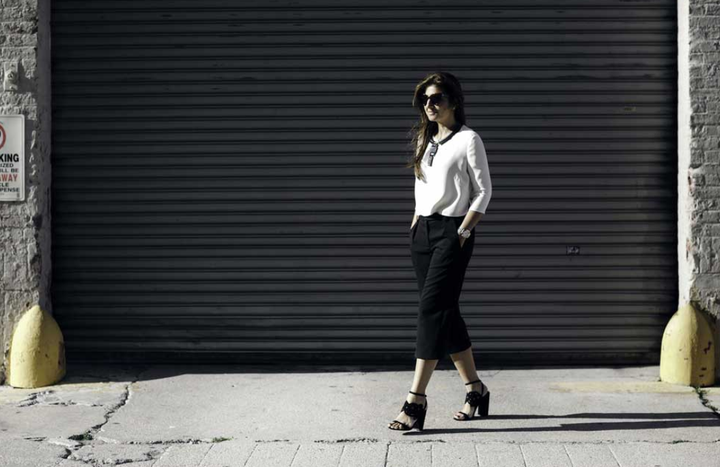 After receiving her MBA from Harvard, Ammara Yaqub spent ten years working in luxury fashion at Zac Posen, Louis Vuitton and Saks Fifth Avenue. In 2011, she launched her first eponymous line, which centered on coats and dresses. It was sold in stores like Saks Fifth Avenue and Fred Segal and recognized in publications like Vogue and InStyle. For a fashion entrepreneur, these are career pinnacles. They still sit high on Ammara's shelf of personal achievements.
By 2015, with so many milestones marked amid a changing market, Ammara began to think about what the next phase of AMMARA would look like. She thought about problems she encountered as a consumer, not just as a designer. It was then that she knew what the next wave of AMMARA would be: beautiful, high quality, well-tailored shirts without the retail mark-up, for less than half the typical retail price.
How has your life experience made you the leader you are today?
I was born and raised in Pakistan and came to the United States to attend Smith College when I was 17. As the first female member of my family to leave Pakistan to pursue higher education, I was determined to succeed beyond all expectations. I became involved in Student Government as a freshman and in my senior year I became the first international student to become the President of Student Government at Smith. I also had the honor of sitting on the Smith College Board of Trustees immediately after graduation. There were two key lessons that I learned from being involved in Student Government. One was living without fear of failure. I have two small children and I find great inspiration in their behavior – they are afraid of absolutely nothing and I want to live my life like a 4 year old – without fear holding me back! The second lesson was that in anything you take on in life, you get out of the experience what you put into it. I was academically strong and I was landing coveted Wall Street internships. I could've easily spent my time having a typical college experience but I always wanted to do more and accomplish something fantastic. When I applied only to Harvard Business School shortly after graduation (I was one of the youngest people in my MBA class), my peers thought I was crazy for not casting a wider net but my experience at Smith taught me to reach for the stars, stay focused, work hard and not let fear get in the way of success.
How has your previous employment experience aided your tenure at AMMARA?
I had the privilege of working at various top Wall Street firms before making the transition into fashion. I started my career in fashion at Zac Posen in 2005 and working at a relatively small company where I was exposed to every aspect of the business such as design, marketing, sales, production, shipping etc. was very helpful when I started my own business. My most valuable lessons came from my tenure at Louis Vuitton where I was a buyer of accessories. LVMH is an incredibly well run company where the integrity of the product is unmatched. According the Bernard Arnault 'a good product can last forever.' When I was wholesaling at department stores and boutiques, I was unable to create a product that was the right quality at the right price. As I am now direct to consumer, I have the luxury to create products that are the quality I always wanted to achieve. I use the highest quality fabrics (Sea Island Cotton and 4 Ply Crepe Silk) and produce the shirts in the best factories in New York. These are designer quality products sold at contemporary price points thus providing the customer true value. At Louis Vuitton, I also learned the importance of controlling your distribution. I get countless calls from boutiques to wholesale my shirts to them and it is very tempting at times to take on a lucrative order. However, AMMARA is built on the premise of not charging a wholesale margin and thus providing customers superior quality but even beyond that, by distributing through my website, I control the customer experience from beginning to end which is very important to me. The fashion calendar is broken – furs ship in August and chiffons ship in January and the customer has become trained to wait for sales. I believe in providing customers the best quality at the best price and ship styles when they are relevant to the weather. By being direct to consumer and controlling my distribution, I am able to do just that.
What have the highlights and challenges been during your tenure at AMMARA?
There have been many highlights – we launched the site in June and reached $10,000 in sales the very first week. We hosted our first trunk show in November and exceeded $20,000 in a day! To me personally though, our very first order from Australia was super-exciting! Another proud moment was when we had a customer who bought one shirt came back and bought five more (we only had twelve styles online at that time). We've also had countless customers email us about how much they love their shirts and how the fit and quality is far beyond the expectations they had based on the price.
There are very real challenges associated with being a direct to consumer clothing business that is online-only. People are unable to discover the brand through traditional methods such as walking through a department store – we have been very fortunate in that we have received amazing press and the customers have been coming from all parts of the United States and from all over the world but we are constantly striving to increase our exposure. Another challenge is that customers cannot try the products on. We offer free shipping and convenient free returns to overcome this, however, this is an ongoing challenge. At a personal level, I think the biggest challenge for me is managing a growing business and two young children.
What advice can you offer to women who want a career in your industry?
Fashion is not an easy industry – the pace is relentless and it takes years of hard work to reach the 'glamour' young people seek when they enter fashion. Do it if you truly love what you do, otherwise it just isn't worth it and you probably won't be successful in your ventures if you don't love what you do. Work hard and don't have an attitude around what you are asked to do. In my first job in fashion, fresh out of Harvard with an MBA, I packed countless reorders into Fedex boxes for a local department store. To this day I consider those moments to be a real exercise in character building!
What is the most important lesson you've learned in your career to date?
The most important lesson I have learned as a designer is the utmost importance of being authentic. What I put out in the world comes from my heart and I stand behind each and every piece 100%. Having a direct to consumer business has really helped me in achieving this because I no longer have 10 varying opinions from stores that I am listening to nor am I trying to please the middle-man. I am creating products that I love and I believe my customers will love and that is my only priority.
In running a successful business, I have learned the importance of taking on every day with the right mindset. I don't believe that there is any problem I cannot find a solution to and I go through each day with the optimism and perseverance I need to succeed.
How do you maintain a work/life balance?
I had the honor of sitting on the Smith College Board of Trustees with Shelly Lazarus who was at that time the CEO of the advertising behemoth, Ogilvy and Mather. What really stood out about Shelly was that not only was she incredibly successful, she had raised three accomplished children. I asked her how she does it and her answer while very simple became my mantra once I had children and was juggling an impossible number of tasks. She said that at any given moment she prioritizes what is most important to her at that moment or on that day. So one day she might need to be a recital for her son while another day she might have a board meeting and might miss something at her children's school. I use that advice on an ongoing basis to determine what needs to be prioritized on any given day. I also try not to feel guilty – I am one person and I can't be everywhere at the same time. I do the best I can and I remind myself of that as often as needed!
What do you think is the biggest issue for women in the workplace?
A few years ago, I was hiring a wholesale sales director. I put out a job listing and got dozens of responses. What struck me about the responses was that men generally replied with 'I am the guy for this position' while women replied with 'I'd love to be considered for this position.' Women have a hard time asking for what they deserve because they don't want to be perceived as aggressive. I think it's time we stopped worrying about what people think and ask for what we deserve.
Another issue for women who work is managing the home and children. A lot of jobs are not 9-5 and require travel and the logistics around that particularly when there are young children in the picture are complicated. As a society, we are still quite far from providing women the support system they need to succeed in the home and the workplace.
How has mentorship made a difference in your professional and personal life?
I've always looked up to my mother. She was the first person of her generation in our family to get a Ph.D. She was a professor at a top university but she also managed our home seamlessly. She encouraged us to perform academically and had very high standards for us but she did it with so much love that looking back I'm amazed by her capability as a mother. I still ask her advice on many topics especially raising children. I am unable to manage it all with the grace that my mother did (and still does) but I'm grateful to have her as my voice of reason!
Which other female leaders do you admire and why?
While I was at Smith College, Ruth Simmons was the president of Smith. She left soon thereafter to become the president of Brown University – the first African-American woman to have that honor. I admired Ruth because she taught me the importance of not putting myself down when I make a comment or ask a question. I didn't realize how many times I would preface my comments or questions with 'I'm sure this is a stupid question but' or 'you probably already went over this but' etc. I now check myself and don't allow any self-doubt to permeate a conversation (even when I'm feeling it). I always speak with confidence and conviction and I thank Ruth Simmons for that.
What do you want AMMARA to accomplish in the next year?
In the next year, I want AMMARA to become a household name and the destination for shirts. When a woman thinks about refreshing her wardrobe whether it's for an occasion or otherwise, I want her to go to AMMARA to see what's new because she is confident that the fashion at AMMARA is on point and the quality and fit is excellent. I want to establish a rhythm for launches that our customer comes to understand and expect and I want her to look forward to getting the email announcing the new collection. Ideally, I would like to launch new styles 5-6 times a year so the customer frequently has something new to add to her wardrobe. I would also like to divide our growing product assortment into lifestyle driven subcategories to enhance the shopping experience for our customers. I started AMMARA with doing customer surveys and focus groups to try and understand what the customer needs in her wardrobe. We have continued to survey customers who have purchased with us in an effort to understand the needs and preferences of the AMMARA woman. Customer research is a high priority for 2017. As a direct to consumer brand, we have access to a tremendous amount of information and I want to harness that knowledge into providing the right product for the AMMARA customer.
Popular in the Community