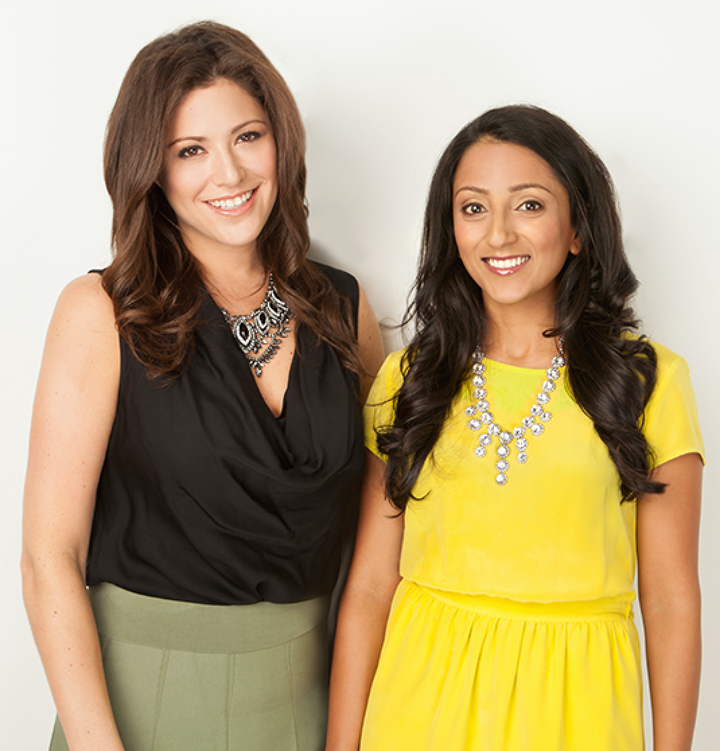 Amy Jain and Daniella Yacobovsky, co-founders of BaubleBar, are the dynamic duo that disrupted the jewelry industry and redefined how women shop for accessories. Having forged a lifelong friendship at their first job in investment banking, it was during their time at Harvard Business School that they conceived the idea for BaubleBar, the first go-to fashion jewelry brand with unparalleled selection at a guilt-free price point.
Since launching in 2011, BaubleBar has seen immense growth – in just six years, BaubleBar has expanded from an online direct-to-consumer brand to a multi-channel, multi-category, multi-brand company. Through celebrity collaborations with the likes of Olivia Palermo and Emma Roberts, and strategic partnerships with retailers such as Nordstrom, Anthropologie and Bloomingdale's, the Company has brought its fans fresh product offerings, unique styling content, and new ways to experience the brand firsthand. Amy and Daniella continue to reimagine the online jewelry industry and are only just getting started, having recently expanded their business to offer accessories beyond jewelry and giving BaubleBar shoppers one destination for all the latest trends in fashion accessories through curated, themed "Boutiques" on the BaubleBar website. BaubleBar remains one one of the only companies to master sourcing and design in this category, and continues to apply this unique model to the larger trend accessories space.
How has your life experience made you the leader you are today?
Amy Jain: The both of us have been so fortunate to have worked for incredible leaders and mentors. That said, I think what we both share that has had a huge impact on our outlook is that we are both the children of immigrants. When we were thinking about starting BaubleBar, we were both so encouraged by our parents who took risks to come build new lives here. As a result, tenacity, hunger and comfort with risk are not just characteristics we live by, but are also the qualities we look for in our team.
How has your previous employment experience aided your tenure at BaubleBar?
Daniella Yacobovsky: Because we started BaubleBar after Business School, a lot of people think we met at school. We actually met at work! We met on our first day of investment banking training in 2004, so by the time we started the business we had actually known one another for quite a while. In addition to being best friends for some time, we had worked together, traveled together and seen one another through some tough times. Running a business is hard, and finding the right business partner is even harder. We really credit the success of our partnership with the relationship that we forged over long days in the office. We know when the other is having a tough day and needs support, we know how to disagree with one another and come to resolution and we really build each other up.
What have the highlights and challenges been during your tenure at BaubleBar?
Amy Jain: Ironically enough, one of the big challenges for us in the early days was setting aside time to really celebrate the highlights, or "wins", with our team. We are moving a mile a minute, and sometimes have to pause (and force everyone else to pause) so we can take a moment to reflect on and appreciate our accomplishments as a team. One of the most rewarding elements of working at a company like ours is feeling the impact of your hard work and those celebratory moments are so incredibly rewarding. We started BaubleBar as two women who really loved to shop for fashion accessories, so the biggest highlights always come from interacting with our amazing fans. We started an email address for folks to reach out to us and we genuinely check it weekly and respond directly to all messages. We are consistently surprised by how many people take time out of their day to write in and share their experiences with us. It's humbling, and motivating, to get messages from women sharing how much they love the brand and sharing some of the amazing life events and moments we have been able to be a part of.
What advice can you offer to women who want a career in your industry?
Daniella Yacobovsky: Don't be afraid to challenge the status quo! When we first started BaubleBar, we didn't have a background in fashion or in jewelry. We were two women who were passionate about fashion jewelry and accessories, but we felt our needs weren't being met by what was available so we decided we were going to do it ourselves. Along the way we have learned a tremendous amount, and have been open and receptive to feedback while remaining loyal to our original misson and goal.
What is the most important lesson you've learned in your career to date?
Amy Jain: Be aware of your limitations, and know when you need to raise a hand and ask for help and support. We are doers by nature, and we genuinely like to get things done. In the beginning, when you have nobody else on the team that is a huge skill that helps push the business forward. As you grow and scale, it is so critical that you rely on your network of colleagues, mentors and peers to help be a gut-check and a source of guidance and information.
How do you maintain a work/life balance?
Daniella Yacobovsky: Put away your phone! The minute you start looking at emails and messages you will easily find a long list of things you could focus on, and it's easy for work to take priority. Carve out space for the things you like to do and commit to making time for them. Identify a handful of activities that allow you to take (and keep!) your mind off work. I like to spin in the morning and read before I got to sleep. On weekends when I make plans to spend time with friends and family, I make a point to keep my phone away and out of sight.
What do you think is the biggest issue for women in the workplace?
Amy Jain: As a recent new mom, that is a topic that definitely hits home for me. When I gave birth to my daughter, Chloe, the office surprised me by building and furnishing a nursing and pumping room, which made days in the office easier on me. I also had a lot of flexibility in terms of working from home and putting in half days. In the early days balancing a newborn with work can be tough, but companies that fail to provide support to new moms run the risk of losing incredible talent in the longer term. I am hopeful that over the next few years, many companies will review their maternity and paternity policies to provide that much-needed support to team-members who are at the exciting phase of expanding their families.
How has mentorship made a difference in your professional and personal life?
Daniella Yacobovsky: Mentorship is a critical element of entrepreneurship because it reminds you that you're not alone. Having a sounding board with whom to share experiences and to solicit advice and feedback is critical.
What do you want BaubleBar to accomplish in the next year?
Amy Jain: We continue to be focused on cementing our place as her go to for on-trend accessories. This year we have already introduced an accessories line that offers her more than just jewelry and the SUGARFIX by BaubleBar line, available exclusively at Target, to bring her great style at a different price point. We are multi-brand, multi-category and multi-channel and we are just getting started.
Popular in the Community