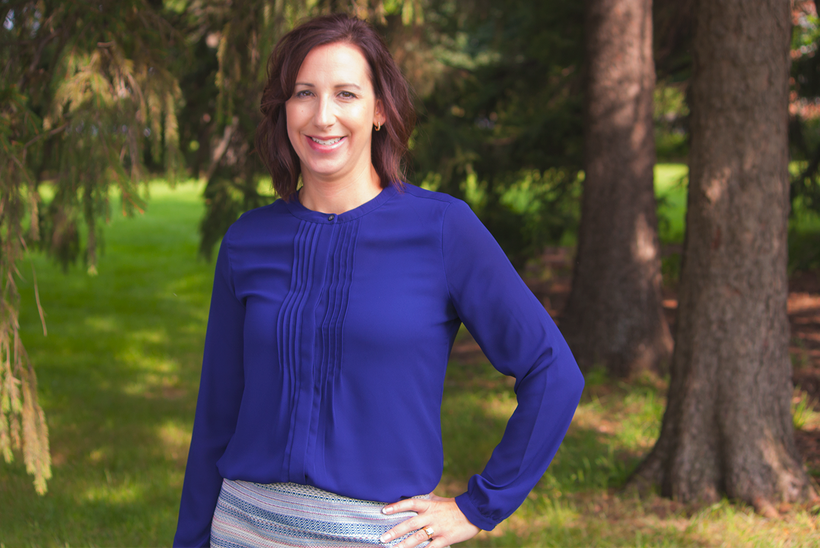 Angela Pecoraro is CEO at Advicent, a leading financial technology provider based in Milwaukee, WI. Advicent is the financial planning technology provider of choice for nearly 100,000 financial professionals within 4,000 clients worldwide. Through their innovative product capabilities and dedicated services, they help thousands of financial professionals and their clients understand and impact their financial future. Pecoraro, who joined as CEO in April 2017, is only one of a handful of female CEOs in the financial technology industry.
How has your life experience made you the leader you are today?
My parents primarily—more than anyone or anything else—have shaped my leadership style. My mother always had a strong work-ethic and dedication to the family. Throughout my childhood, she held multiple jobs to make ends meet and contributed in many ways to ensure we never went without. This taught me perseverance and teamwork. We were in it together as a family, and we all played an important role.
My father had a long-time career as a manager of a car dealership, and from his experience (as well as my own when I worked there for a few years at the start of my career), I picked up very important leadership lessons. Effective leaders must build trust within their team and within their client base. Trust is the foundation that holds things together when times get tough or uncertain. My father also had a very transparent and direct communication style. He did not change this style when working with his team or with his customers. Everyone knew the goals, the challenges that existed, and what success looked like. Positive and constructive feedback was always provided, and his customers—albeit not always right—were always first.
How has your previous employment experience aided your tenure at Advicent?
Most of my career has been spent in software. In this industry, there has always been a high degree of teamwork, innovation and entrepreneurial spirit. I have carried these values forward with every step of my career. My very first role was inside of an incubator software company. The team was small and we all wore different hats. Things like job descriptions were not really present, nor did they matter; we all had to contribute at a high level, all driving toward results. From this experience, I learned the importance of teamwork, to challenge the status quo and know the difference between activity and productivity.
What have the highlights and challenges been during your tenure at Advicent?
Highlights for me come in the form of daily experiences from our clients (financial advisors across the nation) and their clients. When our frontline team can share experiences where our products helped an advisor to help an individual client or family achieve a lifetime goal, or manage through a difficult situation, that is most notable to me.
What advice can you offer to women who want a career in your industry?
Learn all you can! Take every opportunity to try new things. This will inevitably build capacity and open endless opportunities for you.
View challenges as motivators. When it appears you are facing the ultimate roadblock, ask yourself "what is possible?" or "what can we do?" You will find answers that were not originally obvious. Negativity may be subtle at times, so be aware. Continue to point the team forward and go!
You do not get it unless you ask for it. Make your intentions clear when managing your own career path. Ask for it because no one else is a better advocate for yourself than you.
More and more women are getting into finance and technology industry. Know what you are good at and understand what you can bring to the table. I am a believer that you can learn just about anything—whether it is technology, finance, etc., there is nothing you cannot learn. If you have an interest and a passion, go ahead and learn it, and you will deserve a seat at the table.
What is the most important lesson you've learned in your career to date?
Be authentic. For me that means a few things. First, I believe you can relentlessly pursue excellence and success while also being kind and considerate. Niceness does not mean weakness. Bold leadership can still include a sense of caring and fun. Next, I tell it like it is. I am a direct communicator and everyone knows where I stand. I expect direct, transparent communication back. We will all waste time and energy if we are not direct in our communication. Finally, know what matters to your customer. Whether internal or external, know what is in it for them. Keep their success top of mind and work toward that each day. Their success will beget yours.
How do you maintain a work/life balance?
When it comes to work/life balance, I manage it on a daily—even hourly— basis, and not holistically. I compartmentalize very well—say there is stress going on at work, I will not bring that stress home, and vice versa. I protect that time on my calendar, both professionally and personally. When I take personal time off, I try to go "all in" with my family. Because of the great people with whom I work, I trust them to run the business while I am not here.
I have also come to the resolution that my life includes some sacrifice and feelings of guilt along the way. People often feel guilty at work because they think they should be doing more with family, or they feel guilty spending time outside of work when a project was left undone in the office. I have recognized that this "guilt" feeling will always be there, and I'm going to need to be OK with it—that's part of the gig, and I don't stress about it.
What do you think is the biggest issue for women in the workplace?
I believe the biggest issue for women in the workplace is that people still think there are issues for women in the workplace! I feel men and women face similar issues.
One challenge I have seen is maintaining a balanced approach. People need to have the confidence to take risk, yet be modest enough to take feedback. Balancing the two can be difficult. Another issue I see both men and women struggle with is the feeling that it is OK not to be the "smartest person in the room." Recognize that you bring value to the table, others do too, and everyone in the room deserves to be there. If we leverage everyone's talents, we, along with the customer, will be successful.
How has mentorship made a difference in your professional and personal life?
My mentoring relationships have provided a greater awareness on the ins and outs of running a business, challenged me to be a lifelong learner, and taught me how to take complex situations and drill them down into something simple.
In the middle of my career, I was put through a training program where my group had the task of understanding the financial well-being of a business—an area to which I did not have much exposure. I ended up spending two hours with the chief operating officer to go over basic questions I had. During the meeting, we not only went over high-level themes but he also showcased and trusted me with significant financial information from the business model we were reviewing. This was a small but pivotal learning lesson for me—the meeting was impactful because it instilled in me to share as much information as you possibly can with your team. Information is power. If you share as much as you can, you will be amazed at what people can do with that information to affect the business in a positive way.
Which other female leaders do you admire and why?
It is not so much specific people but rather certain personality traits and working styles that I admire. I am quite impressed when people can positively impact the lives of others in their work; have a fearless nature and just go for it; and showcase grace under pressure.
What do you want Advicent to accomplish in the next year?
The FinTech and overall financial industry is very dynamic right now. Many macroeconomic trends are influencing our operating environment. At Advicent, we must execute. That means a focus on customer success, protecting our position as the premier financial planning solution, and to continue to bring innovative solutions to the market. At the end of the day, we want to positively impact the financial futures of the millions we serve and have some fun along the way.
Calling all HuffPost superfans!
Sign up for membership to become a founding member and help shape HuffPost's next chapter
This post was published on the now-closed HuffPost Contributor platform. Contributors control their own work and posted freely to our site. If you need to flag this entry as abusive,
send us an email
.