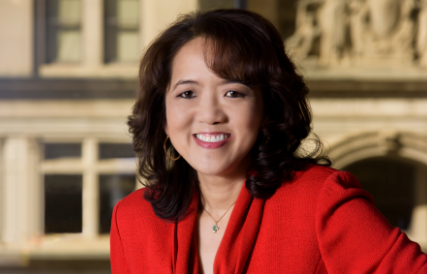 As president - National Business, Anne Chow leads more than 11,000 business professionals who support 95 percent of AT&T's business customers nationwide. Across numerous AT&T Business segments, she oversees customer experience, management of direct and indirect sales channels, call center support, and DIRECTV for Business. She also owns the P&L for the small and medium-sized business market, covering over $15B in revenues.
With over 25 years in the industry, Anne has led many diverse global organizations through major transformations, developing and executing innovative growth strategies while building role model relationships. She's passionate about education, diversity and inclusion, advancing women in technology and cultivating our next generation of leaders.
Anne's experience is diverse in both breadth and depth. She has held leadership positions in engineering, sales and sales operations, marketing, customer care, international operations, product management and strategic planning business units. She's known for building and cultivating world class teams, developing model leaders, and having a passion for excellence with customers and constituents alike.
As a founding member of AT&T University's governing board, Anne actively supports the company's leadership development initiative. She's also involved in many of AT&T's Employee Resource Groups and Employee Networks worldwide. Anne serves as the executive sponsor AT&T's Women of Business Employee Network and Asia Pacific Women's Organization. Each week, she coaches, mentors and inspires thousands of readers through her internal blog, which has been voted "best blog" across the company for the past 6 years.
Anne's impact extends beyond business in to the community. She currently serves as vice chair of the board of directors for the Asian American Justice Center and as a member of the National Board of Directors for the Girl Scouts of the USA. She is also a supporter of Girls Who Code and the Boys & Girls Clubs of America and a member of the Committee of 100. In 2016, she joined the board of directors for Franklin Covey Co. (NYSE: FC).
Her many contributions to business and the community are widely recognized. Anne's accolades include the YWCA-NYC Academy of Women Leaders, Chinese Institute of Engineers' Distinguished Service Award, Outstanding 50 Asian Americans in Business and numerous others. She was awarded Corporate Woman of the Year by the Women's Center for Entrepreneurship Corporation, Stevie Awards Mentor Coach of the Year – Business (Bronze), and named to Diversity Journal's Women Worth Watching.
Anne holds a Master of Business Administration with distinction from The Johnson School at Cornell University. She holds a Bachelor of Science degree and Master of Engineering degree in Electrical Engineering from Cornell. She also graduated from the Pre-College Division of the Juilliard School of Music.
How has your life experience made you the leader you are today?
As a second-generation Asian American, I've faced generational, cultural and gender gaps. I would even venture to say that, as a woman, the cultural reference points I grew up with, albeit not intentional, somewhat dampened my outlook on what I could be. I was raised in an immigrant family in working class America during the '70s and '80s. I was surrounded by people who expected boys to have the qualities of strength, leadership and assertiveness. Girls were expected to be obedient, deferent and gracious. Even today, I sometimes catch myself "in my head," faced with self-doubt. I've learned to push through these doubts to realize my fullest potential.
Education was always (and continues to be) important, as was the drive to be "the best." A positive paradigm from my upbringing is the utmost belief that education is the great equalizer. I have been truly blessed with the foundation of an amazing education, an immigrant's work ethic, coupled with the aspiration and a desire to make a difference in this world in whatever way that I can.
I feel fortunate for the successes and blessings in my life today. I now lead a $15 billion business at AT&T and am responsible for supporting thousands of people all around the country. I believe that it's my calling to help others, especially our youth and other women, develop and unleash their greatness – whatever that may be.
How has your previous employment experience aided your tenure at AT&T?
My career journey has included various leadership positions spanning engineering, sales and sales operations, marketing, customer care, international operations, product management and strategic planning. I started with AT&T over 27 years ago, as a network architect. I loved the innovation and problem-solving aspects of that role. They're elements that I still use every day.
I used to think that I was searching for a particular role that was perfect for me. And if you had asked me early in my career about my favorite job, I would have replied… "I loved being in sales," or "I loved being a product manager." (Yes, I've seriously said those things in the past.) Now, I've come to realize that my "love" of a job has much more to do with the characteristics of the role. For me, loving my job is all about the people, the strength of relationships and the opportunities for both learning and positive impact.
What have the highlights and challenges been during your tenure at AT&T?
One of the recent highlights I'm proud of is launching the AT&T Women of Business Employee Network, which is focused on cultivating the development and advancement of women in business leadership roles. While AT&T has employee networks, there were none solely focused on women in business. So, I leaned in as the executive sponsor of the new network. We launched in January 2017 and, by its six-month anniversary in June, the network expanded to over 2,000 members all around the world. To date, AT&T Women of Business has hosted four education session webcasts, viewed by more than 5,000 employees, launched a robust communications portfolio, and hosted numerous mentoring and networking sessions. It has been so rewarding to see so many women and men come together to form this group, in a truly grassroots sort of way. More importantly, the positive impact we're having on our fellow colleagues and in the community is priceless.
What advice can you offer to women who want a career in your industry?
According to a recent AT&T survey[i], 81% of female respondents say that passion is important to job satisfaction, but less than half (40%) are passionate about their job. Knowing that you'll spend a good portion of your lifetime waking hours at work, how do you find a job and a career that "fits," that you can "fall in love" with? A good start is to explore what drives you, what interests you and what feeds your curiosity. It's never too late to start. I believe as you go through the various stages of your life, it's possible to fall "in" and "out" of love with your job, too. It makes sense that there are jobs you thought were the most interesting or important at that particular time. Then, as fate would have it, you are exposed to something else that you didn't know existed or was even possible - and your perspective changes.
What is the most important lesson you've learned in your career to date?
There is nothing done in this world that is done alone. Life is all about people and relationships. Those who will be most successful and make an impact on this world are those who can collaborate and work well with others. And in fact, they are known for embracing the differences in others for the greater good – leveraging diversity and inclusion as a strategic advantage in their leadership approach.
How do you maintain a work/life balance?
Personally, I believe that life is not meant to be lived in balance – rather, just like exercise and interval training – you won't know what you're capable of unless you push yourself and keep moving forward. It is only through the cycles of the highs and lows in your life that you will expand your capacity and strength – for learning, for experiences, for relationships…for anything, and everything.
We each have one life to live, and for many of us it includes, work, family, friends, community and so much more. Life is an optimization equation, and at any given time, you have a set of priorities to which you are optimizing your time by making thoughtful choices. As such, seeking that perfect balance of time between work and home should not be our objective.
Rather than attempt to focus on "balance," I strive to be clear about my priorities, namely what I'm optimizing to at any given point in time. This approach helps to make my choices easier, and thus, I'm more at peace with my decisions and the consequences thereof. I try to focus on "no do-over moments" – those moments/events/times that, if not experienced, will yield lasting regret, either for me or for someone important to me. While I confess that I'm not batting 1.000 with my "no do-over moments," I'm doing pretty well – probably about .900+ looking back on my life thus far.
What do you think is the biggest issue for women in the workplace?
Women own nearly 1 in 3 small businesses in the U.S., which means female entrepreneurs run more than 10.6 million companies.[ii] Female entrepreneurs often face more start-up challenges than their male counterparts – from raising capital to finding mentors.
Not sure if I'd call it an issue, versus an opportunity, but I believe that for women to realize their fullest potential, both internal and external factors come into play. Internally, each of us need to know ourselves, commit to our own growth, get comfortable in being uncomfortable, embrace the fact that we will have successes and failures along the way – but that these experiences will shape us, and so much more. Yes, we need to lean in – but we also need to lean on each other and help to lift each other up. True happiness – and, thus, success – comes when we are helping others and making an impact in a much broader way. Externally, we need to engage men and women alike to create an environment that helps to cultivate and nurture talent and growth. This requires a continued evolution of workforce policies, practices and culture across all organizations, big and small.
How has mentorship made a difference in your professional and personal life?
I'll admit that I did not consciously seek active mentor relationships in the early stages of my career. But as time went on, the importance of meaningful relationships – in various contexts – became clearer to me. And as such, mentorship, coaching, and sponsorship have played a vital role for me – both in terms of my own journey, but more critically in how I'm able to support and enable the journey of others.  Sometimes it's hard for me to believe that I've been in the workforce for nearly three decades, and one of the key things that I've learned is that my experiences have shaped me and given me opportunities that I've never dreamed possible. I'm thankful to have found numerous passions including education, diversity and inclusion, developing our next generation of leaders, and advancing women in technology. In my various roles, I've had the opportunity to establish mentoring/sponsorship circles in each organization I've led – a practice that's spread across the company.
I firmly believe that one of the greatest rewards in life is the ability to give back. So, it saddens me to see that according to a recent AT&T survey, 44% of respondents consider mentors in the workplace important, yet only 9% have one. We need to close the mentoring gap. We need to take action and pay it forward.
Which other female leaders do you admire and why?
I believe that everyone, women and men alike, have greatness within them. In fact, I feel so strongly that wisdom and insight can come from anywhere, anyone, at any period of time, that I start every one of my blogs with a quote that has special meaning for me. While there are countless leaders whom I admire, I'll share some of my favorite enduring quotes which continue to have an impact on me today…
"I've learned that people will forget what you said, people will forget what you did, but people never forget how you made them feel." Maya Angelou
"Be the change that you wish to see in the world." Mahatma Gandhi
"Think like a queen. A queen is not afraid to fail. Failure is another stepping stone to greatness." Oprah Winfrey
"Greatness is not a function of circumstances. Greatness it turns out, is largely a matter of conscious choice." Jim Collins
What do you want AT&T to accomplish in the next year?
AT&T is on a tremendous journey, and I'm fortunate to be part of it. Our objective is to serve our clients across the country and across the world, connecting them through innovative solutions, supporting them with value-added relationships and consistently delivering an excellent customer experience. We know that we do this, most importantly, through our people. They are the spark for our innovations and the foundation of our relationships. They embody our commitment to the growth and success of our customers. The bar is raised every year, driven by both internal and external factors. We know we must embrace the need for continuous improvement and ongoing transformation. This is part of the greatness we must achieve for our customers and people alike.
[1] Source: AT&T and Added Value survey of 4,313 U.S. mobile users, May 2 – June 1, 2017
[1] Source: AT&T and Added Value survey of 4,313 U.S. mobile users, May 2 – June 1, 201
REAL LIFE. REAL NEWS. REAL VOICES.
Help us tell more of the stories that matter from voices that too often remain unheard.
This post was published on the now-closed HuffPost Contributor platform. Contributors control their own work and posted freely to our site. If you need to flag this entry as abusive,
send us an email
.