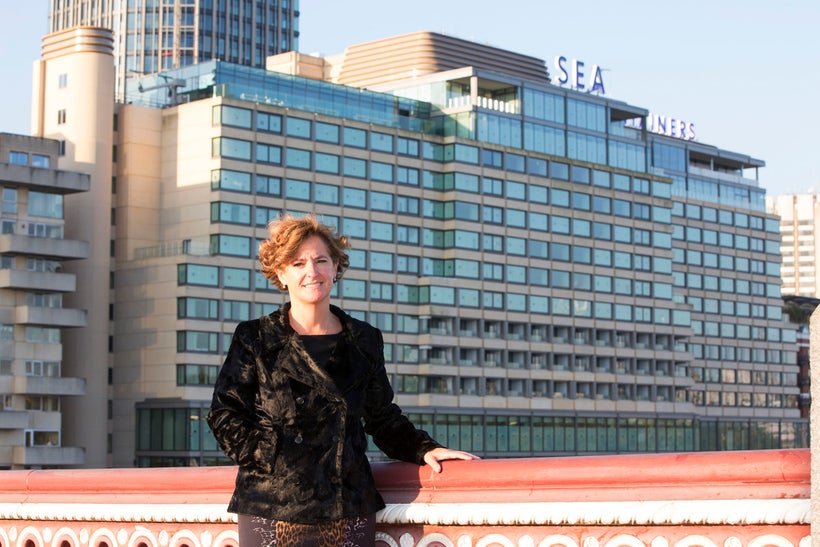 As Ogilvy Group CEO in the UK, Annette captains some of the world's most sought after talent from content generators, digital thinkers, social creators, creative of all disciplines, strategists that can conquer anything from behaviour change problems, to brand re-launches, to government communications, healthcare specialists, branding experts, the best data gurus & PR geniuses to UX Creators. With global and domestic clients, Annette's leadership contribution stretches across both continents and disciplines, ensuring innovation, creativity & collaboration remain at the forefront of both the agency & client's business models.
During her 16 years at Ogilvy & Mather, Annette has has had many career highlights while working for Ogilvy — promotions on both maternity leaves, enjoying agency of the year at Cannes on more than one occasion, working with some of the best creatives in the business, joining the Worldwide board and then the Exco and, most recently moving into the fantastic Sea Containers building on London's South Bank as the agency rang in a new chapter. 
Annette has long pioneered the way for women at Ogilvy to undertake senior positions within the agency; her drive, loyalty & warmth are well known traits throughout the corridors of the Ogilvy Group she now oversees- & throughout the industry alike. 
Annette is a fierce advocate for LGBTQIA rights throughout the industry & sponsors the Ogilvy PRIDE & Ogilvy WOMEN organisations within the group, she was recognised by the FT as an OUTstanding Ally Exec & most recently as Agency Leader of the Year by Women in Marketing. 
With a personal style deemed 'pay it forward' Annette's people are her passion and the investment and mentorship she provides them with have begun to reflect brilliantly through the agency's strong start to 2017 following Ogilvy's recent appointment to some of Britain's most sought after accounts in British Airways, Vodafone & Boots UK accounts.
How has your life experience made you the leader you are today?
Life really is one big set of sliding doors, so who knows what impact each event and experience really has on us in the long run? But that's not a good answer, instead, I've chosen the five biggest 'life events' I have had and tried to articulate what impact each has had on me being the leader I am today.
I was the first person in my family to ever go to University, and the only one of my school friends. My time there, the people I met and the things I learned blew my mind and made me instantly ambitious for what life had to offer. I try to hold and share that same view today in how I lead – the idea that if we focus, work hard and are determined, we can do anything.
I went to live in New York for five years in my mid twenties. It was the best move I ever made in terms of how it would affect my life and career. I loved that city with all of my heart (and still do). I couldn't believe how lucky I was to be there and to actually have a job there. I gave it everything and it gave me everything back in return. I returned from there a different person – I was much more confident, brave and resourceful.
I met my husband as a result of my time in New York but actually in a pub back here, in Notting Hill. Long story, but the point is that meeting him taught me or, rather, reminded me that we should all have meaning in our lives outside of work. It's what we deserve as human beings and it also makes us better, more balanced, thoughtful leaders.
I had two children. Same as the point above really, but they have had such a monumental effect on my life that it has inevitably affected how I am as a leader. I was once given the advice that I had all that it took to be a good leader, but I just needed to smooth myself out a little- to learn to move a bit more like honey. I think the two of them have had a big impact on me being better on that front.
I discovered shortly after I had my first baby that I have a sub arachnoid brain aneurysm. There was no trauma. I had an MRI as my mother sadly died of having one and it rupturing, so I was advised to get myself checked. I did so, and there it was. I elected to have it treated immediately, while on maternity leave, as I couldn't bear the thought of having it sitting there, silent but deadly. Everything about the treatment – from the brain hospital, to the horrible forms I had to sign with lots of statistics on the risks I was taking by having the treatment – was the most terrifying thing that has ever happened to me. I will never forget walking out of the hospital once it was all over and literally promising myself to keep everything in perspective from then on. I think this helps me be a more balanced, tolerant leader who tries to encourage everyone to just get on with doing the best job they can.
How has your previous employment experience aided your tenure at Ogilvy?
I think about my employment experience in three key chunks: First, my first full time job, in a small agency in London where we all did everything – literally. From answering the switchboard and doing all of the invoicing, to writing the strategies and coming up with the creative ideas, for TV, shop windows, press ads, annual reports, packaging, design, the list goes on. I was there for two years and I learned a lot. I learned how an agency works (team work is all that matters), how it functions commercially, how hard it is to be a Creative person who has to come up with the actual idea, always on a deadline, always under pressure, and, eventually, that I wanted to work for a big agency, not a small one. One where I could work with and learn from people with deep expertise, with a clear focus on exactly what business it was in and, also, what it wasn't. I loved my first couple of years, but it was time to move on. That takes me to the second 'chunk' where I worked for a big agency for eight years, mostly in New York. Here I learned how to be a New Yorker, something I still use every day, in many different ways. I learned to toughen up, be more confident, take and give feedback, work very, very hard but still have fun. I learned that clients want partners, not order takers and I learned to push myself out of my comfort zone on a regular basis. I got to the point where I wanted to use what I'd learnt in a different context, which takes me to my third and still ongoing 'chunk'. I moved back to London and joined Ogilvy – at the time to run the European American Express team. I wanted to work for an agency where we did everything, in a category where there was room and appetite for innovation and experimentation and it certainly was all of that. I'm now in my 8th Ogilvy role in 17 years. I'll spare you the detail on all of them but suffice it to say that they've all been very different from the last one, I continue to learn every day and find new challenges.
What have the highlights and challenges been during your tenure at Ogilvy?
All of the highlights and all of the challenges have been either people or client related. I've worked with some of the best, most delightful, weird, crazy, clever, creative, kind people in the world. They are a huge highlight. I've also worked with some difficult, selfish, unpleasant people. Not many, I'm glad to say, but they have been a challenge. I've been involved in pitching for and winning some of the best client accounts in the world. There is no greater feeling in this business than winning an account and producing fantastic work for it. I've also been involved in losing some of the best clients in the world. Not many, I'm glad to say, but there is nothing worse in this business than losing a client, whatever the reason, especially if you were involved in winning it in the first place. The only option – don't give up until you've got it back, however long it takes.
What advice can you offer to women who want a career in your industry?
Work hard, choose where you work and make sure you have a plan. Female or male you have to work hard to get on, which people sometimes forget. In terms of choosing where to work, I mean choose somewhere that suits you, where your values are respected, where you can be yourself and where fairness prevails. And by having a plan, I mean that it's up to you to be clear on what you want from your career, not anyone else. I've met too many people along the way who expect someone else to tell them and that just doesn't stack up. It's down to you to work it out.
What is the most important lesson you've learned in your career to date?
If you can, sleep on it. I had a coach a few years ago who asked me what I was good at. I said I was super decisive. He then asked me to do an experiment and force myself, every time I made a decision, to see if it could wait until tomorrow, but write down what my decision would be if I made it there and then and then record what the actual decision was the following day. I was truly shocked at how often I made a different (better) decision and it was an extremely valuable lesson.
How do you maintain a work/life balance?
I've actually found it quite easy since I've had children as they are more important to me than anything else and I want to look back and feel that I spent enough time with them during their childhoods. I changed my approach to work as soon as my son arrived. I don't stay in the office late unless I absolutely have to, but I do accept that I sometimes need to do work in the evenings, after they've gone to bed, I take all of my holidays, I don't miss sports days or plays, the list goes on. And this is all possible because I chose a place to work where this is all not just accepted, but encouraged. I still work very hard, but I do have balance.
What do you think is the biggest issue for women in the workplace?
Demanding to be treated fairly and with equality. I think it is as much the responsibility of women to do so, though, as it is for employers. If you don't like something, you have to call it out. Either that, or choose somewhere else to work.
How has mentorship made a difference in your professional and personal life?
I have had six people in my life/career who I would label 'mentors'. A mixture of men and women. They have all played their own unique roles, some more knowingly than others (as in they were labelled 'mentors' vs just being them). And I certainly wouldn't be in the position I am now without them. I don't know how anyone can be the best leader they can without having mentors.
Which other female leaders do you admire and why?
Shelly Lazarus. A lot of the things I've talked about above; I've learned from her. I never reported directly into her when she was the Global CEO of Ogilvy, but a lot of what I hold dear about this company and this business comes from Shelley.
What do you want Ogilvy to accomplish in the next year?
I want us to make our clients famous for creating great work that works. It's all about the creative work in this business. It's why we exist. So our ambitions have simply got to be doing as much truly great work for as many of our clients as we possibly can. Watch this space!
Calling all HuffPost superfans!
Sign up for membership to become a founding member and help shape HuffPost's next chapter
This post was published on the now-closed HuffPost Contributor platform. Contributors control their own work and posted freely to our site. If you need to flag this entry as abusive,
send us an email
.