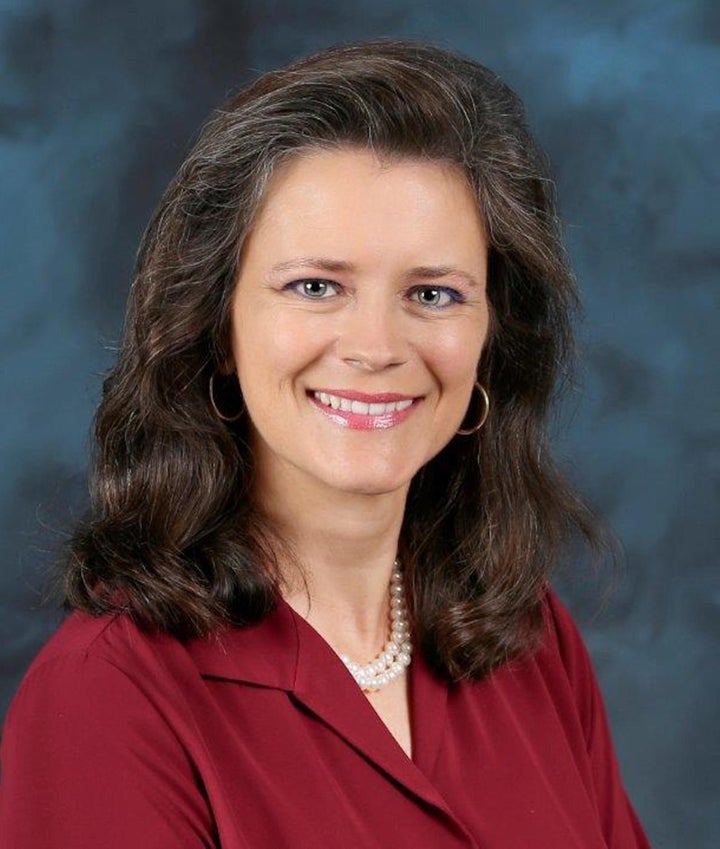 April D. McMillan, PhD, became the BSA National Director of STEM Programs after a 25-year career in biomedical research at Oak Ridge National Laboratory (ORNL). April's first taste of research was in middle school, making stable work more interesting by studying the horses on her family's East Tennessee farm.
With a B.S. in microbiology and PhD in materials science engineering, she did seminal research into graphite foam, an important new material. Her love of biology and materials science research led her to biomedical sciences and national security research. She holds 13 patents and has presented papers at international meetings. At ORNL, April led outreach to Historically Black Colleges and Universities.
One of her favorite volunteer activities was mentoring students, from high school to graduate school, in research programs. April helped start BSA's coed Venturing Crew 0101, serving as program advisor. She taught at two BSA premier adult training centers, Philmont in New Mexico and Florida Sea Base, led the inaugural STEM Trek at Philmont Scout Ranch and served on staff at the 2013 National BSA Jamboree.
How has your life experience made you the leader you are today?
I credit the opportunities I have had as a leader to a lifetime of unending family support and amazing mentors throughout my career.
My family also instilled a strong work ethic. Growing up on a farm and having responsibilities for my own animals, and that certainly helped me frame my perspective on hard work paying off, as well as learn the importance of time management at an early age.
Yet, the biggest influence; however, is that I have been blessed to have people in my life who believe in me and never told me, "You can't do that." I am constantly thankful for their encouragement and support.
How has your previous employment experience aided your tenure at Boy Scouts of America?
For the first 25 years of my career, I worked as a researcher at the Oak Ridge National Laboratory (ORNL) in Oak Ridge, Tennessee, where I came up through the ranks of the male-dominated science and engineering professionals. Interestingly, nearly all of my mentors have been men – they prepared me for the many challenges, and importantly, helped me embrace that I am a scientist – not just a "woman in science." Those men, my colleagues and peers, were essential in helping me understand the power of letting the quality of my work speak for itself and to never allow myself to be seen as "less than" simply because I'm a woman. And one of those men in my early career was also my father. For a young Southern woman, it was incredibly helpful for me to work with my father– if I was feeling particularly challenged, a visit to him always made things right. His encouragement and reminders to always do what's right were more helpful than he'll ever know.
What have the highlights and challenges been during your tenure at Boy Scouts of America?
The challenges I've encountered while working at the Boy Scouts of America are those that you may see in any leadership position, but the highlights, simply put, are amazing. While I was working for ORNL, I knew the work I was doing for the nation was important and was making a difference, but working for the BSA, I get to see the impact of my work first-hand. Seeing young men and women transform from timid children into confident, capable young leaders is immensely rewarding.
Working with Scouting's top leadership continues to inspire me. Both the immediate past CEO, Wayne Brock, and current CEO, Mike Surbaugh, worked and continue to work help the BSA evolve to meet the changing needs of families. The leadership shown by both is courageous – they have had to make some tough decisions, and how those decisions will impact the youth in our movement is always their priority. It's an everyday reminder to always make the right choice for youth and Scouting, especially when the choice is hard.
What advice can you offer to women who want a career in your industry?
For women who want to work in STEM, my advice is simple: be prepared. It's not only the Boy Scout motto, but it's one of the best ways to be seen for your work and not your gender – no matter where you work. Women don't necessarily have to work any harder than their male counterparts, but doing your job well is always a benefit. Strive to be the best at what you do, work smarter, not harder and you will succeed.
What is the most important lesson you've learned in your career to date?
The most important lesson I've learned was one that I thought I had learned already – not to judge a book by its cover. I will say that when I first came to the BSA, I had concerns about being a woman and coming to work for the Boy Scouts of America. Women in the professional ranks of the BSA were unheard of where I grew up. But I couldn't have been more unfounded in my concern. I have been welcomed into the organization and have felt more at home working for this incredible institution than I could ever have known. A life lesson, I hope, that will be seen by other women who have hesitation at joining a significantly male-dominated workplace or organization.
How do you maintain a work/life balance?
A work-life balance is continually a challenge for me because not only do I work for the BSA, but I am also still a very active volunteer. Fortunately, my daughter is also very active in the organization. She is in Venturing, which is a co-ed program of the BSA that serves teenage girls and boys through age 20, so I get to spend a lot of time with her doing all kinds of amazing things across the country. What better way to build memories than to spend time with your teen backpacking in the wilds of New Mexico, boating in the Atlantic Ocean in the Florida Keys, or the hiking the rugged West Virginia mountains? Even when we're not doing Venturing activities, the lessons we have learned through Scouting carry over into every aspect of our lives – for example, last year for spring break, my daughter and I camped in Middle Tennessee and toured many of the beautiful waterfalls in that area. The appreciation for the great outdoors and the joy of just being together were enhanced by the almost second-nature confidence in our capabilities to take off and adventure on our own.
What do you think is the biggest issue for women in the workplace?
I think finding a powerful voice can be a challenge for women, but there are several things that women can do to be in control of their careers. First, get a mentor and be willing to hear honest feedback. This can be uncomfortable at times, but is totally worth it. And also consider a sponsor, someone who will actively advocate for you. Be willing to look at a career that matches your passion. It's not always about what your job title may be, but more about if the organization matches your own goals and values. And importantly, don't wait on someone else to recognize your value – you can and should speak up. Be confident and ask for that raise and promotion. If you've done quality work, your performance will speak for you.
How has mentorship made a difference in your professional and personal life?
I have been extraordinarily blessed with mentors all throughout my life – in some measure because I have sought out those who have already been down the path I see ahead. The willingness to learn from others is so important. Having a strong desire to benefit from someone else's wisdom and guidance has enriched every aspect of my life – from parenting to career choices. I hope that in my mentoring efforts I can make an impact – giving back is a glad duty.
Which other female leaders do you admire and why?
There are aspects of many female leaders that I admire. For example, Indra Nooyi at PepsiCo – she's been CEO for a decade at PepsiCo and still going strong. One of the things I enjoy about her leadership is her commitment to design thinking. A favorite quote from her is, "Purpose is how you drive transformation." I really like that she's willing to take chances, but has a strong strategy in place to manage those risks.
Another leader I follow is Mary Barra, General Motors CEO, for her perseverance. Though she struggled through some very challenging times early in her tenure, I feel that her story of being the daughter of a factory worker and starting as a co-op student and working her way to the top position is truly inspiring.
What do you want Boy Scouts of America to accomplish in the next year?
The Boy Scouts of America has been providing character and leadership opportunities for young men and women for more than a century – and I strongly believe that we will continue to make a positive difference in the development of youth in this country. I am excited that we will continue to expand the STEM Scouts program to new markets across the country, providing more youth the opportunity to explore the many wonders the world of science and technology has to offer. I believe hands-on experience within the science and math fields coupled with the leadership and communications skills they can learn paves an early route to success for any child. Youth are our future and my experience with BSA has only reinforced that our future is bright.
Related
Popular in the Community