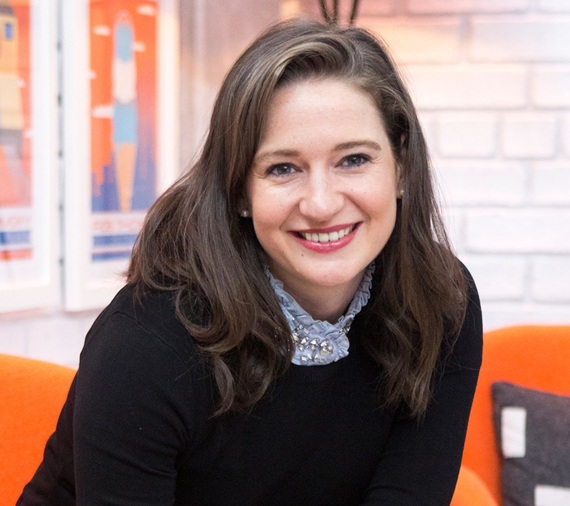 Samantha Okazaki/NBC's TODAY
Ashley Parrish is an award winning digital strategist, educator, and the Executive Producer for digital operations at NBC News' TODAY. A rare veteran of both the magazine and digital worlds, her work has been instrumental in expanding the digital footprint of iconic lifestyle brands. As the Chief Digital Officer of DuJour Media, Mrs. Parrish optimized the brand's digital offerings with a focus on increasing engagement and revenue. Prior to that, Mrs. Parrish was the Editor-in-Chief of DailyCandy where she led editorial strategy, winning several awards along the way. Earlier in her career, Mrs. Parrish was the Content Director for the Women and Teen Networks at Hearst Digital Media, where she managed the digital operations of Harper's Bazaar, Marie Claire, Cosmopolitan, Redbook, and Seventeen magazines. In her spare time, Mrs. Parrish sits on the board of several companies and non-profits as a digital advisor. She is also an adjunct professor at her alma mater, New York University.

How has your life experience made you the leader you are today?
When I was little, my dad told me that if I worked hard, when I grew up I could be the CEO of his company. I didn't know what a CEO was, I figured he was spelling a word. So, I thought about it for a second and I told him that I'd much rather be the B-O-S-S. Entrepreneurship was something that was instilled in me at an early age. My parents, both entrepreneurs and educators, taught me that leading and learning go hand in hand. This combination has shaped my approach to management. You are only as strong as your most junior staffer, so finding time for those teaching moments is a key part of leadership.

How has your previous employment experience aided your tenure at TODAY?
At 22 I was an editorial assistant at Harper's Bazaar and eager to kick-start my career. It was 2002 and many magazine websites functioned more as a place to drive subscriptions than as an editorial destination. I saw HarpersBazaar.com as an opportunity. I wrote a memo (an actual paper memo) outlining how I could make the website better. Weeks later I was promoted to Online Editor and I began to lobby the editorial team for extra content, access, and support. This early career experience taught me two things. First, if you don't see an opportunity for growth, create one. Second, the power of leading through influence. I had no authority to ask editors to do more work but they contributed because I was able to illustrate the power of digital. Even more importantly, I asked nicely. Kindness should never be underestimated. I have been able to forge a new, exciting path for TODAY by harnessing these three things: vision, influence and kindness.

What have the highlights and challenges been during your tenure at TODAY?
My focus has been creating experiences for our audience that allow them to connect with the brand in new ways across a variety of platforms. So a major highlight has been the launch of our communities -- TODAY Food Club and TODAY Parenting Team, which is celebrating its one-year anniversary in March -- because they enable a deeper connection with our audience. The only challenge is finding enough time in each day to launch the other exciting things we have planned.

What advice can you offer to women who want a career in your industry?
I always joke that this will be the title of my book when I write one: Don't Let Your "To Dos" Get in the Way of Your "What Ifs". Making time for innovation is paramount for success. It's also the hardest thing to do when your list of tasks seems never-ending. Devote an hour or two each week to researching industry trends, learning new things, and brainstorming the next big thing. Do this for yourself, but even more importantly, create a culture where you enable your staff to do the same.

What is the most important lesson you've learned in your career to date?
My digital career began at a time when brands were just starting to identify the digital space as an opportunity. It was thrilling to be part of this industry shift but hard at times to work on a platform that hadn't been proven yet. I learned perseverance, tenacity, and the value of "proving my theory." The digital space continues to evolve, so this early experience of working in a new medium taught me that you must remain nimble, curious, and engaged.

How do you maintain a work/life balance?
Honestly, my son is 15 months old and I'm still figuring this out. But one of the most important things I've learned since becoming a mother has been the importance of being present. When I'm home with my family, I try to give 100% of my energy to them -- to us. When I'm at work I apply the same rule; being fully present and focused enables me to be more productive than I ever thought possible.

What do you think is the biggest issue for women in the workplace?
Oftentimes, the only thing that holds us back is ourselves. I tell many of the young women I mentor that it's okay to be scared; none of us have all the answers. What's not okay is giving in to that fear. You have to tackle issues head-on. So, replace doubt with tenacity, drive, and determination. Anticipate the roadblocks you'll come across and plan for the things that scare you the most.

How has mentorship made a difference in your professional and personal life?
I am grateful for the commitment my mentors have made to me to find time during the daily grind for small teaching moments. I try to do the same with my staff and I believe that leaders have a responsibility to create a culture where teaching and learning is valued and where collaboration and constructive feedback is rewarded.

Which other female leaders do you admire and why?
I admire the women I work with each day - my TODAY colleagues on digital and broadcast. As a team, they are fiercely competitive when it comes to hitting our collective goals. Individually, they are steady, focused, and deeply committed to their craft. I'm constantly learning from them and I firmly believe that we are in this together.

What do you want TODAY Digital to accomplish in the next year?
I want to highlight TODAY as an innovator in the digital space. We are having fun experimenting with technology to expand our storytelling and to enhance the connection with our audience. We have new features launching in the next few months - from interactive video and image technology to new social activations that integrate both our broadcast and digital content efforts. It's an exciting and inspiring time at TODAY with the team focusing on truly pushing the brand to new limits.
Calling all HuffPost superfans!
Sign up for membership to become a founding member and help shape HuffPost's next chapter