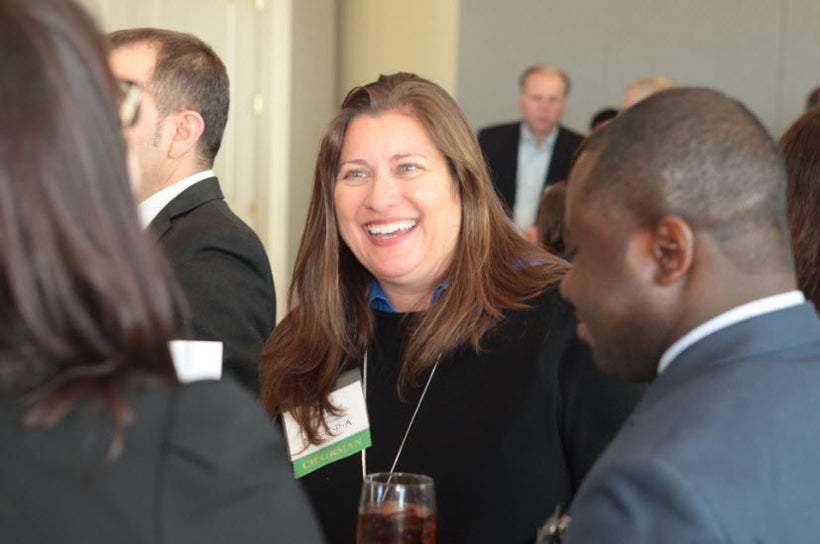 Carla McCall is co-managing partner of AAFCPAs and has been serving clients with distinction since 1995. Carla specializes in providing assurance, tax, and business consulting services to sophisticated nonprofit organizations and privately-held commercial companies. She won the 2016 ATHENA Leadership award, the Women to Watch Leadership award in 2013, and the 40 under 40 Best and Brightest Business Leaders award in 2005. She participates as a board member in five Massachusetts nonprofit organizations and mentors women at her alma mater Bentley University.  She is a 2014 graduate of the Boston Chamber Executive Leadership Program. Carla's dynamic executive leadership is to inspiring many entrepreneurial organizations.  
How has your life experience made you the leader you are today?
My mother's supportive influence and great sense of purpose helped me develop into the leader (and mother) I am today. My mom was an Italian immigrant to the United States, and she worked hard to lead by example. She crossed boundaries throughout her life, even while staying somewhat within the traditional female role imposed by her culture and generation. When we were growing up, she worked as a print model, and went to school to develop skills that allowed her to work outside of the home. She encouraged us to believe that we could do anything we put our minds to. My mom never shied away from expressing her opinions, and her confidence definitely impacted me.  She also impressed upon me the importance of emphasizing both my personal and professional goals.
Self-awareness and focusing on what makes me happy has been a catalyst to my professional success—and shapes my leadership style. Self-awareness is an important part of the puzzle, especially as professional women take strides toward securing leadership roles.  At AAFCPAs, we ask our employees to follow that philosophy so that they may stay tuned in to what engages them most.
How has your previous employment experience aided your tenure at AAFCPAs?
When I was a teenager I was a pharmacy technician responsible for providing friendly and compassionate customer service. The customers and their families became familiar faces, and we formed relationships as they put their trust in me to be attentive, compassionate, and discreet.  This was a prime practice ground for a career in customer service, but as a teenager, I was initially outside of my comfort zone.  I learned a lot about courage, patience, and active listening through this experience.  
This work experience provided skills highly transferrable to my career in public accounting.  As an entry-level accountant, I quickly gained an appreciation for the importance of building meaningful relationships, which evolved by active listening. When I joined AAFCPAs, I knew quickly that I wanted to be partner and a leader. I was fortunate that the former managing partner believed in me, let me present new ideas, and guided me as I forged a leadership path for myself.    
What have the highlights and challenges been during your tenure at AAFCPAs
I am extremely proud of AAFCPAs' Women's Opportunity Network, a forum I helped launch (and now lead), through which the firm's women can connect on important issues like how to maintain a life/work integration.  Certainly, all employees value balance, but finding it can be incredibly tricky for women going through major life milestones at the same time their careers are gaining momentum. The collaboration is working. Female leadership is currently 48% at AAFCPAs, up from 25% in 2011.
I am proud of the investments we make in our people. We have a unique mentoring /group-coaching program for new hires that promotes the understanding and development of professional skills needed to be an excellent CPA. The program serves as a two-year incubator for our young CPAs and CPAs-to-be, during which we offer a valuable experience to work in the disciplines of both audit and tax. We also provide the ability to work on diverse clients, including for-profit and nonprofit organizations of various sizes and from diverse industries. This valuable exposure to multiple disciplines and client groups often helps professionals confirm their preferences and positively impacts their careers. Upon completion of the program, the staff graduates and is able to choose a specialty or area of interest. We believe this investment in early exposure pays dividends: genuinely enjoying what you do for work every day is priceless to team members and very noticeable to clients. 
A common challenge in any business is retaining top talent, especially as younger generations have the tendency to job hop.  We make every effort to give employees opportunities to grow in our firm and to find what engages them most.  As an observation, younger generations are increasingly mission-driven, and our commitment to giving 10% Back to Nonprofits is a big recruiting and retention differentiator.
What advice can you offer to women who want a career in accounting?
I strive to help women see that public accounting offers work diversity and opportunities for growth. Also, contrary to popular belief, accounting is quite flexible as the demands ebb and flow based on client needs. In addition, I strongly encourage women to find a mentor who may be their champion, acknowledge their capabilities, and help shine a light on their path to help them achieve their goals.
What is the most important lesson you've learned in your career to date?
If you want something, you have to ask for it! No one is going to hand you a leadership opportunity, but if you demonstrate that you are deserving and confidently ask for what you want, you have a better chance of meeting your professional and personal goals.  In addition, a network of strong leaders and mentors can help you envision a bigger and better future for yourself.
How do you maintain a work/life balance?
For me, my family needs set the tone. I advise professionals to account for their work obligations and adequately communicate with their families and team members in order to respect that search for balance.  We are lucky that our profession is very flexible and our teams have the ability to help each other out when needed.  Without solid communication and flexibility, though, balance isn't easily achieved at work or at home.
What do you think is the biggest issue for women in the workplace?
The fact that we have to keep answering this question! Businesses aren't done helping women achieve career goals.  Women need to be enabled to get to the top, and companies need to embrace having women in leadership roles because it leads to more diverse ideas and styles. Companies should have programs, conversations, and offer support systems that help women to be leaders – it should just be part of the culture. Women need to know they have a path to growth and a means to become leaders, even if their journeys look different than those of their male colleagues. 
How has mentorship made a difference in your professional and personal life?
I have great experiences working with mentors who support me, and understand my goals and the future I envision for myself.  My mentors serve as great sounding boards, offer candid feedback and perspective, and they keep me from being too insular.  
Which other female leaders do you admire and why?
I admire my friend Laura Gassner Otting, the founder of Nonprofit Professionals Advisory Group and author of Mission Driven: Moving from Profits to Purpose. She is a female leader who raises the bar when it comes to how to help others, and she is a catalyst for social change.  She advocates mentoring and coaching, and she believes in women finding their passions and purpose.  Her book helps mission-driven people understand how to transfer their skills and passion from the corporate to nonprofit sector. Her view of measuring impact vs. just monitoring the bottom line is spot on.  Laura is progressive, ambitious and follows her passion.  I also admire Laura for her authenticity.  She lives and leads true to herself, and she is not afraid to share her genuine thoughts, beliefs, and opinions with the right amount of humor, with the world. 
What do you want AAFCPAs to accomplish in the next year?
I would like to achieve flawless execution of our strategic plan, while we remain focused on our commitment to excelling at our work and giving back.  AAFCPAs believes that business is a conduit for social change, and our positive impact continues to grow for our clients and our communities.
REAL LIFE. REAL NEWS. REAL VOICES.
Help us tell more of the stories that matter from voices that too often remain unheard.
This post was published on the now-closed HuffPost Contributor platform. Contributors control their own work and posted freely to our site. If you need to flag this entry as abusive,
send us an email
.