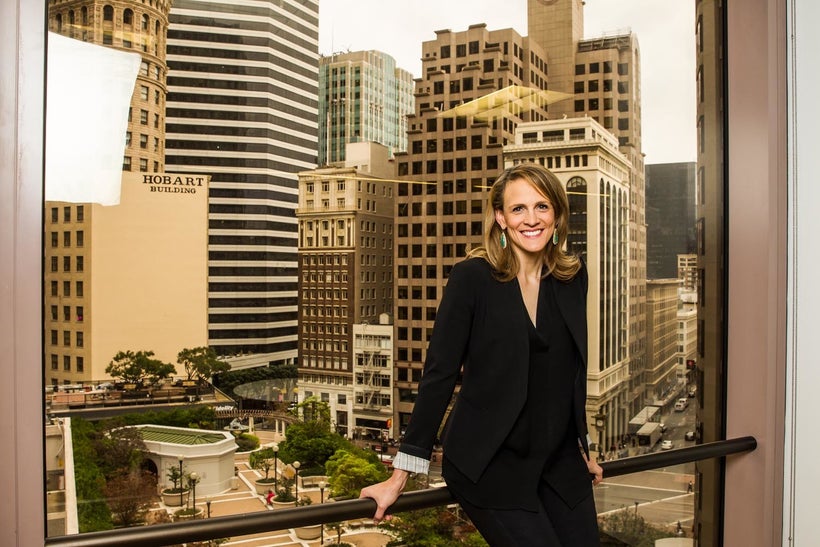 As Chief Executive Officer, Christa leads the global business strategy and vision for OpenTable. Prior to joining OpenTable, Christa served as the Chief Business Officer for Nextdoor where she oversaw finance, business intelligence, HR, business development and legal. Previously, Christa served as the SVP and General Manager at Disney where she led the Mobile and Social Games divisions within Disney Interactive. Christa joined Disney in 2010 as part of the acquisition of Playdom, a leading social games developer, where she served as Chief Financial Officer. Earlier in her career, Christa spent ten years as an equity research analyst covering the Internet sector at Thomas Weisel Partners (now Stifel Financial).
Christa holds an MBA from Harvard Business School and a BS from Carnegie Mellon University where she was elected to Phi Beta Kappa.
How has your life experience made you the leader you are today?
I grew up in a really big family outside of Pittsburgh as the sixth of seven kids. By the time I came along there were no "firsts" left in my family, so I had to figure out how to differentiate myself. I think that was the beginning of my own creation of grit and moxie which led to me not being afraid to steer into potentially hard-charging, male-dominated industries.
How has your previous employment experience aided your tenure at OpenTable?
Transitioning from being in a service-oriented industry into being part of a company was a major transition for me. In investment banking I learned how to distill information into compact, digestible bites. It wasn't until I shifted to a startup where I wore many different hats and learned more about my own style and how to motivate and drive people in each part of the organization. Today, I call upon my startup experience for the new ventures that we're driving at OpenTable while I call upon my operational experience for when we're trying to drive the core business.
What have the highlights and challenges been during your tenure at OpenTable?
It's been super exciting for me to see just how powerful it is for us to have a scaled diner network and restaurant network in one place. I also enjoy witnessing the energy and effervescence of our employees as they are service-oriented, fun and personable and really want to create a working environment and atmosphere that is incredibly collegial. It has been a sheer joy to experience working with people who are having so much fun and are excited about their job. This attitude has contributed to OpenTable's personality and culture.
It's challenging to be unafraid to take risks and to get people more comfortable with thoughtful risk-taking. I've pushed the organization to question norms that have been set for them over the years and for the organization to hold itself more accountable to change the pace and tempo of what we're trying to accomplish. Sometimes when you have been very successful you get stuck in your ways, but risk taking and failure can be amazing teachers.
What advice can you offer to women who want a career in your industry?
In Silicon Valley, I think we're seeing high demand around areas including product development, engineering, design, and data science, so having more women with those skill sets would be awesome. Every company in the Valley would love to expand its gender mix because you want to look like the customer.  My broader advice for women is to pay attention to cues early on in your career so that you can find what works for you - which is as important as focusing on an industry - and end up with a career that you want. During a summer internship I took while at Harvard in the mutual fund industry, I realized that it was a really lonely job and it didn't resonate with what I found joyful in my day-to-day, so I found something where there was a lot more interaction with people.
What is the most important lesson you've learned in your career to date?
If you follow the things that truly make you excited, passionate and interested, then you will find the return happiness. I have taken jobs where I thought there was going to be a really good outcome but I was unhappy and was unable to deliver and it didn't work out.
How do you maintain a work/life balance?
Family is really important for me, but that doesn't mean I am exclusively dedicated. I make sure to have enough control over my calendar to be able to insert times where I decide I'm going to my son's hockey game or other school events. I think that pushing that concept around the organization is important as well – having an organization that's cultivated around the fact that we are whole human beings. I also find ways to take time for myself, like going to my Saturday morning yoga class. It's about making time for these things but also making it a part of the company culture because when people are happy with their home life, they come in and they're charged up and energized. 
What do you think is the biggest issue for women in the workplace?
Unconscious bias. People don't mean to say some of the things that come out of their mouths. There are a lot of "should" statements in people's heads about how women should or shouldn't behave. That is holding us back. Women don't always get the constructive criticism that they deserve to make themselves better. I don't think that anybody overtly wants to hold women back, but there are preformed views that have existed for a really long time that mean that women have to jump an even higher hurdle.  
How has mentorship made a difference in your professional and personal life?
Christa: One of my mentors is Sue Decker who is a former president of Yahoo. We've had a lot of similar experiences. She was an analyst, then became a CFO, and then became an operator in business and now sits on boards. In each phase of my own career I was able to look and see what she did in certain situations. On the personal side, I think about the era that I'm in. I'm in my 40's in Silicon Valley; there is a lot of support and sisterhood among women who are in similar industries. I don't think that was the case for a woman who's now in her mid to late 60's. What has evolved is now a lot of women are super comfortable sharing what worked, what didn't, and failures. That's been – even more than direct mentorship – sisterhood of the broadest kind. That's why we're seeing this band of women starting to come out of Silicon Valley.
Which other female leaders do you admire and why?
I admire people who bring their real, unaffected, authentic selves, and then marry that with good business outcomes and being an entrepreneur. I've had the chance to meet Gloria Steinem who is just an amazing example of thinking and being unapologetic for her path forward and success. I think of Sheryl Sandberg and all the work she's done with "Lean In." Taylor Swift is interesting less so for being a performer and more for her entrepreneurship and standing up for oneself and one's craft and being kind of audacious in the approach.
What do you want OpenTable to accomplish in the next year?
I want to make our mark on what it means to dine globally. I want to redefine what connecting a restaurant and a diner means. I want to have an organization that is delivering and iterating and redefining and moving fast and is unafraid to take risks and make mistakes, but also in the process is finding breakthroughs for what we're delivering. If it's testing more aggressively, becoming more of a place where you can discover where to dine, or how we use data science to create the ultimate restaurant recommendation engine – pulling all of those things together in a cohesive way would be super exciting. And bringing along a bunch of people who make it fun to do so.
REAL LIFE. REAL NEWS. REAL VOICES.
Help us tell more of the stories that matter from voices that too often remain unheard.
This post was published on the now-closed HuffPost Contributor platform. Contributors control their own work and posted freely to our site. If you need to flag this entry as abusive,
send us an email
.