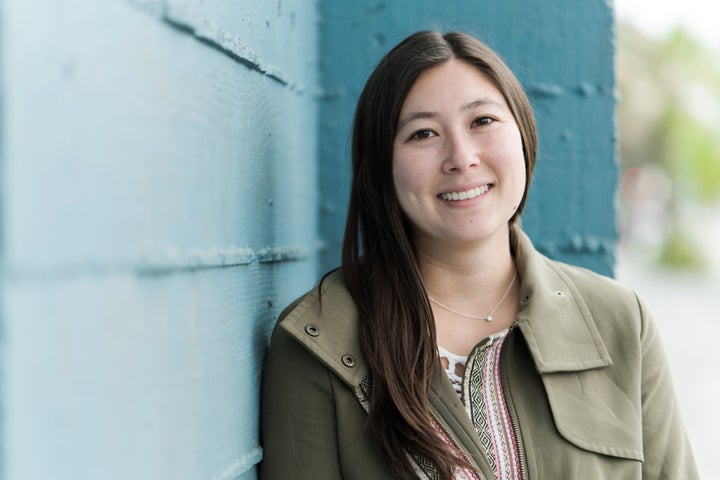 Danielle Morimoto is an Experience Designer at the Adobe Design Lab in San Francisco, a group that focuses 100 percent of its efforts to identifying untapped potential and the future user experience for Adobe. In 2016, she helped conceive, develop and present Project QuickLayout, a simple graphic design tool for drag-and-drop layout design, in front of 10,000 attendees at Adobe MAX, the leading creativity conference. Danielle is a 2015 graduate of Northeastern University, where she earned a Bachelor of Fine Arts degree with a focus on graphic design.
How has your life experience made you the leader you are today?
My parents have been the biggest influences in my life since they were the ones who allowed me to pursue my passions to eventually find my career where design meets technology. However, neither me nor my parents originally thought I'd end up in a design career.
I was always passionate about art. During summers, I attended art camps, explored different craft projects, and constantly doodled. In fact, I even brought my own pens to restaurants with paper table cloths so I could draw before we ate. Early on, however, we all saw this as just a hobby. It wasn't until I was in high school when I entered a program called "Freestyle Academy," where I took web and design courses that we realized this could be a career.
I wouldn't have continued to explore art and design if not for my parents' support in nurturing my hobby, so that played a huge role in discovering my eventual career.
How has your previous employment experience aided your tenure at Adobe?
Adobe is my first job out of college, but prior to graduating, I had several undergraduate internships that helped me fine-tune my career path and focus. I went to Northeastern University to study graphic design, but I wasn't sure what specific area of design I wanted to go into. Part of the curriculum at Northeastern is alternating between school and three six-month internships during undergraduate studies. I worked at Adobe on my third rotation, designing tools for creatives, which I found was a rare opportunity—let alone at the leading creative software company.
Even though my current role is my first job out of college, the hands-on opportunities I gained during my undergraduate studies were pivotal to my career.
What have the highlights and challenges been during your tenure at Adobe?
One of the biggest highlights was presenting Project QuickLayout at Adobe MAX, the leading creativity conference that gathers more than 10,000 designers and creative professionals. Project QuickLayout is an experimental technology I helped conceive and develop. As part of the conference, Adobe unveils up to 10 projects in development to preview innovative technology happening around the company – call the "Sneaks" presentation. Each year the MAX Sneaks is hosted by a different celebrity, so I happened to be on stage with Jordan Peele of the sketch comedy duo Key and Peele. He was super sharp and funny, which kept me on my toes because none of the banter that happened between us was scripted.
Getting selected to present at MAX is pretty competitive since there are several research and engineering teams working on new technologies, and only 10 slots to present at MAX. Typically the presenters are more senior engineers who have, on average, a decade of research experience.
I was constantly taking the lead in presenting and talking about Project QuickLayout internally, so when the call for submissions came, I took the initiative and went through the submission process. Since I was always vouching for this project, I got the opportunity to present.
Preparing for MAX was a little intimidating knowing I was going to present to 10,000 people – including some of the most influential designers, but that's also what motivated me to make sure I would be confident to go up on stage. I'm passionate about helping invent the next generation of tech, so having MAX as a platform to share the work I've been doing was incredible.
That was only six months ago, but it created great visibility for me internally. People at Adobe recognize me from the conference, so it's been a great way to meet more colleagues and raise my profile across the company.
What advice can you offer to women who want a career in your industry?
Focus on what you love to do and the rest will follow. Maybe you love design, solving hard problems or thinking about what's next in tech. Focus on what it is you're passionate about and put yourself in positions where you can do that as much as possible.
Also, don't get intimidated by all the techno-mumbo-jumbo. It's ok to ask questions if you don't know something. Don't forget to look to the people around you because they can be the best resources. I've found that not only are the people I work with genuinely interested in helping me learn and grow, but they can be the best source of inspiration.
What is the most important lesson you've learned in your career to date?
Be proactive and take initiative. Don't sit around and wait for someone to tell you what needs to be done. If there's something you want or you see a need somewhere, go for it. Don't assume that just because opportunities are typically assigned to more senior folks that you can't gain the chance to do something. No one else cares about your career more than you do.
The only reason I presented Project QuickLayout at Adobe MAX was because I took the initiative. Someone much more senior could have very easily been the presenter for the technology. I was granted the opportunity because I consistently took the initiative to talk about the technology internally, and led in our "Sneaks" submission. It's important to not wait for opportunities or recognition, but to proactively go after it.
How do you maintain a work/life balance?
For me I feel like there is usually more of one than the other at any given time. It's a matter of knowing and being ok with whether there is going to be more work or play. I go into every day with a plan. I wake up early each morning to work out, which helps energize my mind and body. By the time I get to work, I'm ready to go. Being active, whether it's in a gym, hiking or traveling, helps me destress.
Of course, it can be challenging to know when to stay late and put in the extra time versus close my laptop and say that's it for the day. But I'm also lucky that there's overlap between my day job and personal interests. For example, my team, the Adobe Design Lab, has a room full of all the latest and greatest gadgets. We are a forward-looking group, so to design, develop and validate experiences for new technologies, we play with them. Recently that's meant putting on virtual reality headsets to test out the hardware capability and interactions first hand.
What do you think is the biggest issue for women in the workplace?
Underrepresentation. There is still a large gap in female leadership in the workplace. Especially in fields like technology, women don't have many role models in the industry. I'm lucky that I'm at a company that makes a strong effort to encourage and support women's leadership. As long as we keep supporting each other and changing assumptions for future generations, I think we'll head in the right direction.
How has mentorship made a difference in your professional and personal life?
Without mentorship, I wouldn't be where I am today. It's important to have a support system that you can go to for advice and guidance. I've had many mentors across companies and now, here at Adobe. Recently I participated in Adobe's Women Executive Shadow Program where I shadowed Chris Hall, the VP of Customer Experience.
Chris has lots of visibility and is making great change at Adobe. Aside from observing her leadership and management style, my biggest takeaway was seeing how she had a pulse on the business outside of her immediate team. Eventually, I'd like to have a leadership role within Adobe tied to innovative future experiences for our products. To play that role, I realize how important it is to know people across the company in different functions and groups. This experience, along with my gained visibility from presenting at Adobe MAX, has helped me to move beyond of my day-to-day bubble.
Chris and I keep in touch, and she continually gives me great advice. I wouldn't be as successful as I am without other people helping me realize my strengths and pushing me to do more.
Which other female leaders do you admire and why?
I've always admired Amelia Earhart, the first female to fly solo across the Atlantic Ocean. She was daring, adventurous and independent. Her fearlessness has inspired me ever since I was 8 years old, and I recreated her plane out of cardboard boxes and construction paper. She was not afraid to push the boundaries, and therefore pave the way for others. She reminds me to follow my passions and take risks.
What do you want Adobe to accomplish in the next year?
Since presenting Project QuickLayout at Adobe MAX, the project has received a lot of positive feedback. We at the Adobe Design Lab are now taking its core principles and looking at applying them to resizing and responsive design in multiple products across Adobe.
I'm also a designer on Project 1324, Adobe's youth initiative that empowers a global community of emerging artists who are using creativity as a force for positive impact. I hope to continue to play a critical role in bringing the vision of this project to life. It's been exciting to be part of building something that will support, connect and amplify a global community of young creatives.
Related
Popular in the Community