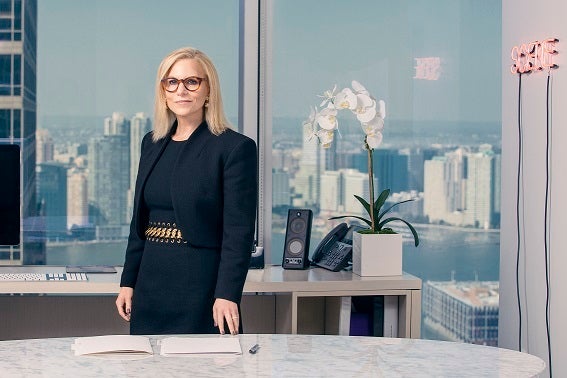 Dawn Ostroff is president of Condé Nast Entertainment (CNE), an award-winning next generation studio and distribution network with entertainment content across film, television, premium digital video, social, and virtual reality. Ostroff helped found CNE in 2011 when Condé Nast decided to build a thriving digital video, film, and television business based on its iconic brands and assets.
In addition to CNE's thriving digital video division, Ostroff oversees the company's feature film and television operations. Culling from IP across Condé Nast's iconic publishing brands, including Vogue, Vanity Fair, The New Yorker, GQ and Wired, CNE has 35 active film projects and 30 television projects in development and production with Ostroff serving as a producer or executive producer.
How has your life experience made you the leader you are today?
I have always been someone who is persistent and who never gives up, so I have gravitated to jobs where I've needed that personality trait. I have also been fortunate to be at several companies that were in periods of transition. It has taught me to be nimble and to move with change, both in business and in my personal life.
How has your previous employment experience aided your tenure at Condé Nast Entertainment (CNE)?
I am very lucky because I have worked on all sides of the media business. My past experiences as a reporter, a producer and an executive are a perfect fit for everything we do at CNE. Moreover, when I look back at previous jobs, I have been attracted to entrepreneurial ventures or businesses in turnaround, so everything I've done is helping the CNE team lead the change in how people find and watch content. The bottom line is that having diverse experiences in the media industry was good preparation for running a startup from both a creative and business perspective.
What have the highlights and challenges been during your tenure at CNE?
I think, by definition, a startup is a huge challenge. Anytime you are starting a company, it is a learning experience and there are three key traits: have a vision, be open minded and continually pivot to find success.
What advice can you offer to women who want a career in your industry?
Find what you are passionate about.
Be ready to challenge yourself and to be persistent.
Most importantly, expect no less than what any man would earn and achieve.
What is the most important lesson you've learned in your career to date?
I continually challenge myself by embracing change in order to grow. The marketplace and the consumers are constantly changing and I embrace that. Executives can't accept the status quo.
How do you maintain a work/life balance?
I try to compartmentalize. When I am at work, I am focused on work. When I am at home, I am focused on my family. Of course, there is crossover, but I find it has been a good rule of thumb.
What do you think is the biggest issue for women in the workplace?
It is not enough for women to just have a seat at the table. We need to be at the head of the table. I thought we would be there by now. I meet with a lot of young women, and I am surprised to see that the entitlement is still not there. True equality means that men and women are perceived and treated equally. Obviously, we have a ways to go.
How has mentorship made a difference in your professional and personal life?
I have had incredible managers as mentors. I have worked for people who have exhibited great leadership skills, but all had different styles of leading. Learning from them and watching them on the job has allowed me to take something from each to formulate my own management style.
Which other female leaders do you admire and why?
The women who come to mind are all successful and powerful women in business—Indra Nooyi, Mary Barra, Susan Wojcicki and Sheryl Sandberg, as well as many of my colleagues in Hollywood. These are women who are running global businesses, who are strong managers with a vision, and who increase shareholder value while putting consumers first.
What do you want Condé Nast Entertainment to accomplish in the next year?
I want CNE to push the envelope in making great, relevant content and I want to continue to grow our business as the industry continues to evolve.
REAL LIFE. REAL NEWS. REAL VOICES.
Help us tell more of the stories that matter from voices that too often remain unheard.
This post was published on the now-closed HuffPost Contributor platform. Contributors control their own work and posted freely to our site. If you need to flag this entry as abusive,
send us an email
.