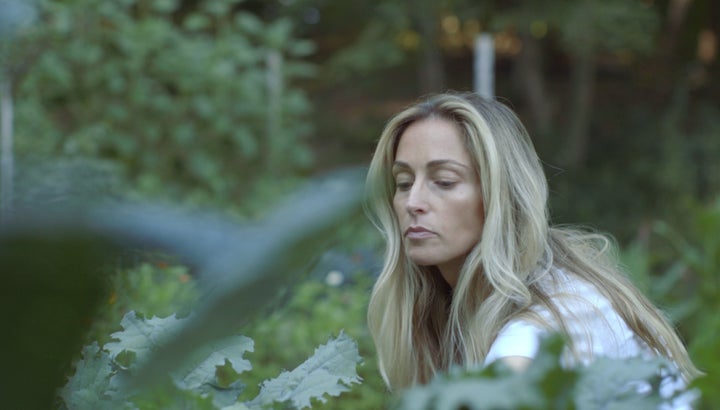 8Greens is the result of Dawn Russell's dramatic personal journey. Dawn took a life-threatening illness and used it to fuel an amazing entrepreneurial success story.
At 25, Dawn Russell – healthy, athletic and vibrant – was diagnosed with stage 3 (out of 4) cancer. A bone infection weakened Dawn to the point where chemotherapy was not an option. Dawn took action, traveling the globe and consulting health professionals and leading medical centers. She focused on nutrition, consuming high levels of different greens, such as blue-green algae, spinach, kale and more. She credits these greens with sustaining her during her recovery.
8Greens (or simply 8G) is a simple effervescent tablet that contains eight powerful greens. Simply drop it into water, dissolve and enjoy. It is meant to serve a busy life, letting people consume greens on the go.
8G has become a phenomenon at Nordstrom since launching the product in late 2015. 8G has surpassed sales projections, earned unprecedented reviews and has been embraced by world famous actors, professional athletes, supermodels and influencers. Dawn has earned an extensive sit-down with Good Morning America, a four-page People Magazine story and 8G and Dawn have graced the pages of Town & Country, Marie Claire, Departures and many more.
Married to English environmental investor Lord James Russell and the mother of two beautiful children, Dawn's inspiring personal narrative resonates with consumers across every demographic. She has become an international health ambassador and a thriving entrepreneur on the basis of a simple goal: to get as many people as possible eating more greens.
How has my life experience made me leader I am today?
Well I do not really consider myself a leader, and if I did my friends would no doubt set me straight! I hope to become a leader, but this is always a work in progress. My family would say that I came out of the womb independent, but the first time I consciously realized there was no one I could follow was when I was recovering from cancer. We naturally look to doctors to lead our recovery from illness - they are the trained leaders in that world - but in my case doctors could not do any more. I had to lead for myself, and set about looking for everything I could, whatever it was and wherever in the world I could find it. It was the same when I wanted to find a way that I could get these 8 green foods into my family's diet in a way they would actually eat: there was no existing product, so I had to create it myself! My husband read this question and said I remind him of General George Patton who said "lead me, follow me, or get out of my way!"
How has your previous employment aided you in starting 8 Greens?
I have little formal employment experience. After college I was a model, and while this taught me the importance of hard work, you don't learn many 'big picture' business lessons. It was when I was modelling that I was diagnosed with cancer, and my life for the next decade was getting well, getting married, moving countries and starting a family. A lot of the formal employment experience I have benefitted from has been my husband's. He went to Harvard, worked at McKinsey & Co., went to Stanford Business School and spent his life investing in and working in startups and growing companies. Having him involved in in 8Greens has been so useful, but I find that much of what has helped me in starting 8Greens and getting it to where it is today has been NOT having too much employment experience. Starting your own business is not 9-5, it is not a 5-day week, you have to do everything yourself at the start. You are doing something that no one has done before and something many people will tell you can't be done, and you have to constantly push forward, even with it feels like only you think it's possible. These are not always things that 'normal' jobs prepare you for; and often the traits that make you succeed as an entrepreneur would make you a frustrating pain in the ass in someone else's company!
Why did you choose these 8 greens in particular?
I lost count of how many greens I researched and tried.
My recovery, and all my research showed me how important these particular greens were to internal health. When I was sick these were the greens that I noticed had the greatest impact on how I felt and my recovery. They were life-changing, and I do not say that lightly. I felt particularly strong about Blue Green Algae. Blue Green Algae is one of the most powerful greens there is, especially in terms of its anti-inflammatory properties (and so much of what we put in our bodies in western industrial life inflames our system). It is the only 100% non-man-manipulated green. It added a lot of complications and cost to making 8G, but I was adamant that it needed to be in there. Nearly all of the human-grade BGA available comes from one lake in the US, which makes it very hard to source, which along with its fragility is why it is in so few products.
Identifying these ingredients was only half the battle. How do you get them into people's diets? Into busy parents, stressed business people, our kids, and all of us when we travel? I asked myself what are the greens I want to put into my kids every day. But who has barley greens hanging around their kitchen? Or a box of wheat grass to cut and grind into a shot that then tastes horrible anyway? I had the force of being ill and desperate: I would have tried just about anything if I thought it could help me get better and feel better. These 8 proved incredibly powerful, but also the most difficult to get into my family's daily diet. Try getting a 5 year old to eat spirulina! Well now mine asks for it every day through his 8G. Kale and spinach are great, and generally more accessible, but these huge bags you get at the market need a lot of preparation and then wither down to a tiny portion for one. I thought there has to be a better way. So all 8G ingredients are from the farm, harvested, dehydrated and made into our tablets. No heat is added as that would damage many of the nutrients and defeated my whole purpose of getting more greens into everyone.
What are the benefits? As a product, beyond the HUGE benefits of all the ingredients, I hope the biggest benefit of 8G is that is makes these greens accessible for ANYONE. What puts a lot of people off including these greens in their diet is a combination of the effort, the cost, the time to prepare them and their taste. A tube of 8Greens can be wherever you are. It is affordable, and it gives you all these greens in a drink that tastes really good (it really does: it took us 5 years and 263 different versions to get it right).
Have you heard from people who use 8Greens?
The best part of 8Greens for me is hearing from the people who love the product. Receiving emails and letters from mothers, jet-lagged executives, pro athletes and drained rock stars on tour it the most fantastic testament to all the hard work we put into creating 8Greens. As a mother, the feedback that means the most comes from other mothers. One mom wrote to 8G saying she goes to three schools a day with her kids, and that by the third she was always drained and irritable. Now she puts two 8G in her water bottle and feels she has way more energy and patience with her kids. Just yesterday one of our retailers came back from a European family holiday and said "8G made our trip." In the past her kids and husband had been jet-lagged at the start of the day and crabby by the end of it, but this time she had heard none of that. Few things could make me happier than reading these. I made 8Greens so that anyone could have these greens in their diet in a way that fits real daily life.
How do you maintain work/life balance?
The challenge of balance! My body has a lot of stamina given all it has been through, but when it's done, it's done. I can push myself really hard, but then my left leg (where most of my surgeries were) stops working and all else starts to go down. Balance comes down to putting your real priorities first, we cannot do it all, especially once we are parents, and even more when you are growing a startup. I always walk my kids to school. I always put them to bed. I have a pretty quiet social life. My life is my family, 8Greens and a few stellar friends.
What is the biggest issue for women in the workplace?
Being five people at once. Wife, mother, businesswoman, friend, house manager - all while taking care of yourself too. Sometimes I realize it is 4pm and I have not washed my face (but I have always brushed my teeth!).
How has mentorship made a difference in your personal and professional life?
Wow, life would be so much harder without help, support, guidance and good examples. I have been very lucky my whole life to have had great mentors. From great teachers at school, to family and friends who I looked up to when growing up, and in this last decade of becoming a mother and starting a business I cannot imagine doing it without the solid support of those friends, often older friends, who have 'been there, done that' and who are now helping me learn from their successes and mistakes. I once heard another entrepreneur say about the earliest days of their company 'I alone can do this, but I cannot do this alone."
There isn't much in life where the voice of experience does not help. Having had so much help from others I now try and be a mentor to younger people, especially girls, coming up and facing the same challenges for themselves. And of course as a mother being a mentor is a full time job.
What other female leaders do you admire?
I admire women that fight to build their lives. When I see girls look at my kids, husband and the lucky life I am experiencing I want to tell them that I have worked my buns off to create all this. When I see other women living full, fulfilling lives I take my hat off to them. I do not know them but I know. I admire my friend who has a very famous husband: she has just had her fifth child and prefers to stay home and keep her 20 plus year marriage and five bambinos together. The quiet leader.
What do you want for 8Greens?
I want it to become a part of daily life. The way one buys face cream, toothpaste and underwear, it is simply part of every day. These greens are a vital part of strong internal health; but their inconvenience, cost and taste has put most people off including them in their life. 8Greens set out to change this, and to makes these greens an easy, tasty and affordable part of everyone's routine.
Related
Popular in the Community