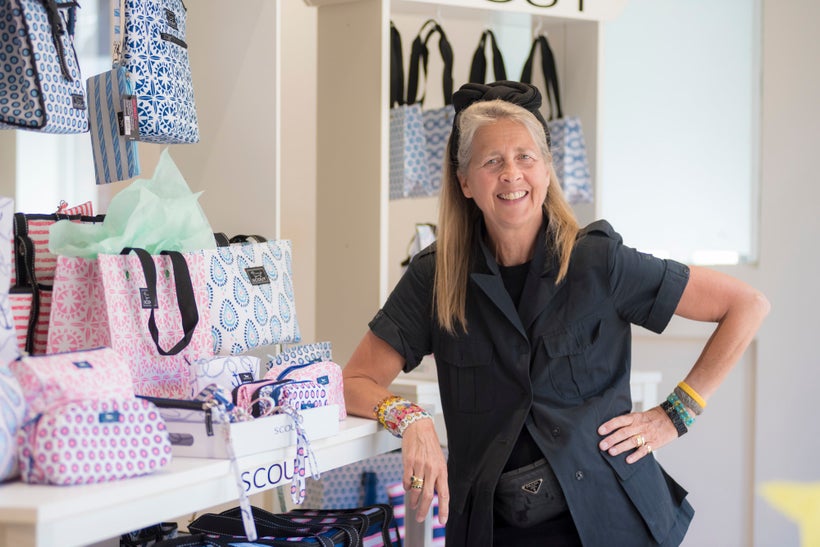 Deb Waterman Johns has dedicated her entire career to fashion, beginning with her role as assistant fabric editor with Vogue. After over three decades in the industry, Deb has served on two international color boards and worked in color prediction consulting for notable fashion designers, making her an expert color and trend forecaster.
Inspired by high-fashion storefronts while traveling in Milan, Deb Johns founded SCOUT with her husband Ben Johns in 2004, to create her own line of tote bags that perfectly blended fashion and function, without the designer price tag. SCOUT bags are timeless with original prints and durable designs for every woman. As Chief Creative Officer, Deb creates over 100 unique prints each year and has grown the SCOUT collection to include accessories, coolers, storage and rugs, available online at scoutbags.com and from over 1,500 independent retailers nationwide.
Deb is truly the modern businesswoman with four kids, four dogs, three businesses (SCOUT, Get Dressed, Fifi), and she has created two charitable organizations, The GO BO Fund and Santa's Helpers, to give back to the Washington, DC community.
How has your life experience made you the leader you are today?
As a child, I moved all over the country and had to land on my feet. I learned to be resilient and adaptable. My time in New York in the '80s, was a period of intensity and excess, which helped me become a good editor. I've also had the benefit of playing a lot of sports, which taught me to be a team player. All of this, a balance of precision and flexibility, has led to my ability to make definitive and positive decisions as a leader.
How has your previous employment experience aided your tenure at SCOUT?
Working for other businesses has given me great insight about what's out there in the creative working world. Vogue showed me high-end luxury in a corporate setting, while trend forecasting for a smaller shop allowed me to see the ins and outs of running a creative business. I have seen both sides of the spectrum. Through that decade of experience, I was able to discern my niche to develop my talents and expertise.
What have the highlights and challenges been during your tenure at SCOUT?
So far, two highlights of my tenure at SCOUT have been seeing people enjoy our products, and working with a young, dynamic team. Keeping our line new and relevant will always be an exciting challenge - we are constantly innovating! By the way, I work with my husband. He has a great business sense, and most days the equation works... with a little healthy friction!
What advice can you offer to women who want a career in your industry?
My advice is to know what makes you happy, as well as what you're good at. Find a place where the two converge. Being realistic and honest with yourself about those things is the key to your success. If you can combine the two, you'll be authentic and you'll get there.
What is the most important lesson you've learned in your career to date?
My boss at Vogue always said, "Life is about shades of grey." It's so important to realize that nothing is black and white. You have to work with what you have, be adaptable, be willing to adjust, and be resilient.
How do you maintain a work/life balance?
What balance?! I work with my husband. It's truly rewarding to run SCOUT together, but the lines between personal and professional are often blurred. We definitely have to work to carve out time to step away from the business. Everyone's idea of balance varies. Creativity comes when it comes! You can't turn that off, so I find myself constantly thinking about the business.
What do you think is the biggest issue for women in the workplace?
Self-esteem. If you work hard and earn your spot, you need to believe that you are as good as any other human. It's critically important to believe in yourself.
How has mentorship made a difference in your professional and personal life?
My very first job at Vogue came through the mentor of a colleague of mine, and it ultimately changed the course of what I would do professionally. It shaped my journey to have someone recognize similarity in experience, and in turn show me the kindness of getting my foot in the door. Gaining insight from more experienced colleagues bolstered and enhanced my learning experience. It's invaluable. If you listen to people who come before you, you can troubleshoot a lot of sh*t, because it always comes back around.
Which other female leaders do you admire and why?
I admire two women for the style they bring to their respective industries: Carla Sozzani and Michelle Obama. Carla Sozzani owns 10 Corso Como in Milan. She is a true conceptual genius. Her store is full of sensory stimuli. For any of us who are aesthetically driven, as an authentically-creative being, she is a true inspiration. When she styles her store and moves through her space, you are watching a genius at work. Over the decades, she has remained authentic to her brand and authentic to her aesthetic. Michelle Obama opened up a dialogue about fashion in Washington, D.C., where SCOUT is headquartered. We are in a city where people are passionate about causes and relevant issues, but fashion usually gets overlooked. Her impeccable high/low dressing activated conversation that has long been absent from our D.C. lives.
What do you want SCOUT to accomplish in the next year?
At this stage, I feel like it's about broadening our scope outside of our traditional marketplace connecting with people who need SCOUT. We have worked hard to develop a dynamic brand with relevant products that are useful to everyone. Now the critical piece is getting SCOUT into the hands of new consumers, people whose lives we can simplify, make better and more stylish with our products.
Calling all HuffPost superfans!
Sign up for membership to become a founding member and help shape HuffPost's next chapter
This post was published on the now-closed HuffPost Contributor platform. Contributors control their own work and posted freely to our site. If you need to flag this entry as abusive,
send us an email
.