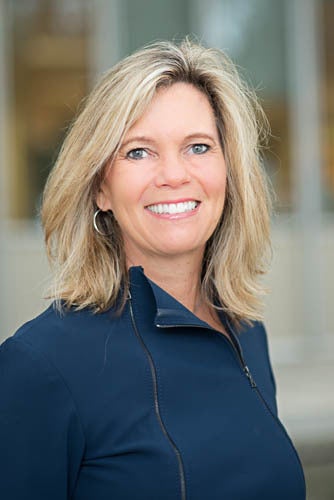 Diane Flynn is Cofounder and CEO of ReBoot Accel, focused on women returning to the workforce after taking a work pause. ReBoot gets women current, connected, and confident to return by teaching essential workplace tech skills and providing a community of like-minded returners. ReBoot was recently featured on The Today Show, WSJ, Forbes, ABC Business News, and PRI's The TakeAway, representing the newfound interest in hiring this growing and energized talent pool. Diane was Chief Marketing Officer of GSVlabs, a marketing executive at Electronic Arts, and an associate consultant at The Boston Consulting Group.
Diane is passionate about catalyzing women and is a lifelong learner, speaker, and coach. She earned a BA in Economics from Stanford and an MBA from Harvard.
How has your life experience made you the leader you are today?
I attribute my leadership today to one key person and one catalyzing event. The single greatest influencer in my life was my dad, who was a successful business executive and a passionate, lifelong contributor to society. At age 85, he cofounded a charter school, and at age 87 (the week he died), ran a meeting of civic leaders to continue to improve health, education, and welfare for the state of Minnesota. He believed that as long as we're capable, we are never too old to give back and make a difference. ReBoot Accel, aimed at helping women develop a lifetime of impact, is really an extension of his philosophy.
The second event was my experience with breast cancer three years ago. This experience afforded plenty of time for reflection, and served as the impetus to return to the workforce and create something with impact. In returning to full-time work as a CMO after a 16-year professional pause, I felt a passion to help other women interested in doing the same. I love learning and teaching technology, and I find great fulfillment helping women discover their passions and reengage in meaningful work outside of the home. In its two years, ReBoot Accel has helped over 600 women with in-person training and support, and is now launching a digital platform, ReBoot in 30, to inspire women everywhere to pursue their dreams.
How has your previous employment experience aided your tenure at ReBoot Accel?
I spent over a decade working at the Boston Consulting Group and Electronic Arts, and developed valuable strategy, marketing, and leadership skills. Yet, I believe my 16-year pause from the paid workplace provided just as many meaningful opportunities for personal and professional growth. During my "pause", I was an advisor to Stanford Children's Hospital, was president of our school's Parent Association, served on several boards and chaired various marketing committees. While for the most part unpaid, these experiences were invaluable in growing my marketable skills and my network. Without a doubt, my strategic volunteer roles continue to contribute key connections and a rich perspective to what I bring to my role at ReBoot Accel.
What have the highlights and challenges been during your tenure at ReBoot Accel?
The greatest highlight has been the rapid, organic growth of our business in just two years. We are overwhelmed with interest from women globally who want to bring ReBoot Accel to their city. We have selected six amazing city-teams in the US to launch ReBoot Accel this year, but we could have easily expanded to 25 cities. The challenge is managing our growth while maintaining our high quality standards. We are relentless about providing a "10-rated," high-touch experience for our customers, and rapid expansion can make this challenging.
Another highlight has been the growing interest from corporations in supporting our efforts. In 2015, I felt many more doors shut when I broached the idea of hiring returning women. Now we are getting calls weekly from companies who have recognized the power returners bring to their organizations. JetBlue Technology Ventures hired one of our ReBoot Accel alums, and has already returned and hired another. We are working with Visa on a custom program targeting returners, and the applicant pool was so overwhelming we closed down admissions earlier than expected. A returner-focused program we conducted with the Stanford Graduate School of Business in May was so successful that we'll be offering another one this fall. These are but three examples of the many organizations with whom we are working to identify and train attractive new talent pools.
What advice can you offer to women who want a career in your industry?
We offer the following suggestions to women seeking to relaunch their careers:
1) Develop a growth mindset, with a willingness to take risks and learn from failure
2) Cultivate your personal brand--you have one whether you choose to manage it or not, so be sure you're putting your best foot forward
3) Grow your network of people who can support your reentry
4) Invest in yourself by taking classes and being a lifelong learner, a trait critical for today's rapidly changing workplace
What is the most important lesson you've learned in your career to date?
The importance of creating a work culture that is supportive, empowering, and fulfills every team member's need for purpose. Everyone wants to own something and to feel their work is important. Until proven otherwise, people on our team are trusted to get the right work done, and to do it with attention to quality and on time. To date, I have never been let down by my team. One time I let the team down by failing to secure the right conference space to host our 80-women session. But instead of complaining, the team mobilized to action, setting up the room, and even sharing some laughs in the process. When we do have the occasional screw-up, there's no finger pointing or criticizing. We recognize we all fail from time to time, and grace is fortunately extended abundantly.
How do you maintain a work/life balance?
I'm very conscious of work/life balance, as my life has been extremely out of balance in the past, and I always end up paying a price---either in health or in guilt. I have five key things that are important to me--my faith, family, friends, fitness, and work. Each day, I structure time for these activities, and I ruthlessly say no to tasks that don't support these priorities.
What do you think is the biggest issue for women in the workplace?
There's no question in my mind that the biggest obstacle to women remaining in careers is lack of workplace flexibility. Every member of my team, all highly accomplished professional women, would have chosen to remain in the workplace if there had been an option besides "all in." Once kids or ailing parents enter the scene, it becomes very difficult to juggle a full-time job and the needs of family. By offering more flexible options---both in terms of time and location---we could continue to benefit from the talents of an exceedingly talented pool of individuals.
How has mentorship made a difference in your professional and personal life?
I've had two key mentors in my life, Indra Nooyi and Bill Campbell. Indra Nooyi, who now runs Pepsi, was my boss at BCG in the 1980's. She not only provided encouragement, wisdom, and guidance, but was a strong female leader at a time when I had few women as role models. Bill Campbell was known as a huge supporter of women, and actively worked to increase the ratio on boards, especially in Silicon Valley. When I told him about the idea of ReBoot Accel, he encouraged me to make it happen. Bill and I scheduled weekly walks through his neighborhood in Palo Alto. It was a terrific opportunity to focus and listen to his guidance--I had his undivided attention, an honor I truly appreciated. Bill believed in the power of diversity to drive innovation, and felt strongly that returning women could add a different and essential depth of insight and perspective to decision making and the management ranks.
Which other female leaders do you admire and why?
Ramona Pierson, Founder and CEO of Declara, is the most talented, courageous woman I know. She has repeatedly faced great adversity in her life and gets up every day with conviction to change the world. Ramona inspires me to make the impossible, possible.
Likewise, Sheryl Sandberg faced life's most devastating challenge and had the courage to share her deepest emotions and provide hope for others encountering the loss of a loved one. I admire her willingness to be raw and vulnerable, and to help others facing adversity.
What do you want ReBoot Accel to accomplish in the next year?
ReBoot Accel educates, inspires, and catalyzes women to restart their careers, build businesses, dream bigger and pursue lives of impact.
Our goal is to catalyze one million women to return to the workforce.
We are energized and motivated by our customers to do more, for more. Why? Because seasoned women who have stayed in, pivoted, or returned to their careers add depth and value to the decision making processes due to their work-life experiences and long game perspective. They are less interested in the workplace as a source of drama or social life, and they are loyal. They have refined, over time, their priorities and values, are quick learners, multi-tasking wizards, expert negotiators, and they get the right work done.
Calling all HuffPost superfans!
Sign up for membership to become a founding member and help shape HuffPost's next chapter
This post was published on the now-closed HuffPost Contributor platform. Contributors control their own work and posted freely to our site. If you need to flag this entry as abusive,
send us an email
.