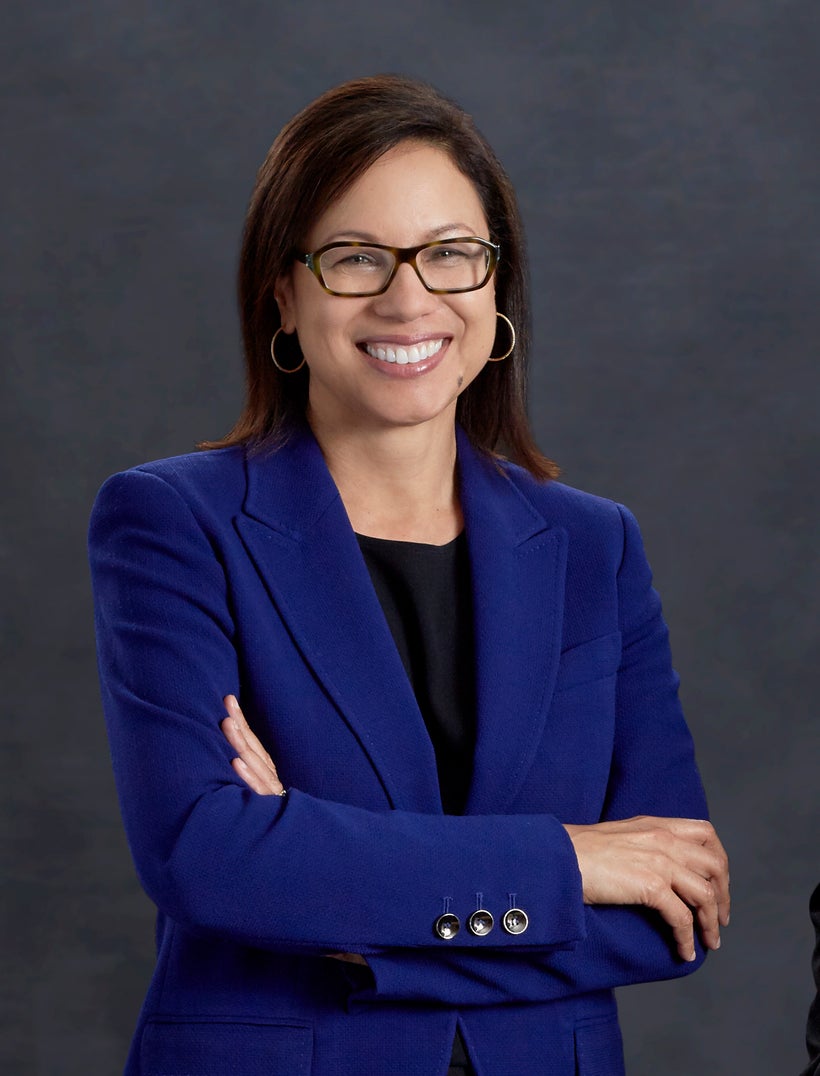 Diane Hoskins, FAIA, is one of two Gensler Co-CEOs. As both an MIT-trained architect and holding an MBA from the Andersen School at UCLA, Diane's career has spanned architecture, design, real estate, and business. She has broad responsibility in running the firm's day-to-day operations, which span over 5,000+ employees networked across 48 offices in the Americas, Europe, Asia and the Middle East. She is Vice Chair of Gensler's Board of Directors.
Diane has initiated state-of-the-art management strategies in service of the firm's 3,500 clients in 95 countries. She started Gensler's industry leading Research Program to spark new innovations in sustainable design, workplace performance, planning and human health. In addition to her responsibilities to the firm, Diane currently serves as a member of the World Economic Forum's Global Future Council on Cities & Urbanization as well as the U.S. Department of Commerce's President's Advisory Council on Doing Business in Africa. Diane was named one of the Business Insider's 100 Creators list alongside Co-CEO Andy Cohen in 2016.
Diane is a sought after media spokesperson and frequent speaker. She has shared her expertise and research with top media outlets, including The New York Times, Harvard Business Review, Fortune, Financial Times, Bloomberg TV, and many global architecture and design trade publications. Diane has spoken at many premier conferences, including the Bloomberg Business/CEO Summit, the Economist Human Potential Conference, the Greater Washington Board of Trade Outlook Conference and the Architectural Record Innovation Conference.
How has your life experience made you the leader you are today?
I really believe that diversity fuels innovation. If you can bring people together with diverse points of view, then you can truly ignite creativity. I grew up in a multi-ethnic and multi-racial family and it taught me the richness and fun that having diverse perspectives brings. Believing in diversity and inclusiveness is intrinsic to our philosophy at Gensler…it's about empowering each person in our organization. Great ideas come from everyone, so you need to ensure that everyone has an opportunity to grow and contribute. I've been fortunate to have spent most of my career at Gensler, one of the few architecture and design firms with a strong track record in promoting women into positions of leadership based on excellence and ability. I believe that our focus on diversity has been a major engine of our growth, helping us become the largest architecture and design firm in the world, and strengthening our innovation edge. I think this is what happens when organizations truly commit to empowering leaders with different perspectives and coming from different backgrounds.
How has your previous employment experience aided your tenure at Gensler?
I've been fortunate to have worked for several great organizations over the course of my career. In fact, I jumped around a lot during my early years. During that time, I not only changed companies, I changed professions, going from architecture to interiors to real estate. Each experience helped me develop a holistic understanding of the built environment—from inside to outside, and from design to finance. This has really aligned with our goals at Gensler to create holistic design solutions that bring strategic value to our clients, communities and the people who use our spaces. Being able to lead and build a community of people who can deliver on that goal has been enormously exciting. We have people representing diverse areas of expertise at Gensler and we have built a framework that knits it all together in a dynamic, systemic way. We want our culture to feel seamless to our clients and our staff. This is how we bring innovative solutions to over 80 countries annually, enhancing people's lives and impacting the environment in a positive way.
What have the highlights and challenges been during your tenure at Gensler?
As Co-CEO of the largest architecture and design firm in the world, I deal with new challenges and amazing highlights every day. I am so proud of the work that our firm is doing across the US and around the world. We frequently get notes from people about their amazing experiences in projects that we have designed. These are the types of things that are deeply meaningful to me. I must admit that I still get excited to see the image of the Shanghai Tower on television when a camera pans the city's skyline, because it reaffirms why I am in this business and why I love it so much.
What advice can you offer to women who want a career in your industry?
Women make up about 42 percent of graduates from architecture programs, but just 24 percent of licensed architects and 17 percent of principals and partners at American architecture firms. At Gensler, gender has never mattered. From the beginning, we prioritized empowering the best people to succeed above all else. That's why we have a leadership team that is extremely gender diverse for our industry, and it's why I have had so many opportunities to grow as a business leader over the course of my career at Gensler, from office leader to regional leader and now co-CEO of the firm.
So, my suggestion to women who want a career in design and architecture, is to look for an organization that has many women leaders in its ranks. I also think it is important to understand the culture of the organization. Is it a meritocracy? Is excellence rewarded? Are there many avenues for career growth and development? Is there a training program? How are people mentored? These are all questions that I would ask in an interview or look online to resources like Glassdoor to get under the hood. And then once you are in the organization, it's important to find ways to excel. Find what you are good at. Find your "swim lane." The reason I tried a lot of things early on was that I was following both my interests and my strengths. Both are important as you seek to build your career.
What is the most important lesson you've learned in your career to date?
I've learned that the best way to lead is to identify great people and then trust them to do the job. No matter what business you are in, it's always about the people. As a leader, your first job is to provide a vision that stirs the soul. Daniel Burnham, a very influential early 20th century architect has a great quote that I've always been fond of: "Don't make little plans; they have no magic to stir the passions and probably will not be realized." Your vision needs to tap into what motivates your team. It's not just the bottom line, nor is it just about satisfaction of one kind or another. It's got to be bigger than that. Once a vision is set, it's time to equip people to be able to get there. This is about resources, time, authority, and the other tools they need. And the final lesson I have learned is that people are individuals and require different management styles. Here is the key: You need to adjust your style to them, not the other way around. Some people need more frequent check-ins where others just want to know what hill to take and a deadline.
As a leader in an industry filled with very creative, passionate people, our vision is to create a better world through the power of design. Our structure, resources, tools and strategies all wrap around this vision. Our people have the autonomy to creatively imagine and invent the how and the what each day on behalf of our clients and our communities. Our culture supports and nurtures these behaviors and it becomes more of an organic process than a managed set of activities and actions. It's amazing to see!
How do you maintain a work/life balance?
I live to work and work to live. I love work and I love my life outside of work. It's important to not let the elements of your life become polarized or opposed to each other. That is not a sustainable life. Everyone has their own balance point and I encourage people to find their own unique way. For instance, I don't work on weekends because that's when I balance the intensity of the week with my personal life. Sometimes, weekend work is necessary and that's fine, but I don't make it a habit.
It's very important to recognize that no one can be productive if they're working on overdrive 100 percent of the time. Work is part of life and vice versa. I believe you need to learn how to manage your boundaries and learn how to be present in each moment. Ariana Huffington wrote a wonderful book on work/life balance that I would encourage everyone to read, The Sleep Revolution. I admire her amazing career and appreciate the wisdom and insight that she shares.
What do you think is the biggest issue for women in the workplace?
From my experience, one of the issues I often see is that many women shun leadership roles. We need to speak up in meetings, take advantage of leadership opportunities, and share our ideas. Ladies, you have something important to add to the conversation! Another area that I am seeing is around technology. We have a very balanced firm, but when I look at those who are really grabbing ahold of new technologies, it is rarely the women. This may have to do with skill, education or simply risk-adverse behavior. All of these issues can be overcome. We should encourage more women to receive STEM and STEAM training. This is essential for careers in design and architecture. On a broader level, the research is conclusive that organizations with greater gender and ethnic diversity perform better and more innovative than their peers. Organizations really miss out on enormous potential if they cannot harness the potential of women. And women miss out of great career potential if they don't take full advantage of the opportunities in their organizations.
How has mentorship made a difference in your professional and personal life?
I have had the benefit of incredible mentors throughout my life. Early on, my French horn teacher encouraged me to reach beyond my comfort zone and attend MIT for my college education. In my first architecture job, the female partner who I worked with had a wonderfully supportive leadership style. As a result, I was willing to go above and beyond to advance our project because I knew she had my back. Further in my career, I was at a different firm, and I had the opportunity to learn under a female managing principal. She always demonstrated the utmost in client focus through so many of her words and actions. I sat near her office and had a bird's eye view of her selfless client service mindset. All of these women influenced me and impacted me to stretch, focus on people and give 100 percent to clients. These are powerful lessons that I continue to practice every day.
Which other female leaders do you admire and why?
There are so many amazing women making a difference today it's hard to name just a few. I appreciate the contribution that Sheryl Sandberg has made to the conversation surrounding women in business, and how she has helped a generation of young women understand the importance of taking their career growth into their own hands at an early age. Mary Barra has also been doing a great job at GM, and it's really encouraging to see the auto industry so strong less than a decade after the Great Recession. Mary has also been an outspoken advocate for women and girls, especially for opening new pathways to women in the STEM and STEAM fields.
Sara Blakely at Spanx is an inspiring example of entrepreneurship in action, going from a door-to-door fax machine salesperson to Founder and CEO of a company that sells its products in 65 countries. I've always loved Oprah Winfrey. She has shown that transparent authenticity is an asset. There are also several women I deeply admire in my own field, including Margo Grant Walsh and the late Zaha Hadid, who both broke barriers as pioneers in design and architecture. We're fortunate to see so many women making an impact at the highest echelons of their professions whether that's law, finance, medicine, architecture, industry or government, and I think we're headed for an even brighter future.
What do you want Gensler to accomplish in the next year?
Our firm is driven by our mission to create a better world through the power of design. This year we are very focused on how our work is making a positive impact on the planet. We released our second annual sustainability report in September, in which we reviewed of our impact on the environment. We have invested heavily into researching the impact of the materials we use and the choices we make in terms of energy, and building systems in all of our projects. Our goal is to continuously lower the CO2 emissions of our projects, reduce construction and water waste, improve water and air quality, and promote human health and well-being. We found that the projects we worked on last year alone will keep 11 million metric tons of CO2 out of the atmosphere every year, which is a huge impact—but we want to take this even further.
Calling all HuffPost superfans!
Sign up for membership to become a founding member and help shape HuffPost's next chapter
This post was published on the now-closed HuffPost Contributor platform. Contributors control their own work and posted freely to our site. If you need to flag this entry as abusive,
send us an email
.