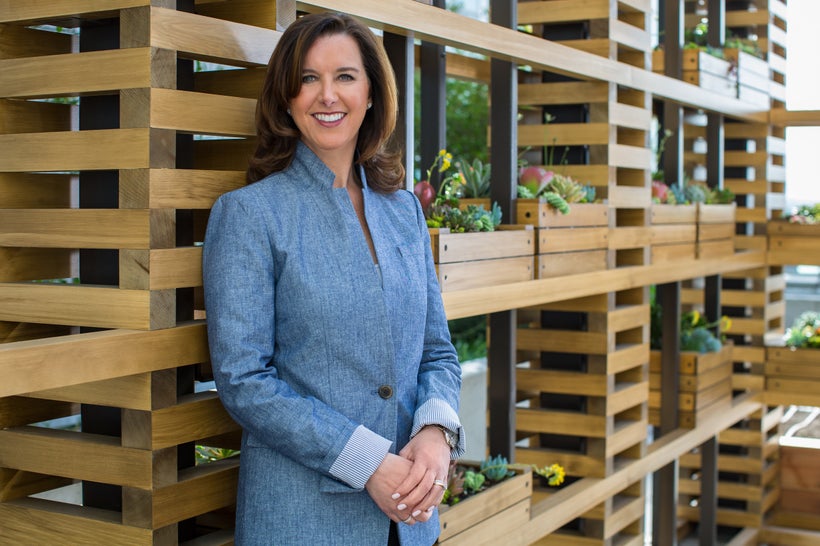 Donna Morris is Adobe's EVP of Employee and Customer Experience. She leads the product, customer service, and technical support experience for all Adobe products, in addition to all aspects of human resources and the workplace. She holds a bachelor's degree in political science from Carleton University.
How has your life experience made you the leader you are today?
I grew up in Ottawa, Canada with parents who both worked outside of the home. My brother and I learned early on that if we wanted to have "extras," we would need to earn our own money. This taught me time management lessons; I had to juggle school assignments, activities and a part-time job. It also taught me the value of saving for the things I really wanted.
My first part-time job was at a dry-cleaners when I was 13 years old, which exposed me to customer service, building my interpersonal skills and working with a diverse group of people. I was fortunate to have a summer job in Human Resources when I was a student at Carleton University, and it broadened my perspective on business and people.
My career has been a continued journey of learning, taking risks, and focusing on making an impact together with a team. I firmly believe my early foundation of support from a family that underscored the importance of working hard has contributed to my role as a leader.
How has your previous employment experience aided your tenure at Adobe?
I joined Adobe through the acquisition of Canadian software company Accelio, where I was the VP of Human Resources and Learning. Prior to Accelio I worked in HR roles in municipal government, a leading cable and communications company, and in software technology. These roles exposed me to all facets of the HR function within many sizes of organizations.
I have always been very comfortable with change and ambiguity, and I think of myself as a continual learner who thrives in team-oriented environments. When Adobe announced the acquisition of Accelio, my focus was on securing as many roles as possible for the employees in the company. At that time, I didn't think I would have an opportunity to join Adobe, but I was wrong.
In the 15 years that I have been fortunate to be at Adobe, the company has grown and I have had incredible opportunities to grow alongside. I have been able to expand beyond the core HR function to lead our real estate, security operations, customer care, product and technical customer support teams. I feel very fortunate to be in an environment which is ever-changing, supportive of risks and provides for ongoing learning and growth.
What have the highlights and challenges been at Adobe?
Since I joined Adobe, the company has grown considerably, and all aspects of our business have transformed. I've had numerous highlights, most notable has been how our leadership team has collectively driven company growth and success for our people and customers. As a team, we've navigated acquisitions, organizational changes, and recessionary and economic pressures. As I reflect on these difficult periods, I realize I have learned a considerable amount which provides benefit and momentum in good times.
In 2011, Adobe announced a significant business transformation which resulted in a restructuring effort where roughly 700 people were let go. As I look back, any of the times in which I had to lead large scale organizational reductions in force have always been the most challenging. In my view, if you find yourself feeling good about negatively impacting the work lives of individuals, then you are likely at the end of your own career in this field.
What advice can you offer women who want a career like in your field?
The human resources (HR) function is focused on building the overall experience for employees that enables the company's growth and success. Driving the attraction of talent, developing employees, building programs to align individual and company performance and creating an environment that enables success for individuals and the business.
For someone who is still in school or thinking about a HR career, I would recommend joining HR clubs, learning more about human resources through attending a local chapter of the Society for Human Resources Management, and looking into courses through the Society of Human Resource Management (SHRM) that leads towards certification.
To be successful in this career, you'll need to have strong interpersonal skills and business acumen, be able to adapt to change, be comfortable influencing people and dealing with difficult situations, and be customer-oriented.
What is the most important lesson you've learned in your career to date?
I've learned many lessons through my career and believe that I continue to learn each day. If I had to name the top five, they would be:
- Vision is realized with a plan
- Focus on the situation, not the person
- Find your passion: if you love what you do, it is not considered work
How do you maintain work/life balance?
I've worked full-time from when my son, Kyle, was four months old to today – today he is a junior in college. As Kyle was growing up, I had my fair share of times where I felt overwhelmed, tired, and left wondering if I was doing the right thing.
From my experience, the idea of "balance" just isn't realistic. You need to set boundaries and ensure you make the choices that allow you to have a fulfilling career and home life, and that means making trade-offs. It's about quality time, not quantity. For example, when Kyle was in high school, unless I was travelling, Kyle and I had a "date night" every Thursday. The two of us went out to dinner to keep our lines of communication open. Those evenings and most our time together are cherished memories.
What do you think is the biggest issue for women in the workplace?
Through my career, I have been able to observe how men and women show up in the workplace, and around the globe. In my observations, women often are reluctant or do not declare what they want or negotiate on their own behalf. There is a saying "if you don't ask, you don't get" and that is definitely true in the workplace. You need to drive your own career – female or male. Whether it is seeking a new job opportunity, pursuing a promotion, a stretch assignment or a raise, you need to declare and "put your hat in the ring".
How has mentorship made a difference in your professional and personal life?
Instead of having one mentor, I have believed that it can be beneficial to have a personal "board of directors". These are individuals that know you well and genuinely are interested in you as a person. Unlike mentors that can change, your personal board likely has some long-standing members, individuals that will always be in your corner and provide views and perspectives based on your values. At different points in my life and career, I have had leveraged individuals that I consider to be on my personal "board" to provide their views and perspectives on changes that I may be considering. As an example, moving to California to join Adobe was a considerable personal and professional decision – and I definitely leveraged my personal "board" and thank them for their input.
Which other female leaders do you admire and why?
I admire people who demonstrate the ability to continuously learn and redefine who they are – whether they are male or female leaders. In addition, I admire people who take risks, innovate and believe in giving back to others.
The two female leaders that come to mind are Sheryl Sandberg and Oprah Winfrey. Sheryl Sandberg has done a considerable amount to spotlight the key role women play in business and clearly has been a powerful role model for women in technology. Oprah Winfrey has built an empire on her brand which includes overcoming adversity and giving back.
What do you want to accomplish with Adobe in the next year?
I want to continue to focus on Adobe being an exceptional place for all; we need to be as great to work with for our customers as we are for our employees, and I want to contribute to the growth and scale of our global business.
REAL LIFE. REAL NEWS. REAL VOICES.
Help us tell more of the stories that matter from voices that too often remain unheard.
This post was published on the now-closed HuffPost Contributor platform. Contributors control their own work and posted freely to our site. If you need to flag this entry as abusive,
send us an email
.