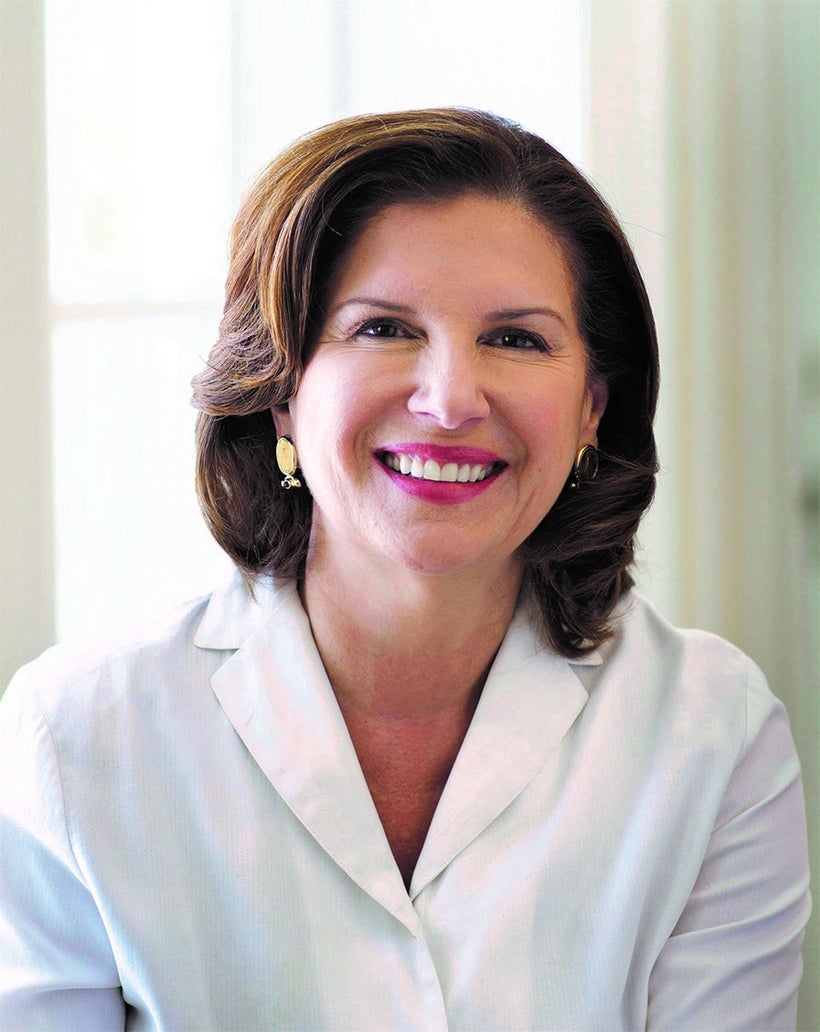 Dr. Maria Freire is the President and Executive Director of the Foundation for the National Institutes of Health. She came to the Foundation in 2012 from the Albert and Mary Lasker Foundation, where she had served as President since 2008. Prior to joining the Lasker Foundation, Dr. Freire served as President and CEO of the Global Alliance for TB Drug Development from 2001 to 2008 and Director of the Office of Technology Transfer at the National Institutes of Health from 1995 to 2001. She led the Office of Technology Development at the University of Maryland at Baltimore and the University of Maryland Baltimore County from 1989 to 1995. Dr. Freire received her Bachelor of Science degree at the Universidad Peruana Cayetano Heredia in Lima, Peru and her Ph.D. in Biophysics from the University of Virginia. She sits on numerous national and international boards and is a member of the National Academy of Medicine and the Council on Foreign Relations. Dr. Freire is the recipient of numerous awards, including the 2017 Washington Business Journal's Women Who Mean Business Award.  
How has your life experience made you the leader you are today?
My career path is not traditional. I took jobs and different positions because each spoke to my core values, even when they were not the obvious next step. In fact, it has been a bit like putting together the pieces of a quilt – it is only when you look at that whole that you notice the pattern. The successes that I have had were because of wonderful people that helped me along the journey and I owe a debt of gratitude to all – their energy and belief in what we were doing kept me motivated and inspired. Hurdles and challenges, and there always are, have helped me learn, keep intellectually nimble and become courageous. In fact, I am fortunate because my life experiences have been, and still are, great fun and very rewarding.
As an immigrant, I came with appreciation of other realities and with respect for different perspectives and cultures. This has served me well because I learned to listen and to try to understand what was important to others. The power of extracting the essence of the problem allows us to develop a strategy and find pragmatic solutions. Whether crafting a deal as the chief executive or visiting Capitol Hill to help translate new scientific findings to policymakers, gaining insight into the others' perspective has been critical to succeed.
How has your previous employment experience aided your tenure at the FNIH?
Each position comes with its own teachings. In the lab, for example, I learned about the amazing world of biomedical discovery; that it takes passion, hard work, rigor and collaboration. A good measure of luck does not hurt. This is a pretty good recipe for most jobs, of course. To this day I am awed by what we learn, the breadth and the depth of the scientific projects that we undertake at the FNIH. They are transformative. Yet gaps still exist in our basic understanding of disease; there remains so much to discover – very exciting, indeed.
As Director of the Office of Technology Transfer at the National Institutes of Health (NIH), I saw firsthand the long road between a discovery in the lab and having a product that people can use. This is particularly true in the biomedical field, where we need to ensure that the product benefits patients, with minimal side-effects and at a cost that makes it accessible. Leading the TB Alliance, with the charge of developing drugs for tuberculosis, a disease that kills millions of poor people around the world, made this even clearer – there are no shortcuts. Drug development is an entirely different world, one involving new chemical entities, legal agreements, property rights, clinical trials, regulatory requirements and, of course, funding. The knowledge gained about the process of drug development, of the workings of the government agencies, particularly the NIH and the U.S. Food and Drug Administration (FDA), made it possible to understand how the FNIH can best accomplish its mission and, importantly, how to manage organizations for success.
What have the highlights and challenges been during your tenure at the FNIH?
The FNIH was established by Congress in 1990 as an independent not-for-profit foundation to support the mission of the NIH. With no endowment and limited resources, the FNIH leadership understood that success would come from tapping the best of the private and public sectors to achieve a shared goal. In our case it is to facilitate and catalyze groundbreaking research by creating public-private partnerships and raising private funds to support our mission.
The FNIH has grown significantly in the past two decades – there have been lean times and times, like now, where we have become the go-to group to tackle very complicated research projects. To date, the FNIH has raised more than $1 billion in funding for projects that span Alzheimer's disease, diabetes, malnutrition, vector-borne diseases and cancer research. We use these funds to bring together the right people and, in many instances, support their work. We draw on the expertise of academics, the biomedical industry, federal agencies, not-for-profit organizations, philanthropy and patients to address problems together, rather than working individually.
While there have been many programs over the course of my tenure at the FNIH, one program that stands out is the Accelerating Medicines Partnership, also known as AMP. It combines the resources of the FNIH, NIH and FDA with those of not-for-profit organizations and biopharmaceutical companies to devise a new and more precise approach to early-stage drug development. By sharing expertise and data, researchers are identifying the biological pathways that underlie four diseases—type 2 diabetes, rheumatoid arthritis/lupus and Alzheimer's disease and determining the best candidates for targeting new treatments. All the data generated are publicly available so that many can use them as the foundation for drug discovery.
What advice can you offer to women who want a career in your industry?
I have to go back to having passion for what you do, be willing to put in the hours, never lower your standards and work with people that share your core principles and personal "drivers." Women traditionally have shied away from careers in science and engineering. We as a society lose when women's talents are not fully accessed and developed. What they bring to the table both in terms of technical competence and scientific acumen as well as their approach to problem solving is vital for the success of any organization. Fear is a factor, so conquering fear is critical. Do not be afraid to try new things and to make mistakes – learn, conquer and move on. Know your true value and do not underestimate (or overestimate!) your contributions.
To be successful in any organization, particular in a not-for-profit, you need to understand the mission and be driven by it. I am very lucky because the FNIH team is made up of intellectually curious and nimble professionals, men and women at different points in their careers, who want to find the tools (interventions, drugs, vaccines, diagnostics, for example) to combat disease and disability. They thrive when challenged and enjoy solving difficult problems. They are innovators and effectors – a powerful combination that gets things done.
What is the most important lesson you've learned in your career to date?
The single most important lesson for me is that people matter – they are the key success factor and the best resource of any organization. No one person has all the answers or knows all that is needed. Create a team of smart, talented, diverse, mission-driven people, give them the latitude, respect and motivation to pursue the highest attainable goal and you will have a very successful enterprise. This is one of the most impactful things a leader can do.
I have also learned the value of separating the individual from the task. What I mean by this is that, when giving or receiving feedback, the critique should be on the task, not the person. Respectful, clear and helpful comments allow people to accomplish the goal better and faster. The flip side is also important: be generous with honest praise. A well-deserved "great job" provides recognition and attests to their individual value as a member of the team.
How do you maintain a work/life balance?
It is not easy to find balance between work life and personal life because the needs, demands and circumstances change throughout our lifetime. A strong support network – spouse, partner, family and/or friends – is indispensable, as is taking time for yourself and setting priorities. Do not forget to have fun!
Women experience this acutely as her personal situation evolves to include milestones such as marriage, childbirth, caregiving and other personal priorities. In my generation a professional woman was expected to rely on daycare or other arrangements for a dependent and get back to work as soon as possible not to sacrifice her career. Today women have more choices in how they manage work/life balance and employers are becoming more sensitive to their needs. These new options and the possibility to choose alternative arrangements is important; I would like to think my generation played a role in helping make this a reality.
What do you think is the biggest issue for women in the workplace?
There is not just one issue that faces women at work. I hope that we have surpassed the competency bias that existed in previous generations. And I await the day in which women will not be harassed because of their sex and earn on par with their male counterparts. I would advise young women to get comfortable wielding their power wisely, to show their competence and ability without arrogance or embarrassment and to articulate their views clearly, thoughtfully and pithily.
How has mentorship made a difference in your professional and personal life?
I am eternally indebted to the mentors I have had – some of the part of my formal training like my high school history teacher and my extraordinary Ph.D. advisor, with whom I am still in contact and others whom I have had the good fortune to meet along the way. They have been generous with their time, selfless in their counsel and respectful of my path, providing advice without demands. Coming from a very close-knit Latino family, I was guided with deep affection and tolerance while given very high standards to meet. I am very proud of my heritage and strong because of the unconditional love and support they always have provided and continue to provide.
Which other female leaders do you admire and why?
My choices are eclectic – from Dolly Parton, who created an entertainment complex with great vision, gusto and charm, while composing and singing country music hit after hit; to Catherine the Great, "Empress of all Russias", who wanted to prove that vaccines were safe and effective and demanded to be the first inoculated against smallpox in her empire 30 years before the practice was commonly accepted; to Mary Lasker, who famously quipped, "If you think research is expensive, try disease," and whose indefatigable drive to garner public investment to support medical research inspired generations of scientists, clinicians, political figures and philanthropists providing the basis for what is NIH today.
What do you want the FNIH to accomplish in the next year?
The FNIH is poised to expand its reach and influence. We will explore new mechanisms to support biomedical research that build upon and broaden the more than 20-year experience we have in building partnerships and creating successful alliances. The FNIH has to raise funds for the activities we undertake – be them to provide support for students, to fund scientific symposia and workshops or to embark on a research project or a clinical trial. Therefore, a leading goal is to expand our donor base to include philanthropic donations and support from new contributors. The FNIH is well known and respected in the medical field but more people need to know about us and what we do; I am sure they will be compelled by our mission and impressed by our accomplishments.
This post was published on the now-closed HuffPost Contributor platform. Contributors control their own work and posted freely to our site. If you need to flag this entry as abusive,
send us an email
.