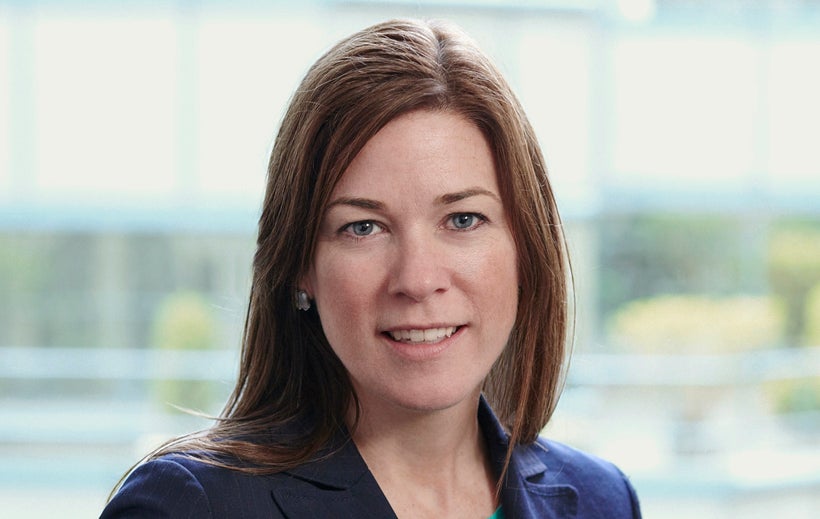 Eileen Duff is Managing Partner and Head of Distribution for iCapital Network where she is responsible for sales, relationship management and investor relations supporting the RIA, broker-dealer, private banking and family office communities. Prior to joining iCapital, Eileen was Head of Alternative Investments, North America at Credit Suisse, where she built and oversaw the origination and distribution functions for private equity, hedge funds, managed futures, real estate and other key alternative asset classes. Previously, Eileen was with Donaldson, Lufkin & Jenrette where she was responsible for global marketing in the private client group. She is a graduate of University of Delaware and holds FINRA Series 7 and 24 licenses.
How has your life experience made you the leader you are today?
I grew up the youngest of five kids in a middle class family with much older parents.  This made me fiercely independent, competitive and outspoken. I started working at 11 or 12 lying about my age, eventually landing at a deli making sandwiches and filling orders, where I became the manager by 16. Developing a strong work ethic, assertiveness, and the strength of my convictions early on has been crucial to my career.
How has your previous employment experience aided your tenure at iCapital?
I've spent my entire career working with advisors in financial services, first training them on how to be advisors, and then helping them use alternative investments to aid in the construction and implementation of client portfolios.  At iCapital I am leading the team that educates advisors on our platform and products, so in many ways it is an extension of what I have spent the balance of my career doing.
What have the highlights and challenges been during your tenure at iCapital?
While my career at iCapital is still fairly new, the highlight has been hiring good people and helping our clients find solutions that work for them and help them meet their goals. I really believe in our product offering and it's rewarding when you see first hand the benefits it provides. The challenge has been patience - it takes time to get people comfortable with who we are and what we do, and when you believe in it as passionately as I do, you want everyone to buy in the way you have. At iCapital we're working on breaking down barriers between the alternative investment world and the high-net-worth community that have existed for decades, and while it is a challenge, that's also what makes it so exciting.
What advice can you offer to women who want a career in your industry?
Work really hard but don't compromise yourself - recognize that you yourself are a brand that you need to be building every day with every action you take. Realize from the start how important networking and building relationships is. I didn't consciously do that, but had the good fortune of working with a lot of senior people and group heads early on, who knew that I worked hard and that they'd be able to count on me. My career path wasn't planned and looking back, I see that it was the relationships I developed that came through at critical times and led me to the next opportunity.
Also, don't be afraid to ask questions, ask for what you want and get help. If you're not asking questions and leveraging all the resources available to you, you're probably not learning that much, and if you're not learning you're not setting yourself up for long-term success.
What is the most important lesson you've learned in your career to date?
Not to underestimate the importance or impact of things. It's easy to get busy very quickly and caught up in what you're doing, and not take a step back to think through the possible repercussions of something that may seem minor at the time. But people's perceptions are so varied and nuanced, it's worth taking a moment do this. And in business, it is often best to think of the worst and work from there, that way you overcompensate instead of undercompensate if an issue arises. It can be very difficult to recover if you underestimate the impact or severity of something.
Another key lesson that I picked up early on is just obsessive focus on your client. When I was working at the deli, I developed a rapport with the customers and would have their usual orders ready when they walked in. People really value that type of service. Through my career I've seen time and again how developing relationships and putting yourself in the shoes of your client not only benefits your personal brand, but leads to getting more business.
How do you maintain a work/life balance?
I think it's important to acknowledge that there's no easy way to do this. Everyone's priorities are different, and priorities also evolve over time. I try to make the most of every moment I have when I'm not working, that way if there are fewer of them in a particular week, it doesn't feel as unbalanced because I've enjoyed the ones I have had to the max. In my free time I love to run along the Jersey shore. It's an opportunity to recharge myself and clear my head, so when I'm done I can devote myself full time to my three children and my husband.
What do you think is the biggest issue for women in the workplace?
A lack of self confidence and a reluctance to ask for what they want or deserve. Financial services is still a heavily male dominated industry, and we women who are a part of it have a responsibility to help other women reach their full potential. But it's also important for women at every level to assert themselves and not be afraid to ask questions or point to their accomplishments and ask for what they deserve. Just because you are younger, or are coming from a different background, or whatever it may be, doesn't mean that your questions aren't as insightful as the next person's or that you have any less ability to create value.
In 1996, I was hired at Donaldson, Lufkin and Jenrette (DLJ) to help build out a recruiting and training program DLJ had started to attract graduate students that wanted to become private bankers or ultra high-net-worth advisors. The interesting thing about that role was that I was really young and junior, yet I had all these super smart, successful MBA students from top schools across the country that had to listen and answer to me. That really helped me develop confidence in my abilities and see that at the end of the day, it's all about what you can bring to the table.
How has mentorship made a difference in your professional and personal life?
Mentorship is invaluable. Professionally I have had a few mentors that have really increased my knowledge and helped me find roles that I could thrive in, in addition to helping me see things from new and different perspectives. For instance, in 2007 when I was working on alternatives as Director of Private Banking at Credit Suisse, the company asked a managing director from another group to head the alternative investments group, and two other executives asked me to stay on and help him. I agreed, but it was difficult for me. Now I see that my supporters knew I'd do well. My new boss was older and had gravitas, which was helpful when we met new clients. I felt as though we actually ran the group as co-heads, and together we expanded the platform to include more alternative investment products for our clients. In 2011, I was promoted to Head of Alternative Investments.
Which other female leaders do you admire and why?
I find Mary Erdoes to be very inspiring – she's become one of the most respected and effective leaders on Wall Street while raising three kids. At the same time she's established several programs aimed at connecting women with each other across the Street and recruiting or re-recruiting talented women into the industry. I also admire Danica Patrick – it's great to see someone compete at such a high level in a male dominated sport while still keeping her femininity.
What do you want iCapital to accomplish in the next year?
I'd like to see iCapital solidify its position as the alternative investments provider of choice in the independent advisor community, because this is what my team and I focus on day in and day out. It's incredibly exciting to see this industry changing so quickly and to be at the forefront of it, and I hope that our products and technology continue to resonate with a growing number of advisors and that we can help a growing number of high-net-worth investors better meet their financial goals. 
Calling all HuffPost superfans!
Sign up for membership to become a founding member and help shape HuffPost's next chapter
This post was published on the now-closed HuffPost Contributor platform. Contributors control their own work and posted freely to our site. If you need to flag this entry as abusive,
send us an email
.