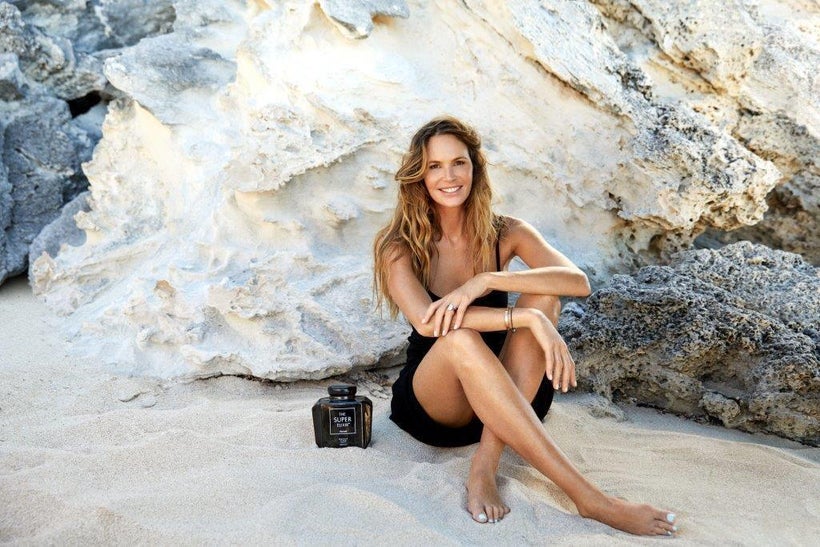 Elle Macpherson is a prominent figure in business, fashion, film and television, having carved out a diverse and purposeful career over the past 30 years. Elle's early modelling career led to a record-breaking five Sports Illustrated covers, affording her global recognition and the nickname 'The Body' from Time magazine.
How has your life experience made you the leader you are today?
My life has been full and varied; it has sent me on many pathways. I didn't always wait for opportunities to come to me, I had to go out and create my own. This gave me a sense of freedom as I was taking responsibility for my own fulfillment. I have learned that timing and a good team is everything. I also believe that taking on projects for love is important. Give back where you can and use a public image for good work as well as smart work.
How has your previous employment experiences aided your tenure at WelleCo?
When I was, younger and modeling I probably defined success by covers of magazines or income earned. Today, I believe success is navigating the ups and downs of life, keeping a sense of faith and a sense of humor, always! If past experiences have taught me one thing, it's confidence. I used to believe I wasn't good enough, I know now that as the Co-Founder of WelleCo, I am always working on being the best person I can be physically, emotionally and mentally for myself and my Co-Founder, Andrea Horwood Bux.
What have the highlights and challenges been during your tenure at WelleCo?
I am extremely proud that WelleCo was founded in the beautiful natural environment of Australia and we are praised globally for our integrity and authenticity. WelleCo's signature product, THE SUPER ELIXIR Alkalizing Formula is the one I am most proud of – it is a daily, all-in-one multivitamin, made from 45 premium wholefood ingredients to ensure maximum absorption. The Alkalizing Formula can help restore a healthy pH balance and assist with lowering acidity in the body which can lead to inflammation, low energy, weight gain and accelerated ageing of the cells. The Alkalizing Formula is now available in over 60 countries, has sold out 4 times from Net-a-Porter and Selfridges and in 2017, was awarded Tatler Beauty Product of the Year. I am based in Miami, our WelleCo head office is in Western Australia, run by my partner and CEO, Andrea Horwood Bux. We distribute globally, so coordinating everything, and everyone in the different time zones can be a logistical whirlwind, but Andrea and the team do it from Oz and it works!
What advice can you offer to women who want a career in your industry?
I prefer not to give advice, do what works for you. We started WelleCo when I was 50, walking away from a steady income stream to invest in businesses I believe in. I just had to jump and see what would appear and I couldn't be happier.
What is the most important lesson you've learned in your career to date?
After many years of licensing, I felt it was time for me to build my own business in Elle Macpherson Body and WelleCo. I wanted to put everything I had learned into practice and I didn't want to look back wishing I'd done things differently. I have come to understand that health, wellness and happiness is the true luxury of life.
How do you maintain a work/life balance?
Balance! For me it is both the key to happiness and wellness. Something we posted on our @superelixir Instagram recently that I keep referring to is: "Happiness is the new rich, inner peace is the new success, health is the new wealth, kindness is the new cool." I love what I do and do what I love, and this means work doesn't feel like work. I surround myself with co dreamers, great partners and smart woman. I love working with a clever team.
What do you think is the biggest issue for women in the workplace?
Everyone is different. For me, it was this invisible hurdle of going from the billboard to the boardroom.
I had to develop a better understanding of myself, of unconditional love and life. At 53, I am less concerned about what people think of me, I am more content and I have a sense of fulfillment. My company and family inspire and teach me every day. Today, I try to not sweat the small stuff.
How has mentorship made a difference in your professional and personal life?
I have been incredibly lucky to be guided and supported by so many talented and creative people throughout my career. These experiences have taught me the importance of understanding my strengths and the things I find difficult – learn from others but be the creator of your own life.
Which other female leaders do you admire and why?
I look up to entrepreneurial women like Diane Von Furstenberg, Arianna Huffington and Natalie Massenet. It is my WelleCo Co-Founder, Andrea Horwood Bux, which has truly influenced my career and wellbeing. Andrea and I started WelleCo just over three years ago. We wanted to start a premium wellness company based around the extraordinary alkalizing supplements I was originally prescribed by my nutritionist, Dr. Simone Laubscher PhD. Together we could all see a shift in priorities and an increased importance on wellness not just in our lives, but on a profound level globally. We wanted to share these bio-live, plant-based supplements that had become intrinsic to our lives. It was when I started including the Alkalizing Formula as part of my daily ritual that I finally felt like my body was absorbing all the nutrients it craved. Like many others facing small or large health issues, I discovered the profound effect good nutrition can have on the way you feel, look and operate.
What do you want WelleCo to accomplish in the next year?
WelleCo's vision from the start was to 'create the things you wish existed' – a trusted premium wellness destination for everyone. Wellness isn't defined by age or gender; it involves making the best choices for yourself and your family. Over the next 12 months, WelleCo will launch in Sephora Australia, Lane Crawford in Asia, our owned retail in the US and the release of new products to make your everyday better. We feel that a carefully considered curation of natural products for the whole family will be something that people around the world will love to make part of their every day. It's a very busy year ahead for WelleCo, I'm excited.
Calling all HuffPost superfans!
Sign up for membership to become a founding member and help shape HuffPost's next chapter
This post was published on the now-closed HuffPost Contributor platform. Contributors control their own work and posted freely to our site. If you need to flag this entry as abusive,
send us an email
.