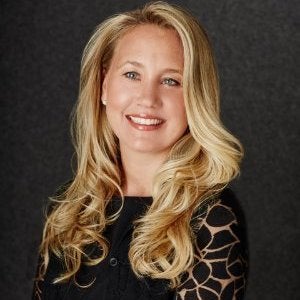 Eloise Bune is the founder and CEO of ScribbleChat. Raised by English parents, Eloise always had an appreciation for handwritten notes. After writing hundreds of thank you notes following her wedding, she developed a handwriting replication software.
In 2011, Eloise founded Handwriting.io, a patented API that enables strategic partners and developers to incorporate the company's proprietary digital handwriting technology into existing mobile apps, desktop applications and websites.
Following the success of Handwriting.io in the B2B market, Eloise believed she could empower individuals to express their feelings during digital interactions that aren't limited to plain text responses. ScribbleChat launched in early 2017, providing consumers with an advanced messaging platform to customize "handwritten" text, and offering emojis and interactive animations to more accurately convey emotions in text discussions.
Previously Eloise worked in art and design for brands such as Martha Stewart Omnimedia, Christie's, the Guggenheim Museum in Venice, White Cube Gallery and as an interior designer. She received a B.A. in Art History and Italian Studies from Wheaton College, and a degree in Fine Arts from the University of Cambridge.
Eloise is active in several leadership organizations including Springboard Enterprises, Golden Seeds, Million Dollar Women, WeCN and is a Harvard Business School Case Study.
How has your life experience made you the leader you are today?
I have always been incredibly independent and ambitious while also loving sports and being a team player. I believe to be a good leader you need a combination of these skills. You need to be able to be an independent thinker and to be willing to take the time to figure out and solve really hard problems while also loving spending time with people and networking. I think my experience growing up in the middle of two brothers, while having parents that encouraged us to work hard, be independent while also playing sports helped me to be well rounded and to bob and weave in a lot of situations.
How has your previous employment experience aided your tenure at ScribbleChat?
I was working as an interior designer prior to starting this company. Again, you had to be really creative and solve problems for clients while also being extremely friendly and easy to work with. These were all skills I learned growing up and that I have continued to use throughout my career.
What have the highlights and challenges been during your tenure at ScribbleChat?
Getting that first term sheet from an investor was a big win for me and probably one of the hardest things I have ever worked really hard for. I'll never forget where I was when I received it. I was in Washington DC at a Springboard Enterprises Summit. I remember staying near the White House and thinking if I can do this maybe I could be President.
What advice can you offer to women who want a career in your industry?
I would encourage women to find a really great mentor, male or female it does not matter, but someone who has time to guide you and give you great advice in the field you are working in. Without a mentor I would not be where I am today. You need a sounding board to make good decisions. You actually need multiple mentors at different times in your career. I have probably had 10 in the past 10 years.
What is the most important lesson you've learned in your career to date?
Never give up. Even if you fail or don't get what you want on your timeline you should not give up. Sit back, take some time to reflect and then figure out a new creative approach/direction. Anything is possible if you really want it, you just have to let go of the way you think it will work out and let it work out the way the situation wants to work out. Go where the energy flows.
How do you maintain a work/life balance?
I need 8 hours of sleep. Period. If I sleep well, I eat well and therefore that is taking care of myself. Everything else falls into place.
What do you think is the biggest issue for women in the workplace?
We are too shy and don't speak up enough or share our opinions. This is left over from being intimidated by boys and men in school and college. This follows us into the work place. We need to not hold back and be ok with making mistakes (or in my case not sounding as smart as my peers).
How has mentorship made a difference in your professional and personal life?
My mentor is Janet Kraus. She was my first investor and the first women to take a risk on me and my idea. She believed in me and that gave me the confidence to keep building my company.  Whenever I second guessed myself I could call her and she would give me time and non-judgmental advice which is critical in the early days of anyone's careers.
Which other female leaders do you admire and why?
I love Sheryl Sandberg she is so raw and real and I find I can really relate to her approach and views on how to handle situations by being tough but also with so much logic and love.
What do you want ScribbleChat to accomplish in the next year?
We have a solid monetization strategy for ScribbleChat for 2018 and I am looking forward to proving out our new and innovative model.
Calling all HuffPost superfans!
Sign up for membership to become a founding member and help shape HuffPost's next chapter
This post was published on the now-closed HuffPost Contributor platform. Contributors control their own work and posted freely to our site. If you need to flag this entry as abusive,
send us an email
.