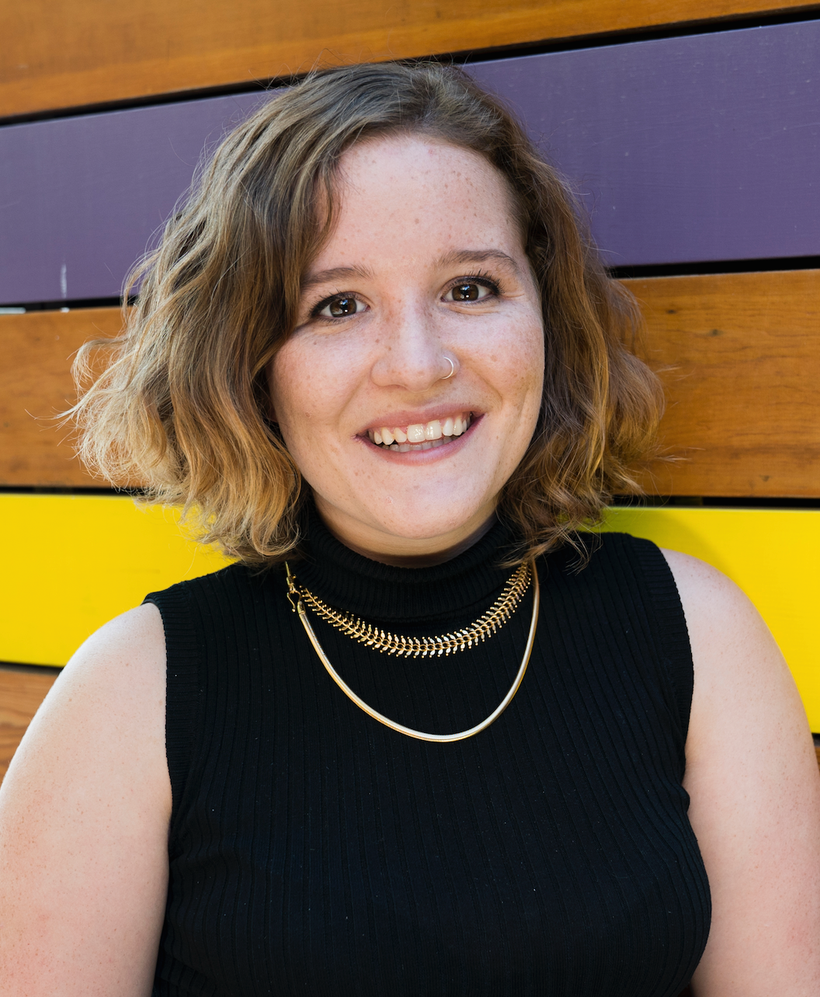 A Washington DC native and Princeton Graduate, Erin O'Brien started her career in gaming as a content manager at Gram Games. She held this position for just over a year.
After sharing ideas concerning culture and internal brand development with the senior team, whilst supporting the culture team, a role was created for her to embody Gram's unique business and human culture.
Named as Culture Developer, Erin is tasked with leading the curation of the company's culture and building an inspiring environment for its people and the business.
As the role has developed, Erin helps to optimise inputs and outputs, manages outwardly facing communications, while also ensuring the business works for everyone.
How has your life experience made you the leader you are today?
Education and previous work experience offered me early insight into business. I quickly learnt that working in collaboration with people from across the globe would be an important part of my day-to-day. I had a desire to help people through improved communication - working to lessen the gap between people's background and culture.
My studies and early career choices were testament to this. I studied Near Eastern, Persian and Gender studies, travelled the silk road and worked with Mercer on its When Women Thrive, Businesses Thrive initiative.
I realised I found nothing more gratifying than helping people understand each other and watching the effects of this play out in real time. Experiencing this in various settings is what drove me to where I am today.
How has your previous employment experience aided your tenure at Gram?
With When Women Thrive, at Mercer, I learnt how to understand the workforce makeup and the processes and tools organisations employ to engage and encourage employees. I found these skills to be invaluable, especially in my current role as Culture Developer at Gram Games.  
Though I was part of large organisation, the data and surveys I worked with highlighted an  important thing - it's critical to engage with every person within your company, ensuring it caters to the needs and interests of the team.
I feel lucky that i have learned this and have ended up at a place like Gram Games. In everything that we do, we take into account the needs of our employees. We believe it is a business imperative to create an inclusive and comfortable environment where people feel they can be themselves and be creative. I came to identify that this is how you empower teams to take risks, try new things and ultimately, make the best products possible.
I also learnt that you need to establish proper pipelines, systems and support in order to have a fully effective work environment. This is something I help to put into practice every day at Gram Games.
What have the highlights and challenges been during your tenure at Gram Games?
The most remarkable part of my job is that I have the ability to make a tangible impact within a collaborative and creative studio.
There's no waiting around for bureaucratic processes. If you identify something that you think will improve business culture or output, you are given a platform to communicate it and the space and encouragement to make it a reality. It's remarkable to have a company culture where you are able to do your part to actively change things for the better.
Soon after joining Gram Games I noticed the evident gender imbalance in the games industry; the disparity of women playing games compared to those who worked to make them. When a few of my colleagues and I expressed this to the wider Gram team, we were immediately encouraged, and given all the support necessary, to work to address the issue.
To help remedy this concern, an initiative called the 22% Project was born. This project aimed to address the driving forces behind gender disparity and offered a space where women interested in gaming can come together with other like-minded women.
Through various workshops and other events, we wanted to provide an introduction into the industry and the skills required to become a world class developer or designer.
We wanted to provide access to key industry experts, to offer visibility of what a career in gaming could look like. When we proposed the idea the team immediately backed us. We saw something we wanted to change and were encouraged to make it happen. We've already hosted two workshops - one in Istanbul and other in our London HQ. We intend to extend and develop the Project in the coming months.
What advice can you offer to women who want a career in your industry?
I'd advise women to learn as much as you can. Don't be discouraged, be diligent, persistent and don't listen to stereotypes or assumptions.
From research, I found that the biases which can discourage women from joining the games industry start whilst in secondary or higher education. Research links include: Guardian, Harvard Business School, Mercer and IGDA.
A lot of the work needed to make the industry more amenable to female talent is to work against those biases. At Gram we hope to provide insight and the right training for people to enter the games industry, therefore creating a viable career path for all those who might not have considered it previously.
So to young women who want get into gaming, I'd recommend seeking out as many opportunities as possible, but to also find those people and mentors who can provide guidance and advice.
The games industry is one that moves remarkably quickly. It's always calling out for fresh talent and new perspectives. Leverage your perspective and ensure you are as qualified and prepared as possible for the career you desire. You can be an enormous asset, remember that. Make sure the people you meet and interview with know that too.
What is the most important lesson you've learned in your career to date?
Always keep an eye out for ways to improve. This is actually something that is ingrained into Gram's culture. We constantly encourage people to find new ways to develop themselves. I've absorbed this as a notion and it has been invaluable to me both in my personal and professional life.
As an employee and leader, one should never be static. Organisations are constantly changing, morphing, living things. As an employee, you need to embody the same. To stop learning and developing both yourself and your work, is to begin to fall behind.
How do you maintain a work/life balance?
Frankly we think the work-life divide is a myth - you shouldn't have to divide your personality between who you are at work and who you are at home.
We've created an environment and culture where people can be themselves. Our team feel  comfortable and fulfilled, and as a result create the best possible products. With a flat structure, open communication and a fun environment, we don't really feel the need to "shut off" parts of our personalities, or stifle ourselves, at all.
When you're able to be yourself at work, the need to center yourself or de-stress at home really lessens. However, there are a few things I work hard to maintain. The most important among them is a morning routine.
I also think that exercise or a wellness routine is very important. I work hard to eat healthily and whilst I'll admit I'm not perfect, the meals made for us in our offices really help. When you're working hard, it's important to try your hardest to maintain a healthy body and mind.
What do you think is the biggest issue for women in the workplace?
I think that the biggest issue for women, especially in games, is visibility. It's critical young women are able to see what a path in any industry might  look like and have  people to look up to. I think as an industry we need to work to ensure that leadership and role models reflect and represent the demographic split we aim to have in the industry as a whole.
For young women who are looking to enter an industry, that industry will seem far more welcoming. Their potential career paths will be far more fathomable if they can see people (hopefully, women) who have taken that path before them. We need to ensure that this visibility exists.
How has mentorship made a difference in your professional and personal life?
Personally, mentorship has made an enormous difference in both my professional and personal life. I have been lucky enough to find incredible individuals who both have inspired and guided me. They didn't necessarily tell me what to do or think, but they encouraged me to have faith in what I was doing and what I thought. That has made an enormous difference.
Which other female leaders do you admire and why?
As a woman and really as any young person, it can be easy to acquiesce, to change yourself to fit the norm, or what is comfortable, rather than changing the norm or the system to accommodate you.
I respect women who don't do that. Women who carve out their own space in the world. Women who see wrong in the world and dedicate themselves to making it right. Women who aren't afraid of making their voices heard or taking the risk of upsetting the status quo. If any change is to happen in the world, we cannot stay comfortable. A few feathers must be ruffled. These women aren't afraid to do that.
I personally admire the following female leaders; Ariana Huffington, Sheryl Sandberg, Michelle Obama, Meryl Streep and Amal Clooney. And more recently, the mayor of San Juan, Emma Roberts and Rupi Kaur.
The work completed by the female leaders I've noted above - initiatives like HeForShe, Lean In and Thrive Global - have disrupted societal norms. Together, they've helped change the way we think about gender and gender rights; helping to change the perception of roles and rights in the workplace.
These women have raised their voices and fought for what they believed to be right. I think that's remarkable.
What do you want Gram Games to accomplish in the next year?
I am incredibly excited about the Merge! IP, and the titles we have to come. 2017 was a remarkable year for Gram - not only did we launch our London HQ, but we managed to launch four titles; Bounzy!, Merge Dragons!, Merge Town! and Merge Farm!
So far, the Merge! Franchise has surpassed over 25 million combined downloads. The games are simple, whilst giving players a challenge at the same time. The mechanic really identified a new game genre for us, based off the success of Merge Dragons! - which was launched this summer. The mechanic allowed us to perfect the build and create new games at a much higher frequency.
In the next year, we will continue to innovate and be as creative as possible. We will continue to push the boundaries of game development, while being diligent in developing and fostering our company culture. We will work to further expand the merge IP, explore new game ideas, whilst also furthering mastering how to propel gameplay through monetisation.
REAL LIFE. REAL NEWS. REAL VOICES.
Help us tell more of the stories that matter from voices that too often remain unheard.
This post was published on the now-closed HuffPost Contributor platform. Contributors control their own work and posted freely to our site. If you need to flag this entry as abusive,
send us an email
.