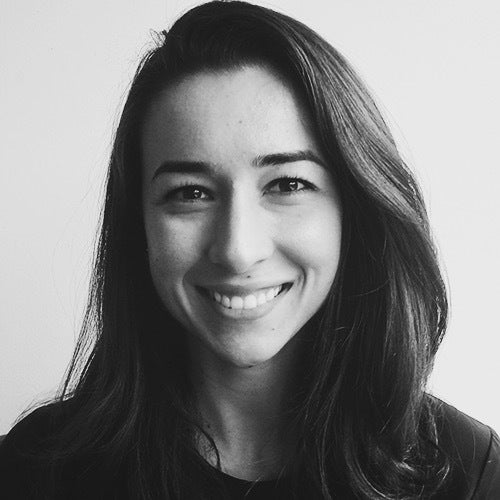 Jasmina Aganovic is the President of Mother Dirt, the first line of biome-friendly personal care products focused on restoring and maintaining the delicate balance of the skin biome. It is the consumer division of AOBiome, a biotech company focused on transforming human health through products that restore Ammonia-Oxidizing Bacteria (AOB), which current hygiene practices have stripped from the modern microbiome. She is a cosmetics and consumer goods entrepreneur who received her degree in chemical and biological engineering from MIT. Her unconventional path combined her technical background with roles at brands like LVMH and Living Proof.
How has your life experience made you the leader you are today?
There are a lot of things that contribute to this, and I am sure most of them I am still unaware of! However, the first thing that comes to mind is my upbringing and cultural background. I am first generation. I was born soon after my parents emigrated to the US from then-Yugoslavia. As a kid of immigrants, you always feel different. You don't quite fit in with your peers: your lunch food, the language you speak, the way your house smells, etc. is all different. There's no dramatic story here, it's just that this awareness is likely a big part of what made me more introverted and more of an observer and listener growing up. When I went to MIT for college, I was suddenly in a place where everyone was different, and that was precisely what makes them so special. You see everyone has something amazing to offer to the world.
As a person, and as a leader, I've kept on listening and observing to look for what makes people different, what makes them special. It's been an important part of team-building and creativity. Whether it's at a company, a sports team, or at home, it is always about the people.
How has your previous employment experience aided your tenure at Mother Dirt?
Mostly, it's taught me the importance and respect of time and patience. Most of my career has been spent on startups, where the prerequisite is that we move at lightspeed and yet, somehow, we feel we aren't moving quickly enough. It creates this strange feeling of anxiousness that you aren't growing or making progress quickly enough, whether it relates to a specific project or your professional development in general.
However, I'm now starting to understand the unspoken and almost invisible power of time. Even when it feels like you're not growing/making progress, time truly has a way of showing that you really are. This realization has (for the most part) helped me squash the underlying stress of the everyday rat-race, and focus more on enjoying the process and the learnings along the way.
What have the highlights and challenges been during your tenure at Mother Dirt?
Jessica Herrin, the CEO and Founder of Stella & Dot, jokes that startups are often like a Dr. Seuss book: "Problems here, problems there, problems everywhere!" Truly, there is no constant, and there will always be challenges, especially if you are innovating.
With Mother Dirt, we are taking a 100+ year old industry and flipping it on its head. At our very beginning (circa 2014), we needed to create essentially a new method of manufacturing, and do it completely on our own, and through trial and error because there was no one else who had done it before. We were also racing the clock with a rapidly growing waiting list of customers. Even though it took us longer than we wanted, our customers were remarkably supportive in letting our talented team tackle this phase of innovation.
When I think about the highlights of our journey, the first thing that comes to mind is the engagement with our customers throughout this whole journey. They have made all the difference for us from day one. When we're at events, it's so surreal to know that people have heard about and use Mother Dirt, or that they have a friend or significant other who's a fan of our products. Last fall, our Creative Director presented our brand's journey at the Biofabricate Conference at the Parsons School of Design. When he asked who among 1000-person audience had heard of Mother Dirt, about half of them raised their hand. It was such an amazing moment and I'll never forget it.
What advice can you offer to women who want a career in your industry?
Optimize around experience first, not title, money, or anything else, especially early on in any career. This intense focus on learnings will give you an invaluable advantage as you progress in your career. It's all too easy to optimize based on what we want our resume to look like, or our lifestyle to be. However, making sure that we are enjoying the work we do, nurturing and feeding our curiosity, and looking to share it with those around us and the future is incredibly powerful, in any industry.
What is the most important lesson you've learned in your career to date?
Doing good work is always a great answer to anything. Companies will go through rough phases; fundraising could be a longer slog that you expect, organization politics could start taking root, or one of many other things that can start to consume your energy and your thoughts day in and day out. As I've navigated different scenarios where I find my attention shifting, the moment I zoom out and ask myself "What's really important here?" or "What's the best answer to this a year/5 years from now?", I often land on the same answer: Being relentless and unwavering in doing good work. Your reputation will always be building itself with time and your work will always be the best proof you have to show for it. Everything else is often just noise at the end of the day.
How do you maintain a work/life balance?
My thoughts on this topic have changed with time. Going to a place like MIT, I can't say that balance is something that you saw often, but I mean that in a good way. It did teach me to embrace what was unique about myself, and fully utilize it to go after what I wanted. This type of "all in" mentality has been a really important part of how I've approached my career. Today, as I think about balance, I think more about what my body and mind need to function at their peak in order to continue being "all-in". It's meant taking sleep seriously (a foreign concept at MIT!), and feeding my mind with new information and learnings to keep my creativity and inspiration high.
What do you think is the biggest issue for women in the workplace?
This can be so different based on personal experience, industry, and career decisions. Recently, I've been thinking more about the subconscious bias that exists (even from the most well-meaning colleagues!) and the impact of time, which again shows up as an important card to play. Recently, I saw a TEDx talk by a Boston-based female leader named Dune Thorne and it struck a chord with me. She talked about both subconscious bias and shifting our time horizon. It echos a bit of what I mentioned above (never underestimating the power of time). We can be more creative than we often think about career moves if we remember how to use time on our side. It's not about getting less sleep or squeezing more hours into the day. It's about remembering to shift your time horizon for the long haul.
How has mentorship made a difference in your professional and personal life?
It's made a huge difference. Often when we think of mentorship, we think of a person, or maybe two, that helped us throughout our career. For me, it's been much more distributed: different people for different things, at different points in time, and in the most unexpected ways. I think we can all learn from one another, and I have been very open to a variety of different ways of thinking and then choosing which one I feel most aligns with my value set and what feels authentic to me. The most interesting and exciting thing I've started to see lately is how some of the mentorship is spilling over into positive applications in my personal life as well. Personal and professional growth really do go hand in hand.
Which other female leaders do you admire and why?
There are several that come to mind. Leila Janah from Samasource and now LXMI. Her dedication to the mission of giving work as a means to lift people out of poverty is inspiring and how she has applied that belief to different companies throughout her career is creative and bold. Sally Krawcheck of Ellevest. I love what she is doing there and the thoughtfulness in everything that is produced from that company. Gregg Renfrew of Beauty Counter for the spotlight she is bringing to the issue of creating improved cosmetic regulations and all of the people she has mobilized around the cause through the company and its products.
What do you want Mother Dirt to accomplish in the next year?
We're aiming to expand our distribution to the EU later this year. That will be a big milestone for us. However, a different way I look at this question: We started Mother Dirt as a vehicle to have a conversation with the general public about changing our relationship with the microbial world. It was always more about this conversation than about the products specifically. We want to keep the conversation growing, (and maybe launch a couple cool new products along the way)! Launching in Europe will be a portion of that, but it is only a small part of the much bigger picture.
Related
Popular in the Community