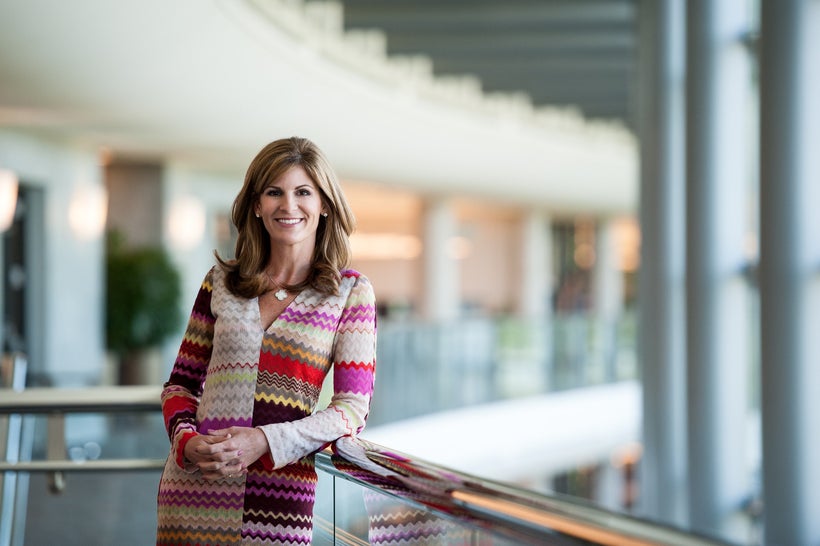 Jennifer Morgan has served as president of SAP North America since May 2014 and is responsible for the company's strategy, revenue, and customer success in the U.S. and Canada - a region home to nearly 20,000 employees and more than 100,000 customers across 25 industries. Since being named president, Jennifer has led the company's rapid shift to the cloud in North America while helping customers achieve growth in the digital economy.
Jennifer has sharpened the company's focus on growth and innovation, while also developing SAP's workforce with special emphasis on early talent, diversity, and culture. Under her stewardship, SAP North America has become an industry leader in the area of diversity and inclusion, and was recently the first technology company in the United States to receive an EDGE certification – a recognition awarded by the World Economic Forum recognizing the company's commitment to gender equality in the workplace. Jennifer also serves as a North America sponsor for SAP's internationally lauded Autism at Work program.
Jennifer has served in a number of leadership roles for SAP since joining the company in 2004. As head of SAP North America's public sector organization, and later as president of its Regulated Industries business unit, she was a recognized thought-leader on government and public sector technology innovation, represented SAP to the U.S. Government, and testified before the United States Congress on technology and acquisition issues. Earlier in her career, Jennifer served in various management roles at Siebel Systems, and Accenture.
A proud graduate of the James Madison University in Harrisonburg, Virginia, Jennifer serves on the Board of Directors at the Bank of New York Mellon, a global leader in investment management and investment services, as well as a number of non-profit and academic boards, including the National Academy Foundation (NAF), James Madison University's College of Business, and GENYOUth.
How has your life experience made you the leader you are today?
I would say that my best influences were the earliest ones. I grew up in a small business family. My dad started and ran an orthodontic practice in the Washington, D.C. area. I spent a fair amount of time there and noticed how hard he worked and how well he treated his employees and customers. You could learn a lot just by watching the way he handled himself in any situation. For my sister and me, dad was a great example of hard work, empathy, and openness. And our mom, who stayed home to raise us and be part of our school and community, was and is a daily example of kindness, grace, and authenticity. Each parent gave me a wonderful model to follow, and something to strive for every day.
How has your previous employment experience aided your tenure at SAP?
You don't see many people who start their careers in and around government and the public sector, and then cross over to the commercial side. But that was my path, and I really benefited from that early career focus on the public sector. I was with Andersen Consulting – now Accenture – and was helping a number of government agencies with large-scale technology modernizations. Government's not known as a first mover in terms of technology adoption, and this was during a period when some government agencies were starting to rethink their approach to technology acquisition. Being responsible for lengthy, complex evaluation and decision cycles helped me to understand the importance of immersing yourself in a customer's challenges. That early experience of working with them, learning from them, and educating them about how technology and innovation can create more effective and new outcomes, shapes the way I interact with our customers to this day.
What have the highlights and challenges been during your tenure at SAP?
Well, it's hard to think of a more exciting time to be in technology. It's amazing how much is happening and how fast, and so we're constantly adapting at SAP. It's not enough to merely defend your market position anymore. Industry lines are blurring and competition is now coming from places where it's often least expected. You have to be willing to reinvent yourself and even disrupt yourself to stay ahead. And if you look at SAP's history – and particularly our story since 2000 – you see a 44 year old company that's willing to challenge itself, change itself, and reimagine its future to remain the market leader. Fifty billion dollars in acquisitions and organic development, an incredible number of users in the cloud, and some of our most disruptive innovations – all these have come along in just the last few years. So the challenge is an incredibly narrow margin for error and the unrelenting pressure to execute flawlessly and innovate faster. It keeps all of us on our toes, and I count it a real privilege to lead such a dynamic company in a period of unprecedented transition and opportunity.
What advice can you offer to women who want a career in your industry?
Believe in yourself and your potential. Women leaders are usually our own harshest critics, and sometimes we react to a new opportunity by questioning whether we're really ready for the next challenge or promotion. If a company offers you a job or gives you a promotion, it's for a reason: They decided that the best person for that role is you. In their eyes, you pass the test of competence, integrity, and dependability. Something like that happens only if you've been doing things right and proving yourself every day.
What is the most important lesson you've learned in your career to date?
If you build it, the numbers will follow. But you have to start with the people. Leaders new to my team will often come to a business review and start with pipeline health or immediately want to review their go-to-market strategy. On occasion, they're surprised when I stop them and say, "Let's start with your people strategy." I want to know how they've built their teams, who the specific people are, and what the culture is like. I can almost always tell how the numbers and business performance will be after we've spent five minutes talking about their people and their leadership philosophy. It never fails.
How do you maintain a work/life balance? I tend to think of this as "how do I manage a work/life integration?" vs a "balance". It's rare to be perfectly balanced at all times. But if I've learned one thing over the course of my professional career, it's that there's no perfect formula. I'm fortunate to have a husband who has stayed at home with our two boys and been very active in our community. But I've wrestled with some of the inevitable tradeoffs that come with a demanding job like this. The tough part is that there's no banking time for the future. If you want to spend time with your six-year-old, you can't get that time when he or she is twelve. With a busy schedule and high demands, sometimes you're tempted to think, "I'll make up for this next week..." But that's a lot easier said than done. I'm a believer in living for the moments – and being emotionally present in those moments. Sometimes the simplest moments are the most important.
What do you think is the biggest issue for women in the workplace?
We're making a lot of progress on so many fronts, but personally, I believe we still have a fair amount of work to do in the C-Suite and in the boardroom. A recent survey in the New York Times found that almost 60 percent of companies had no women on their boards, and just fewer than five percent had women as chief executives. Sheryl Sandberg, Ginni Rometty, and Meg Whitman are just a few examples of today's female executives who have been incredible at blazing a path in the business world, but the broader numbers show we still have a long way to go in this area.
How has mentorship made a difference in your professional and personal life? Mentors and sponsors have meant everything to me, on a personal level and professionally, too. I define mentors as the people who help you navigate the challenges that emerge in any career and sponsors as those who can help actually shape the arc of your career. I've been fortunate to have both in my life. I'm a better executive – and a better person – because of their influence, their advice, and their example. They've been a huge part of my success. The great ones are there to share in your success and also keep you grounded and help you manage through the tough times with grace, grit and confidence. I'm grateful, and I try to show that by stepping up to help others in their careers.
Which other female leaders do you admire and why?
I have deep admiration for so many female business leaders. A lot of them are the names you hear every day – Meg Whitman, Sheryl Sandberg, and Mary Barra all come to mind. But I draw equal inspiration from my many bright and talented female colleagues and leaders I work with every day. There's too many to list and not all of them are household names, but I have colleagues at every level of the organization that I respect, look up to, and learn from. Just recently a young woman in my organization suffered a life-altering accident that required amputation of part of her leg. To see her overcome the type of adversity that most of us never have to endure is incredibly humbling and inspirational. The example she has set for so many others also defines leadership in my opinion. So as important as it is to watch and learn from the titans and trailblazers of our industry, I think it's equally important to learn and absorb lessons from people at every level of an organization.
What do you want SAP to accomplish in the next year? We're doing big things at SAP, particularly in North America. We're on the front lines of the battle for the cloud and the next wave of business innovation. We're something of a rarity in the technology world – we're over four decades old and have managed to keep a market-leading position for decades. This isn't a typical story, especially not in an industry of upstarts and newcomers that shorten the product lifecycle drastically. And we're now in the midst of yet another transformation. So we're building a culture that really embraces the disruption in our industry – where we're empowering every employee to be an innovator and every customer to be a disruptor of their own industries.
Calling all HuffPost superfans!
Sign up for membership to become a founding member and help shape HuffPost's next chapter
This post was published on the now-closed HuffPost Contributor platform. Contributors control their own work and posted freely to our site. If you need to flag this entry as abusive,
send us an email
.