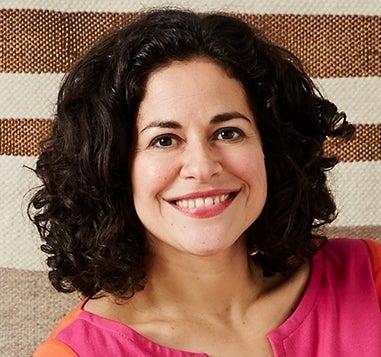 Jennifer Gootman is the Vice President of Social Consciousness and Innovation at West Elm, where she oversees the brand's commitments around supply chain transparency, artisan sourcing and sustainability. Jennifer also serves as the Vice President of Corporate Social Responsibility for West Elm's parent company, Williams Sonoma, Inc., leading social labor compliance and programming across the company's eight brands. Prior to West Elm, Jennifer spent more than a decade working with non-profits and social enterprises in New York, Nicaragua and India, connecting artisan businesses with larger markets and identifying innovative ways to link economic development and the arts. Jennifer holds a BA from Harvard College and an MBA from the NYU Stern School of Business, and she is a recent fellow in the Aspen Institute's First Movers program. She has been invited to present her work at the Aspen Institute, United Nations, Fast Company Innovation Festival, Columbia Business School Social Enterprise Conference and Fair Trade Federation Conference.
How has your life experience made you the leader you are today?
I've been solving problems from a very young age. I grew up in a family that put great value on education and would encourage me in my wide-ranging interests, which has undoubtedly helped me carve out the cross-sector niche I am in today. I took an interest in jewelry making as a young child after being gifted a simple loom made out of a wood plank with nails in it; I used it to make woven seed bead bracelets for everyone I knew. Soon I was buying wholesale jewelry supplies by mail and selling my creations at local craft fairs through middle and high school. My early creative pursuits helped me broaden my horizons and bring that creativity to my work today, seizing opportunities as they arise rather than pre-determining my course.
How has your previous employment experience aided your tenure at West Elm?
In retrospect, each of my career choices led me to what I am doing today, although not always evident along the way.  My first job out of school was as a travel writer for Let's Go publications, where I honed my ability to navigate unfamiliar terrain and connect across cultural and language barriers traveling through Mexico, India, and Italy.  I stayed in Europe, and after two years of learning Spanish and teaching English, I returned stateside to work in the arts, heading press and publications for a nonprofit art gallery, Art in General, where I cemented my passion for working in the creative sector. After working in the arts for several years, I decided I wanted to focus more on social justice issues, so I moved to the nonprofit magazine City Limits and its sister think tank Center for an Urban Future, where I eventually became Deputy Director. I was drawn by the Center's research on how to quantify the economic impact of the creative sector, and I learned so much about the intersection of policy, economic, workforce development, and social justice – all of which informs my work at West Elm today.  Eventually I decided to go back to school and get my MBA. I spent my summer in between my first and second years working with a nonprofit in Nicaragua, where I planned and implemented a distribution and scaling strategy for a jewelry business that trains and employs disadvantaged youth. It was through that work that I found my niche working within design-driven industries to create value for underserved communities through business and supply chain programming. After my MBA, I stayed in the nonprofit sector as the executive director of a nonprofit that provides market access to more than 40 organized groups of women artisans around the globe. After several years there, I began thinking about how even small changes in a large corporation could make big change. I wanted to be at a company that shared my vision and passion and was open to new ideas and innovations—I could tell West Elm was deeply committed to the same values, from the top down.They recognized the potential of bringing on someone like myself from an alternative background to lead this work.
What have the highlights and challenges been during your tenure at West Elm?
The greatest moments are when I get to visit the factories and communities where West Elm works and directly connect to the people making our products. I've collaborated with our creative team for the past two years on our Fall catalog where we visited maker communities with professional photographers and videographers to capture the stories of those communities and bring that back to our customers. This past year we visited Fair Trade factories in India, Nepal, and Vietnam to capture the stories of how workers decided to invest their Fair Trade Premium funds. The most amazing part is connecting with the workers and seeing how the Fair Trade Premiums can really transform their life experience. On our recent visit to India, one weaver told me he wanted to see the program rolled out in other factories so other workers could benefit in the same way. I take that feedback seriously! We've seen workers invest in quality-of-life appliances like bicycles and rice cookers, or life-saving investments like health services and clinics. The challenge is that even in a company wholly committed to this work, as West Elm is, we are setting out to change broad industry trends that have been entrenched for decades. Change isn't always linear, we learn as we go, but we are also paving the path so that often takes tremendous effort, patience, and flexibility. One of our recent factories took more than two years to get certified -- it was a major effort for us, the factory owner, the workers. There were several times we almost lost course, but through persistent efforts all around, we were able to get the factory certified and bring 2,500 more workers into the program.
What advice can you offer to women who want a career in your industry?
Focus on the sector or issue that most interests you. People will often ask me how to pursue a career in corporate social responsibility, but to be honest, that was never what I thought I would be doing. I came to this job because of my commitment to artisan communities, but I've been able to build that into a much broader platform because I joined an innovative, growing company that is putting values at the center of the business. Sometimes the perfect job for you may not yet exist, so you have to create it.  
What is the most important lesson you've learned in your career to date?
Take risks. Some of the best opportunities come about when you go out on a limb, mistakes are inevitable and great moments for learning.  To me, taking risks means accepting the possibility of failure in order to explore the potential of a new and richer experience. So what if you fail? Then you try something else and you've had a great learning experience. I took the risk of returning to school full-time after 10+ years in the workforce because I wanted to find a career path that fulfilled me personally. My job at West Elm wasn't finalized until many months after I had originally pitched it and had left my prior job. I was willing to risk waiting, turning down other job offers, to see it through because I knew it was my dream job. Take a chance and tolerate the insecurity that comes with the unknown.
How do you maintain a work/life balance?
I am very passionate about my work and bring my entire person to what I do, so I aim for more of a flow than a balance. I travel frequently for work, which I love, and I manage a global team, so I have a lot of early morning and evening calls. I try to achieve a mindset where I cultivate interesting projects at work and make time to connect to my colleagues,  while also preserving space outside of work to see art, make jewelry, connect with friends, read about new ideas and experiences. My best ideas for work come when my head is completely elsewhere.
What do you think is the biggest issue for women in the workplace?
I think there's a tendency to assume we've made more progress on gender equality than perhaps we have. I see small ways that women, myself included, may tend to ask for permission rather than assume authority, minimize accomplishments, and soften requests. I think we have to be vigilant about these tendencies, in ourselves and others, to try to make the small shift that really ends up changing cultural norms in a big way.  
How has mentorship made a difference in your professional and personal life?
My strongest female mentors have been in my family—I have a great aunt who worked into her 90s and stayed intellectually and politically engaged until she passed away at 100. I was paired with a great female mentor at work as part of an official company program, and I consider my current boss (a man) a great mentor as well. I am not officially mentoring anyone at the moment, but I always try to make time and share my experience with people seeking information and advice—women or men.
Which other female leaders do you admire and why?
I take inspiration from a wide range of female leaders that have taken risks and carved out a unique path. Eleanor Roosevelt is a timeless icon, a champion of equality and human rights, globally-minded but grounded locally. Iris Apfel is so inspiring in the way she crafted a singular career that's still going strong and brings her creative spirit to every endeavor, while imbuing others with the delight she finds in her projects. Lastly, I admire Eileen Fisher for building a company that unflaggingly pursues its ideals and takes on new challenges.
What do you want West Elm to accomplish in the next year?
I am so proud of how we've pioneered programs that are changing the industry, like our work to bring the Fair Trade Factory program into the home sector and as the founding partner with nonprofit Nest on the Artisan Advancement Project to bring transparency and opportunity to artisan. In the next year, I want to bring the Fair Trade Factory program to new geographies, expand the number of workers receiving premiums in the program, and help support workers in reaching long-term life goals by introducing the Fair Trade Committees at factories to nonprofit partners. I am looking forward to the official launch of the Nest Artisan Advancement Project this December and deepening our work in our artisan supply chain. And I think West Elm is well positioned to lead the conversation in home around what the future of sustainability looks like and how we participate in the circular economy.
Calling all HuffPost superfans!
Sign up for membership to become a founding member and help shape HuffPost's next chapter
This post was published on the now-closed HuffPost Contributor platform. Contributors control their own work and posted freely to our site. If you need to flag this entry as abusive,
send us an email
.