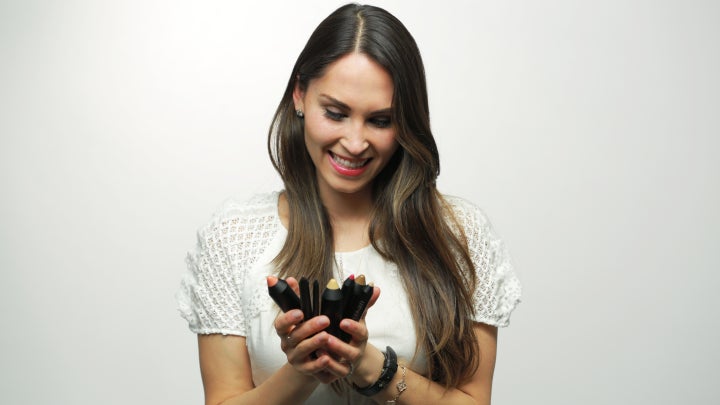 Jennifer Kapahi is the co-founder of trèStiQue, a unique line of 2-in-1 products with refillable twist on & off tools designed to simplify your makeup routine. A graduate of the Executive Training Program at Bloomingdale's, she is a passionate product developer with 12+ years of beauty industry experience. She has led sales and marketing efforts for the top manufacturing cosmetic company Intercos and spearheaded product development at Revlon across multiple categories, in which she worked to launch several top 5 Nielsen rated products. Jennifer used her experience to launch beauty startup trèStiQue in 2015, aiming to simplify how the modern woman uses, carries & applies makeup. Now, just a year and a half later, TrestiQue has launched at beauty retailer Sephora, both online and in-store.
How has your life experience made you the leader you are today?
I was born the oldest of three kids (I have two younger brothers) and I was always into sports, especially soccer. As captain of my soccer team, I learned that in order to be a successful leader you have to excite and inspire your team. Running a company is similar, you can't win "the game" without your team behind you.
How has your previous employment experience aided you starting trestiQue?
I was lucky enough to dabble in many areas of the beauty industry. I started as a makeup artist and graduated from the executive training program at Bloomingdales where I learned a great deal about what customers want and expect. I worked in sales and marketing at Intercos, one of the most innovative beauty manufacturers in the world, and I was a Global Product Developer at Revlon. All in all, the total of my experiences gave me the foundation to co-found my own beauty startup. You have to wear many hats, have an abundant source of energy, and be very flexible.
What have the highlights and challenges been since starting trestiQue?
The highlights in our first year have been winning the CEW/QVC Beauty Quest award in May 2016 and going on air with QVC in July. Now we're launching in Sephora, online in January and in-stores in March. There have been so many challenges, I cannot possibly list them all, but I think the greatest one was creating 100% custom-designed innovative products. In our industry, first-to-market innovation is expensive and difficult to develop.
What advice can you offer to women who want a career in your industry?
Be an engaged consumer. Know absolutely every beauty store and every beauty product. Wear, try and shop all things beauty. If you have the passion… a career will follow.
What is the most important lesson you've learned in your career to date?
This too shall pass. There are so many daily challenges you have to let all the little things go and focus on the big picture. Things always work themselves out eventually.
How do you maintain a work/life balance?
I am a new mom so this has recently become a huge challenge! To keep my life balanced and stress-free I must workout and travel. I fit this in as much as possible and have learned to take my work with me wherever I go. Because I work 24/7, multitasking has become essential.
What do you think is the biggest issue for women in the workplace?
Flexibility. The modern woman today is a mom/wife/best friend/sister/daughter with a passion for different things (soulcycle/knitting/blogging, whatever). The ideal work place allows her to do a good job with all of these things. With that in mind, I created a small nursery in my office so that I can see and feed my baby when needed during my busy day!
How has mentorship made a difference in your professional and personal life?
When people believe in you it is empowering. I think it is equally important to have mentors that you can ask questions to, and have mentees that you can be there for.
Which other female leaders do you admire and why?
Now that I am a mom I can say this for sure, all working mothers are my heros. It is incredibly hard to put yourself together, work a full day, put dinner on the table, and be there for your family. Women are awesome! Just saying.
What do you want trestiQue to accomplish in the next year?
We have challenged ourselves to create some groundbreaking innovation in product and packaging. I want us to launch first-to-market products that will inspire and excite every beauty consumer out there!
Related
Popular in the Community