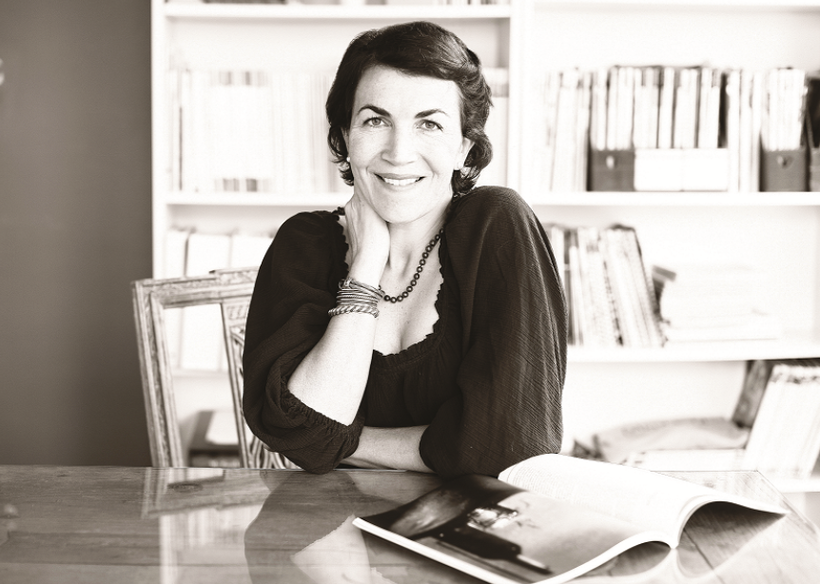 Jessica Hundhausen Derrick is the senior vice president Brand Development & Creative Services, overseeing and developing all platforms within the Garden & Gun portfolio. Derrick joined G&G in 2008 and has had an integral role in growing G&G, including the inception and launch of the Garden & Gun Club; G&G Excursions; G&G Mercantile & Co.; and the Garden & Gun Jubilee, held in Charleston in early December. Her last position in publishing was as the associate publisher of Conde Nast's House & Garden magazine, where she partnered with the City of New York to host the first-ever citywide Design Week. Prior to that, she did in-depth promotional and brand work at Country Home magazine and worked on unique projects for Vanity Fair, Rachael Ray Every Day, Bridal Guide, Calvin Klein, and Earth Pledge, a nonprofit focused on sustainability.
Derrick grew up in South Carolina but spent a combined fifteen years in D.C. and New York City before returning to the South to join the visionary and talented team at G&G. She now lives in Charleston with her husband, Butler, and their growing brood of children and dogs.
How has your life experience made you the leader you are today?
For better or for worse, I am someone that wakes up most days in a good mood and ready to climb a mountain.  I am a geek for new ideas and new businesses and I am excited by ambitious projects.  Any leadership role I've had is because someone else did not step up to the plate or because I knew I'd be happy assuming some part of the responsibility and I went for it.   I like work and I always have.  Ultimately, that puts more on your plate and if you can handle it, it grows. 
I've learned that a leader knows you cannot shortcut the vision and signs up for that work. 
How has your previous employment experience aided your tenure at Garden & Gun?
A decade in publishing in New York City prepared me hugely for G&G.  Because I worked at both Meredith and Conde Nast, I learned that the products you produce are only part of the equation.  The attitude of a place, the people, the physical space – they all impact the culture and that culture influences the work. It's when I learned that while you might be sure of yourself,  you have to adjust, you have to play differently, and the dealings internally can be as important some days as the dealings externally. 
At G&G, we have the ability to create it all -- we walk, we talk, and we live our business. It's very personal.  The magazine alone didn't make G&G the talk of the town – it set it in motion and now, it's the cumulative effect of doing it our way, every day. 
What have the highlights and challenges been during your tenure at Garden & Gun?
The highlights come through on a regular basis and started pretty much from day one.  We believed in what we were doing but the recession dropped right into that. There was no clear path to success a year into the business.  We were a start-up in nature but the scare shook us down.  Some people wanted to stay and some people did not.  A risk like ours is not for everyone so it became important for people to decide.  Those of us that did stay and that are still here, know how much that plays into today. It was the period that galvanized the most important thing for us - our commitment to our audience.  It truly was the best reminder of the simplest rule of business:  it's always only ever one customer at a time.  One fan at a time built our audience and then came the rest.  It was not the other way around and the success was never a forgone conclusion.  We worked really hard to build trust.
Today, the highlights come through in the same ways and I am grateful for that rough patch in the early stage. It taught me a lot about myself and what it means to work with your most basic tools.  It reminds me that a collective spirit can transcend the impossible but it means you're driving in the fog sometimes.  The initial vision was ambitious and exciting, the product was excellent and the commitment was there. Unknowingly, we knocked loose the genie and were granted some magic.
The challenges in the early days were the naysayers and the challenges today are the naysayers but over time you learn to move quickly past them.  Either you want what we do or you don't and it's perfectly acceptable either way.
What advice can you offer to women who want a career in your industry?
It's probably the same advice I would give to a woman going into any industry and that is to be committed to working as hard as you can and for reasons you may not always understand.  Do more than you think is expected of you any time you can. It pays off in far bigger ways and in far more meaningful ways than you could every properly understand at the beginning.  Also, don't fake your commitment.  People notice.  
Specific to this industry, I would say that the best people are highly creative with a mind for business and can easily toggle between lots of different projects.
What is the most important lesson you've learned in your career to date?
I believe that the sum of your worth is held by those who you work with and it accumulates (or declines) on a daily basis.  It's not in grand swoops, not at the end, and is not only connected to the financial successes. If you want to do great work, find your people.  Then, believe in those people, listen to those people, trust those people and be committed to those people.  Those people make your team.  Your team accomplishes the goals.  The goals help you win.
How do you maintain a work/life balance?
This makes me laugh.  In order to maintain a balance, you have to have the balance!  I think I've accepted that it's an ever-elusive thing.   I try to focus on being exactly where I am.  When I'm at work, I'm at work.  When I'm at home, I'm at home.   When I'm with the girls, I'm a mom.  When my husband and I are sitting down for dinner, we are a couple.  When one is getting less than it should, I switch it up.  You have to accept that it's a series of stops and starts and while it takes a little more conditioning the more lanes you have, it's more energy producing than you might think.  The alternative is that you drag bits of it all through the whole day without escaping the constant nag that you're always cheating something, somewhere.  Just stop and start and stop and start and be present.  Be fully present.    The balance comes at the end.  When we look back, the things we've done with all areas of our life will reflect that.  Our choices should match the importance of our commitments and every day compounds the end.  Don't wait for it to be balanced but don't worry too much on a day that feels out of balance. 
What do you think is the biggest issue for women in the workplace?
Some days I wonder if it's that we're focused on the boys' club or that we think the biggest issue is a gender thing.   Let's be the girls club, the ladies' club, the women's club -- we are strong, we are females, we are all so very different.   If we're not getting what we want in any situation, we have to go for it but maybe not because we're afraid it's a gender thing and instead, because we know we want it or because we have earned it, period.
How has mentorship made a difference in your professional and personal life? 
It's everything.   In college, I had an amazingly charismatic economics professor named Dr. Stern.  In one lesson, he talked about something called psychic income.  He felt it was important to add this column to some of life's balance sheets.  I think about this all of the time – both in life and work.  The psychic income column has helped me make some of the scariest, most transformative decisions in my life.  I have always had my own income and always wanted that so it's not a cop-out or a luxury, it's a serious tool to measure your values and ensure that you make decisions aligned with those values. In business, psychic income is akin to the intangible column but arguably deeper. We all have moments in our jobs or within projects or partnerships where we know something more than dollars makes it 100% worth doing.  And if I can positively impact anyone's life professionally and personally the way my most acclaimed mentor, Frank Vitale, has done for me then I consider that one of life's great rewards.
Which other female leaders do you admire and why?
Oh dear – so many. To start, there is our CEO Rebecca Darwin whom I've worked closely with for the past nine zany years.  She juggles so much and does that work, life, mom, friend, wife dance that I have learned takes practice and patience and more practice.  Next, I have always had such admiration for Wendy Goodman.  I got to know Wendy when I was at House & Garden and while I was not on the editorial staff, I watched this woman do business with such grace, such tenacity and so much generosity.  To have crazy smarts and use them, to be crazy busy in the middle of NYC and to be dear and kind to everyone in your path is the height of respect for me. And recently, I've learned a lot from Laura Vinroot Poole who has these same great qualities but who is committed to helping the women that work for her by investing in their professional development and their personal well-being.  In addition to creating a space full of some of the most gorgeous things on the planet, she is making sure that her business allows her people to cultivate their greatness and grow. To go romantic for a moment, I'd have to throw in Karen Blixen or Beryl Markham –  women that truly blazed trails in places women did not blaze trails because they knew their truth and followed it.   Then there is The Queen, Michelle Obama, Suzanne Mims Derrick, Madonna, Gigi, Addie and as I said at the beginning, so many!
What do you want Garden & Gun to accomplish in the next year?
Specifically, I'm over the moon excited for our 5th Jubilee in December and I'm anxiously awaiting the announcement of a big new project in Atlanta.   Beyond that, I want to make sure that the next ten years offer more highlights than challenges and that our vision stays start-up in spirit but big in ambition.
Calling all HuffPost superfans!
Sign up for membership to become a founding member and help shape HuffPost's next chapter
This post was published on the now-closed HuffPost Contributor platform. Contributors control their own work and posted freely to our site. If you need to flag this entry as abusive,
send us an email
.