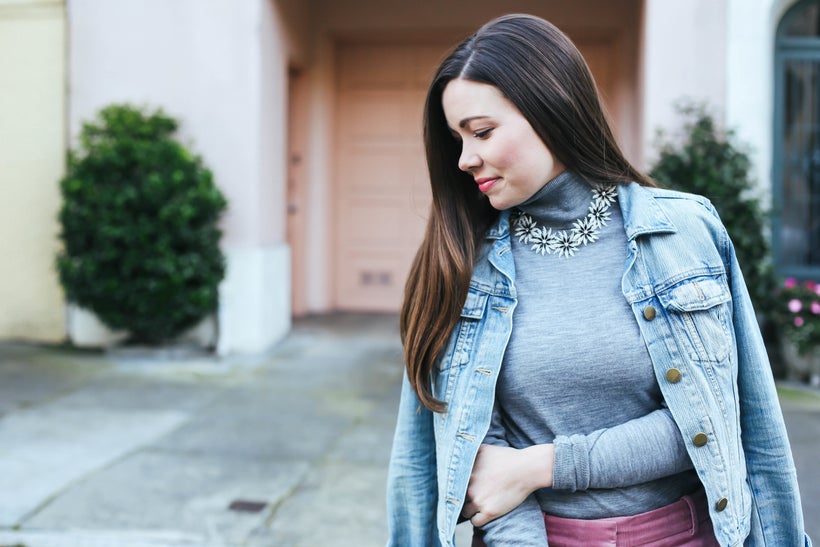 Jillian Bremer is originally from Buffalo, New York and graduated from Syracuse University with a B.S in Science in 2006. Upon graduation, she started her retail career in San Francisco with Gap Inc.'s renowned 9 month rotational Retail Management Training Program. Upon completion of the program she stayed on as an assistant buyer until a once in a lifetime opportunity showed up at her door to help American Eagle Outfitters start a new brand in Pittsburgh, Pennsylvania. Jillian stayed with AE for four years building the new brand from the ground up until the company had a shift in strategy and the brand closed in 2012. At that point, faced with a decision to stay with the company or venture into the unknown, it is then that she chose to pass up the job opportunity and explore her entrepreneurial dreams.
Shortly thereafter, Jillian found herself hunting around antique markets again with her dad, much like she did when she was a kid. The difference this time around was that her eyes were opened and inspired by the beauty of the past. She couldn't stop thinking about about how the craftsmanship and design of vintage jewelry was so much better than the products churned out from mass production today. She decided to take a chance and start sharing her love for vintage jewelry on her blog, Sweet & Spark, which shortly turned into the feminine lifestyle brand that it is today selling one-of-a-kind vintage jewelry and clothing from contemporary women's brands.
How has your life experience made you the leader you are today?
Growing up in a small town, surrounded by a family of entrepreneurs, proved to me that with a lot of hard work and dedication, everything is possible. My first job was working in my grandparents lumber and hardware store stocking shelves with nails, sweeping floors and helping with paperwork! Looking back, that experience paved the way for where I stand today. That, combined with, the opportunity at American Eagle to work on a start-up business for a stable corporation, gave me the tools I needed to build Sweet & Spark as a sustainable company that operates using industry standard retail processes, fueled by an incredibly passionate team.
How has your previous employment experience aided your tenure at Sweet & Spark?
When you're early on in your career, working for a large company gives you incredible structure and process to learn from. There's no doubt that my experience at American Eagle was a game changer. It was in that experience that I had the opportunity to step into more of a macro level role and work closely with the leadership team. Since our team was small, it gave me the opportunity to be involved in more functions of the business and understand how each of those functions approached start-up strategies. In essence, it taught me how to build a brand and a team. 
Today it's fair to say that I'm not particularly great at just any one thing. I've realized that my strength is in being able to figure almost anything out and then finding the right expert to drive it forward!
What have the highlights and challenges been during your tenure at Sweet & Spark?
A random note from a customer or friend about how much they love scrolling through our Instagram or shopping through our jewelry & clothing collections on the site always makes my day! We're all about finding pieces that create those gasp moments; when products are just so beautifully made that they stop you in your tracks. It makes digging through the overwhelming world of antique fairs and clothing tradeshows totally worth it!
On the other hand, it's challenging to cut through all of the noise currently happening in the digital and retail space. We are essentially content creators and it's hard to keep up the pace with a small team. When the going gets though, it's important to remember that slow and steady will always win the race!
What advice can you offer to women who want a career in your industry?
There are several approaches to starting your own business. You can build a business plan and keep mulling it over while your fear continues to build or start now with everything you've got and just keep moving. Which ever path you chose, know that vulnerability is going to be your key to success. You've got to feel comfortable asking for help and admitting when you're scared. Remember, there's no such thing as a dumb question.
What is the most important lesson you've learned in your career to date?
Fear never goes away. You have to learn how to carry it with you and still have the courage to move forward. Learning how to talk through the fear helps build your tenacity. You can only do the best you can do.
Also, learning how to let go of expectations has been such a gift. Having a deep rooted understanding that I am the same Jillian regardless if I own my own business or not, was (and still is) one of my most freeing realizations.
How do you maintain a work/life balance?
Working out daily keeps me sane and my mind sharp! There's also no doubt that an entrepreneurial journey is also a spiritual one. I've come to a place where I understand the importance of just being and make sure to celebrate that aspect of myself just as much as my doing. So for me that equates to lots of yoga and meditation. Often times that's when some of the best ideas pop-up!
What do you think is the biggest issue for women in the workplace?
I think the biggest issue that women face in the workplace today is flexibility. How do you expect women to be creative and/or know what they want to do for the rest of their lives when they are confined in a 9 to 5 role? It just doesn't work like that. People need space to dream so that they can then deliver upon key milestones with quality input. While I believe in process, I also think flexibility is the key ingredient in overachieving goals.
How has mentorship made a difference in your professional and personal life?
I recently read the book, "All In", and the author, Stephanie Breedlove, made such an eye-opening point that there are not enough female entrepreneurs that are also stepping up as mentors. We need more women entrepreneurs talking about the hard stuff like financing, finding key partners, taking risks, building a team etc. I learned a lot of that the hard way, thinking I was so alone in my experience, when the reality is, at any given time, there are so many other women out there that have had or are having the exact same feelings. We need to find and help each other because no one can do this alone. 
Which other female leaders do you admire and why?
The ladies that inspire me most are the ones I work with everyday! I thank my lucky stars every night for the women that have showed up, some literally out of thin air, for me in both my life and business. They are freelancers, consultants, artists, mothers and wives and I couldn't have built a company without them. They make this entire journey so much more fun! I spent the early years in business working alone and while that experience gave me the time and space to really learn about myself, today I couldn't imagine working without the power of other brains. There's so much magic born from collaboration.
What do you want Sweet & Spark to accomplish in the next year?
Our mission is to help women celebrate everyday and every occasion by feeling confident and beautiful in their own skin. More than ever, this world needs more brave souls to pave the path towards change. We know that before you can give love to others that you need to feel your best inside. If we can inspire a smile, laugh or a helping hand forward then we've done our job. Stay tuned for a new capsule of emotional clothing every month and new vintage jewels every week over at Sweet & Spark.
REAL LIFE. REAL NEWS. REAL VOICES.
Help us tell more of the stories that matter from voices that too often remain unheard.
This post was published on the now-closed HuffPost Contributor platform. Contributors control their own work and posted freely to our site. If you need to flag this entry as abusive,
send us an email
.