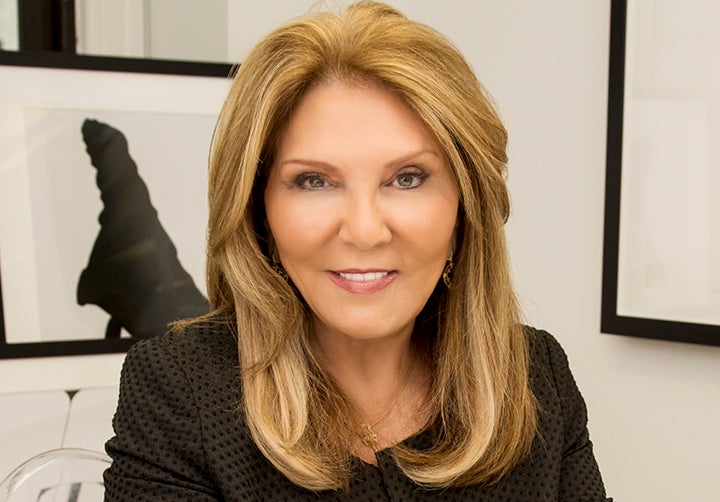 Judith Ripka, founder and Chief Designer of an eponymous jewelry brand, is one of America's most successful female entrepreneurs and influential icons in jewelry. Established 40 years ago, the brand has grown from a single retail outlet into an international business with over two billion dollars in retail sales. The brand has a presence in numerous countries worldwide, in omni-channel distribution, and interactive television through QVC in the U.S., UK, and Japan.
While raising three young boys, Judith began her business, traveling between New York City, where she maintained her factory, and Long Island, where she made her home. After establishing her luxury business, Judith wanted to make her designs available to a broader audience. In 1996, she became the first female jewelry designer to sell on QVC. She is a recipient of the prestigious DeBeer's Award for Outstanding Jewelry Design and in testament to her success, she was inducted into the Council of Fashion Designers of America (CFDA), the hall of fame for American fashion designers. On November 17th, 2017, Judith will be honored as a recipient of the Women's Entrepreneurship Day Pioneer Award at the UN.
How has your life experience made you the leader you are today?
Growing up, I always knew I wanted to be a jewelry designer. I would spend hours playing in my mother's jewelry box, trying on every piece and finding new ways to modernize my mother's jewelry, making a belt of a necklace and earrings from a pin, dreaming of one day creating designs that would become keepsakes passed down from generation to generation. My mother, a couturiere who worked in Europe and immigrated to the United States, was the most influential person in my life and art, and greatest inspiration. She taught me to see the beauty in all the little things in the world around us. Each piece of jewelry I design is an expression of that beauty as shared through the eyes of my mother. I was a single mother in my 20s when I started making jewelry in my home. I remember many late nights sitting on my bed making jewelry for customers and friends. Without the hard work, late nights and dedication, I would not be where I am today. As my father always said, "the harder you work, the luckier you get." As a working mother with three young children, I knew there would be highs and lows, and times that I wanted to give up, but it was not an option. That drive to succeed and believing in myself is what makes me the person and businesswoman I am today.
How has your previous employment experience aided your tenure at the Judith Ripka companies?
My first job in the industry was working as an assistant jewelry buyer at The May Department Stores Company. I worked under Dawn Mello, a friend, mentor and the eventual president of Bergdorf Goodman. While there, I saw a void in the jewelry market for beautiful pieces that could be worn every day and for every occasion, whether picking the kids up from school or attending a formal affair.
I had a clear vision, but knew that I needed to gain the skills required to make jewelry. A friend introduced me to a jeweler and model-maker who agreed to mentor me in my spare time between college classes, work, and caring for my three sons. I became his apprentice and learned how to bring to life the designs I had spent so much time dreaming up in my head. Soon, I had a small business creating jewelry for my friends and neighbors, and the rest is history!
What have the highlights and challenges been during your tenure at Judith Ripka?
A big part of being an entrepreneur – especially a female entrepreneur – is pushing through the barriers to entry and making good decisions. My highlight is always seeing my designs on people, whether it is celebrities, world leaders or ordinary people walking down the street. Beginning a business while raising three young boys was not easy, but I was committed to my family and my dream, and found a way to make both a priority. I am proud to say that I have three wonderful and successful sons along with 8 incredible grandchildren.
Some of my favorite career moments include:
Winning the DeBeers Award, making the jewelry for the First Lady to wear during the Presidential Inauguration, being inducted into the CFDA and being named as one of the Leading Women Entrepreneurs in the World in a ceremony in Venice, Italy.
This month, I am honored to be participating in Women's Entrepreneurship Day (WED) at the United Nations on November 17th. I am so grateful to be joining fellow female entrepreneurs such as Bobbi Brown and Sara Barielles. WED launched in 2013 and works globally to empower women and girls to become active participants in the economy by igniting a network of women leaders, innovators, and entrepreneurs to initiate startups, drive economic expansion, and advance communities around the world.
What advice can you offer to women who want a career in your industry?
The retail and jewelry industries are fast-paced and always changing. It is important to stay true to whom you are and be authentic. That is what makes you and your business unique, and what has led to my brand's success over these 40 years. To any aspiring entrepreneur, my advice is to believe in your dream and be relentless in making it happen. If you are passionate about what you are doing, you can achieve anything. Passion, perspicacity, and performance are the 3 P's of the recipe of success. Love what you do, work hard and be smart in the context of the business you chose.
What is the most important lesson you've learned in your career to date?
Never take no for an answer and persevere. Starting my business while raising a family sometimes felt impossible. But over the years, I learned that even when times are tough, you cannot give up. Jewelry always felt like a calling to me and to this day, I am still excited to wake up every morning and work in an industry I love. I would be designing jewelry even if it were not a business. It is whom I am. It is important to find something that you love to do every day.
How do you maintain a work/life balance?
Setting priorities is a huge part of how I have maintained balance in my life. While my business is important to me, my family always comes first. When I was just starting out, I remember how hard it was to juggle the roles of mother and a businesswoman. I would make breakfast for my boys and see them off to school before rushing to New York City to make jewelry. After a long day's work, I would race back to Long Island to greet my boys when they arrived home from school and make dinner for the family. It was only after everyone was asleep that I had time to sit down and design. Today, they call that multi-tasking; back then we simply called it Wednesday.
What do you think is the biggest issue for women in the workplace?
Making sure their voice is heard. When I first started my business, it was very difficult for me to find a voice in an industry dominated by men – women in jewelry were few and far between and not taken seriously. It was a blessing in disguise because, in hindsight, I know it is what caused me to work harder.
Women should not be afraid to pursue their dreams – no matter the industry – or let anyone tell them what can and cannot be done. As a female businesswoman or entrepreneur, you will face obstacles but it is how you react and rise above them that will help you succeed.
How has mentorship made a difference in your professional and personal life?
Mentorship has been critical to my professional and personal growth. I am lucky to have had fantastic partners, mentors and business associates throughout my career who gave me the tools and advice to help my business flourish. I tried to surround myself with people who knew more than me, who had skills I did not have. From Dawn Mello when I was just starting out, to my husband who taught me so much and was the safely net who allowed me to reach for the stars, to Bob D'Loren, Chairman and CEO of Xcel Brands, with whom I started working later in my career, it is important to work with people who share your values and support your goals.
Which other female leaders do you admire and why?
Dawn Mello is an inspiration to me and someone I always have and always will look up to. After I worked with her at The May Company, she went on to become the first female president of Bergdorf Goodman. She is a brilliant individual who taught me the fundamentals of business.
What do you want Judith Ripka, the company, to accomplish in the next year?
Having reached so many exciting milestones this year, the main goal for my brand in 2018 is to continue designing meaningful jewelry that inspires my customers – both my long-time devotees who have been collecting my designs for years, and the new generations of tastemakers who are just starting their Judith Ripka collections. In addition to the incredible honor of speaking at the U.N.'s Women Entrepreneurship Day this month, I am thrilled to announce that we are launching a collection of gold jewelry, called Ripka, available exclusively at Lord & Taylor. We're also bringing both gold and silver Ripka collections to judithripka.com to showcase fresh designs that loyal followers of my brand will be excited to stack and layer! Lastly, I have always been interested in bringing my aesthetic to home and lifestyle product designs. My first step in this direction is the launch of my first bedding collection, available online at Bed, Bath & Beyond OR at bedbathbeyond.com. I hope to see great responses to the collection which will inspire future collection launches for a full lifestyle experience. We have even more exciting product debuts and partnerships coming up, so I am very much looking forward to what is next.
Calling all HuffPost superfans!
Sign up for membership to become a founding member and help shape HuffPost's next chapter
This post was published on the now-closed HuffPost Contributor platform. Contributors control their own work and posted freely to our site. If you need to flag this entry as abusive,
send us an email
.